7 Best King Size Memory Foam Mattresses
Our top mattress picks for the best foam mattresses to purchase in a king size. These foam mattresses are well made and supportive enough to sleep on every night.
---
Memory foam mattresses have become increasingly more popular in the mattress industry and have begun to saturate the market. If you are looking for a king size memory foam mattress, chances are you (or you and a partner) are planning to use it for years to come and will be sleeping on it nightly. This is where choosing the proper mattress from the proper manufacturer comes into play. Some foam mattresses are made well with high density support foam and comfort layers that are built to last, while others cut corners and provide lower end products for budget friendly shoppers or to make themselves a higher profit margin.
If you are confused about which king size memory foam mattress will hold up to daily wear and tear, then you have come to the right place. In this post we will cover our favorite king size memory foam mattresses on the market and help categorize them to make your decision as easy as possible.
Editor's Quick Picks:
Best Overall (Editor's Pick)
Budget Friendly Pick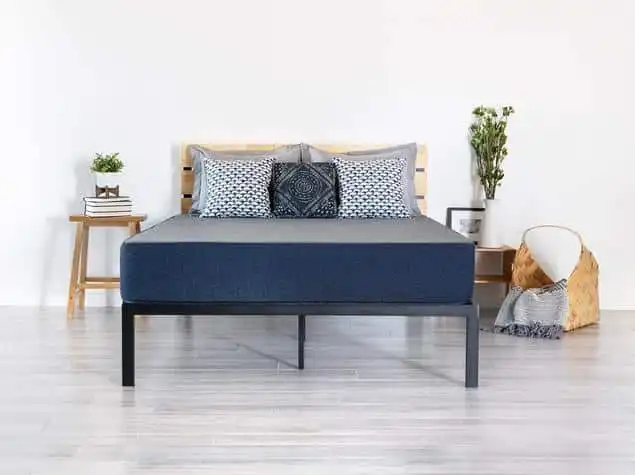 Best Firm Memory Foam Option
How we choose the mattresses we recommend?
Our company has warehouses throughout the country where we recycle old mattresses, receive mattress returns from major online companies and test new and innovative sleep products. Our teams have tested hundreds of mattresses from all the major brands over the last 10+ years. We understand which mattresses customers are liking, which products they are returning and pass those findings on to you.
Top 7: Best King Size Memory Foam Mattresses
---
How thick should a king size memory foam mattress be for proper support?
Memory foam mattresses come in a variety of thicknesses. While some of the thinner mattresses can be great for a bunk bed mattress or a kids first bed, if you are planning on purchasing a king size memory foam mattress you are going to want a thickness that provides enough support for the adult(s) sleeping on it. In general memory foam mattresses come in thicknesses from 6″ to 14″ thick. For a king size foam mattress we recommend a mattress that is at least 10″ thick in most cases. 10″ thickness provides enough depth for the mattress to have a proper supportive base foam as well as comfort layers. A firmer mattress may be slightly thinner than a more plush or softer mattress but most firm foam mattresses will still be at least 10″ due to the need for a thick supportive foam at their base.
It is important to note that thickness does not necessarily mean quality. It is possible to make a thick mattress with low quality foams. So it is important to buy your mattress from a reputable manufacturer who's products are trusted in the industry.
What size is a king mattress?
A king mattress is the largest of the mattress sizes and measures 76″ wide by 80″ long. King size mattresses are generally used in larger bedrooms and often sleep 2 people. It is important to make sure your king mattress is supportive and well made if you plan to sleep on it every night. A king size memory foam mattress measures the same size as a king innerspring mattress but is often slightly thinner in profile.
Are memory foam mattresses ok to sleep on for adults?
Memory foam mattresses have come a long way over the years. There are many foam mattresses that are well made and plenty supportive enough to sleep on every night. In some categories memory foam mattresses actually out perform their innerspring counterparts. However, it is easy for companies to skimp on quality when it comes to foam mattresses and mattresses in general. It is important to research and read reviews on the products you plan to buy, especially for a king size mattress that you plan to sleep on every night. Higher density foams, made in the USA and a flexible return policy are all signs that the company has well made products they stand behind.
Things to consider when buying a king size memory foam mattress
Where it is made – Many foam mattresses sold on Amazon or in big box stores are imported in bulk from Asia. In general their foams are lower quality and their inspection process is less than satisfactory from what we have seen. If you are buying a king size mattress that you plan to use as a main sleeping mattress then we recommend spending a little more and purchasing a mattress that is made in the US with US materials and from a reputable company backing it.
Thickness – The thickness of a mattress doesn't generally determine its quality unless the mattress is 8″ or less. An 8″ mattress or thinner can be a great option for kids or for bunk beds but will not provide the support an adult needs for every night sleeping.
Type of foam – There are a variety of different styles of foam mattress on the market from memory foam to latex and alternative foams. Each foam will have a different benefit and price point that you will want to research in order to make the right decision for your needs.
Price – Foam mattresses vary wildly in price, mainly due to the different types of foam used within the mattress. A latex mattress may cost you a few thousand dollars while a memory foam mattress may be half the price. Each has its own benefits and price is more a reflection on how hard the foam is to produce rather than it is on the quality.
The different types of foam mattresses
There are a variety of different styles of foam mattress on the market. Each has its own advantages and disadvantages depending on what you are looking to get out of your mattress
Memory foam – A memory foam mattress is going to be one of the most budget friendly foam mattresses on the market and is a great option for a king size master bedroom mattress. Memory foam is supportive while also cradling the bodies curves and providing industry leading pressure relief. If you have never slept on memory foam before it could take some getting used to, as it is quite a different feel than a traditional innerspring mattress
Latex – Latex is a natural and eco-friendly foam that has a variety of health benefits like being hypoallergenic and organic in many cases. Latex is generally more expensive than any other foam on the market. The uniqueness of latex is its ability to relief pressure from the body while also providing a supportive bounce that sleepers are used to with a traditional innerspring
mattress.
Top 5 Reasons to Consider a Memory Foam Mattress
Buying a new mattress can be a significant financial investment, and you will likely be living with the results for a long time. As such, it's essential to take the time to choose the right one. Modern mattress technology has made memory foam a viable option, and this unique material provides many benefits. Here are some of the top reasons to consider upgrading to a memory foam mattress.
1. Customized Cushioning
Memory foam adapts to your body as you lie down and change positions, distributing your weight evenly throughout your entire body to reduce pressure points. Whether you sleep on your back, stomach, or side, you can count on comfortable support from memory foam. You don't have to worry about your mattress feeling too soft or too firm.
2. Better Air Quality
Your mattress can be one of the main contributors to low-quality indoor air in your home. Traditional mattress fillers can be ideal places for dust mites to live, and they can also trap pet dander and mold spores. Memory foam is dense, so it's harder for dust and other allergens to collect in the mattress. The material also doesn't allow dust mites to burrow. A quick vacuuming every so often is all you need to keep your memory foam mattress free from allergens.
3. Reduced Back and Joint Pain
The adaptive nature of memory foam allows it to support and cushion your entire body, which can help place your spine in proper alignment. Good spinal support can remove the risk of placing pressure or strain on your hips, shoulders, and joints. This lack of pressure points can reduce pain and ensure deep, restorative sleep.
4. No Motion Transfer
One of the challenges of sharing a bed with a partner is feeling the mattress bounce or shake every time your partner moves around. Memory foam doesn't have any springs that transfer motion from one side to the other, so neither person's movements cause uncomfortable jostling. This can be especially helpful for light sleepers.
5. Durability
In general, mattresses should be replaced every decade or so, and memory foam is no exception. However, the material is very durable, so you don't have to worry about soft spots or sagging reducing the quality of your sleep. It's also easy to care for and doesn't require flipping or replacing worn springs.
When you are ready to buy a new mattress, consider choosing memory foam. It provides excellent support that adapts to your body's contours and is easy to care for and clean. You can enjoy proper spinal alignment and support and avoid dealing with motion transfer from your partner's movements. A memory foam mattress can improve your overall quality of life for years to come.
How to dispose of your old mattress
When you buy a new mattress online many of the retailers do not take away your old mattress. If you are looking to get rid of your old mattress you can book a pick up with us and our team will come by and grab it for you. We have recycled over 500K mattresses to date and are 20-30% less than the major junk companies.
---
---