Best King Mattress Under 1000
Mattresses come at a variety of price points and a variety of quality levels. King mattresses are generally the most expensive standard size mattresses on the market, simply because they are the biggest. It may seem like all of the king size mattresses have price points of well over $1,000, however it is possible to get a high quality king mattress for under $1000 if you know where to look. In this post we have listed some of our favorite value mattresses that offer a king size option for under $1K. These are not low quality products, many of these options are simply made by companies that manufacture their own mattresses in their own factories and are able to cut out the middleman and pass savings along to you.
7 Best King Mattresses Under 1000
---
1. The Brooklyn Signature – King $1000
Best Overall (Editor's Pick)
GREAT ALL AROUND VALUE
TRADITIONAL INNERSPRING FEEL
An all around hybrid mattress that combines the benefits of a traditional innerspring mattress with Brooklyn Bedding's patented "Titan foam" comfort layers (combining the best properties of latex and memory foam to appeal to all sleeping and comfort preferences). Brooklyn Bedding has been in the mattress industry for years and makes each mattress at their own factory, meaning they can cut out the middle man and provide a great price. This mattress has thousands of 5-star reviews from customers who rave about its value and universal comfort.
What we love:
Unbeatable comfort for the price

Luxury hybrid innerspring design

High quality support and pressure relief

Choose soft, medium or firm

Over 2,000 5-star reviews.

Made in the USA
Buy Now
Our thoughts: This mattress is going to run you right around the 00 price point for a king size, but is one of the best value mattresses on the market in our opinion. The hybrid design of this mattress with pocketed coils will provide lasting support and pressure relief comparable to a high end mattress you will find with other companies. The Signature is available in 3 different firmnesses to meet all sleep preferences. If you are able to spend slightly more and come right up to the $1000 point then this mattress is well worth the money.
2. The Brooklyn Chill – King $505
Budget Friendly Pick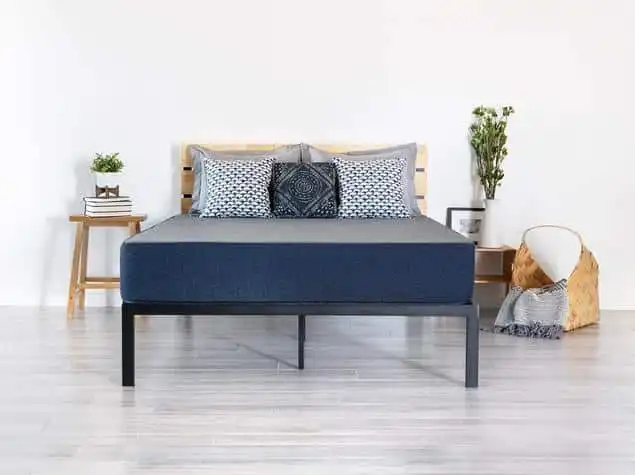 BUDGET FRIENDLY
This may be the best budget friendly mattress on the market. The combination of high density support foam and memory foam comfort layers makes for a supportive, pressure relieving sleep experience. If you like the feel of memory foam and are looking for an affordable sleeping option then this is the best mattress you will find. Brooklyn Bedding makes all of their mattresses in their own factories in Arizona and are able to cut out the middle man and offer customers factory direct prices.
What we love:
Budget friendly price point

High quality, supportive memory foam design

Made in the USA (Arizona Factory)

Available in custom sizes and thicknesses
Buy Here
Our thoughts: The Chill memory foam mattress is an amazing mattress for the price. It is made in the USA at Brooklyn Beddings own factory and is their most budget friendly option. If you enjoy the feel of memory foam and want to save some money then this mattress is a great option. It is available in a variety of thicknesses and will allow you to get a quality king size mattress for right around $500-$600.
3. The Elements Latex Mattress – King $861
Best Latex Option
The elements mattress has a price point of under $900 which is unheard of for a latex mattress. Dreamfoam bedding makes all of their mattresses at their own factory and sells them directly to cusotmers which means they can cut out the middleman and save you money. The elements mattress utilizes a hybrid design with innersprings and latex to give you a quality night sleep at a great price. If you are looking for a latex king mattress for under $1000 then this is the mattress for you.
What we love:
Unbeatable value

Pressure relieving hybrid design

Made in the USA

Natural latex foam
Buy Now
4. The Titan Mattress – King $974
Best for Heavier Weight Loads
The Titan Mattress is built specifically for supporting heavier weight loads and won't break down or lose its support under pressure. This mattress provides amazing support and durability for the price point. At under 1000 it is the only mattress we recommend for heavier sleepers who are looking for a great deal. The combination of high end comfort foams and a supportive core make it a great all around sleeping mattress that will last for years to come.
What we love:
Built specifically for heavier weight loads

Made in the USA

Firm supportive feel

Great value
Buy Now
5. The Propel Dual Sided Mattress – King $975
Most Versatile
The Propel dual sided mattress is an all foam mattress that allows for sleepers to choose between multiple firmnesses to sleep on. This mattress utilizes a high density supportive core as well as adaptive a
What we love:
Multiple firmness options

Flippable

Luxury pressure relief

Made in the USA

Great value
Buy Now
6. The Arctic Dream Hybrid – King $561
Budget Friendly Innerspring
The Arctic dream may be one of the most budget friendly innerspring mattresses on the market. At $570 for a king size this mattress has unbeatable value. The combination of a pocketed coil innerspring unit with the cooling comfort layers and luxury cooling fabric make this mattress a luxurious entry level sleeper that is perfect for guest rooms, kids rooms, vacation rentals or even a budget friendly master bedroom option.
What we love:
Sleeps cool

Supportive hybrid design

Entry level price point

Made in the USA
Buy Now
7. The Bear Original Mattress – King $936
Best Memory Foam
SLEEPS COOL
The Bear Original mattress is the mattress that Bear built there reputation on. It is highly reviewed and a great all around memory foam mattress for the price. The thickness measures 10 inches and includes a support foam, transition layer and a gel memory foam comfort layer. The medium-firm comfort makes it a perfect firmness for the variety of sleepers and sleeping styles.
What we love:
Great value

Made in the USA

Medium-firm feel

Sleeps cool
Buy Now
What size is a king mattress?
A king mattress is the largest of the standard mattress sizes and measures 76 wide by 80 inches long. A king is most often used for couples or adults who have large amounts of bedroom space. A queen size mattress is the same length as a king but is 16 inches thinner.
Can you get a quality king mattress for under 1000?
The majority of quality king size mattresses will cost over $1000 and generally will cost between 1,000-3,000 dollars. It is true for the most part that a higher priced mattress will utilize higher quality materials, be more comfortable and last longer, however there are a few options on the market that provide a high end king mattress for under the $1000 mark. These options will not be organic latex mattresses or luxury pillow tops but they will provide a comfortable long lasting nights sleep for a great price.
Is it worth spending over 1000 for a mattress?
The amount you decide to spend on a mattress is very much a personal opinion and varies depending on each persons specific needs. If you have back or joint pain or need additional pressure relief from your mattress, it may be worth it to spend slightly more and get a higher quality mattress that will provide the support you need. However, if you are somewhat flexible when it comes to comfort preferences and are fine with your mattress lasting 5ish years, then a value mattress may be a perfect option for you.
What are the main differences between expensive luxury mattresses and value mattresses?
There are a variety of reasons that a mattress may cost more than another competitor. Price is not always the main factor for determining quality and you can certainly get a high quality mattress for a great price if you know where to look. The main reasons for differing prices are determined by the factors below:
Materials
There are a variety of different types of mattresses and materials used in the market and each material comes at a different price point. Latex mattresses are the most expensive mattresses due to the difficulty of the foam making process, while memory foam tends to be the most affordable type of mattress. Neither option is better than the other, they are simply different and provide differing benefits. You can also opt for organic covers, luxury fabrics, etc… that will provide some luxurious benefits but will not effect the overall structure and support of the mattress itself.
Support System
There are two different types of support systems within a mattress, foam or innerspring. These supports are called the mattress's "core" and are what is responsible for supporting you while you sleep. In general, a foam core is going to be less expensive than an innerspring core. While an innerspring core does last slightly longer, you can still get a great amount of life and support out of a foam core if you are looking to save some money.
Size of the company and their supply chain processes
The size of the company as well as the structure of their manufacturing and supply chain process will play a large role in how much you pay for your mattress. Companies like Brooklyn Bedding or Purple mattress, make all of their own mattresses in their own factory and sell the products directly to you (the consumer). This means they can cut out the middleman and pass the savings along to you. In the end you are able to buy a higher quality product at a more competitive price than other brands on the market. On the other hand, some brand buy their mattresses from a factory that makes mattresses for a variety of brands. That factory simply puts a different logo or cover on the mattress and sell it to the brand who then turns around and sells it to you. Each level of buyer adds on more profit margin and in the end a larger price tag for you. If you are looking for the best deal, we recommend buying directly from the factory brands.
Things to consider when choosing a king mattress for under 1000
There are a variety of factors to take into account when buying any mattress to ensure the one you buy is right for you and your specific needs. Each company operates differently and you will want to be aware of how their product will fit into your needs and sleeping habits.
Lifespan
How long do you need this mattress to last? In general a quality king mattress will last 5-8 years on average and one that is under 1000 can be expected to last on the lower end of that range. It is important to think about how long you plan to sleep on this mattress and if purchasing a higher quality mattress may save you money in the long run. If you are moving in a few years or are getting the mattress for a guest room, etc.. then a lower price point would be a perfect option for you.
Style
Do you have a preference on the type or feel of mattress you choose. A memory foam mattress will generally come at a lower price but may have a different feel than a traditional innerspring mattress. If an organic mattress important to you? Then you may need to spend more for a latex mattress.
Brand and reputation
You may be able to find a cheap mattress on Amazon from a brand you have never heard of. In this instance, it is likely the mattress is imported from Asia in bulk. Generally these companies use lower quality foams and fabrics that often have issues decompressing from the boxes they are roll-packed in, they don't decompress all the way or even have been found to have mold issues. When it comes to your mattress we suggest buying from a reputable company who stands behind their products and has a trusted track record with lifetime warranties and free trials.
Why are mattresses so expensive?
When you are looking to purchase a mattress, especially a king size mattress, the first thing you will realize is that they are very expensive. The average king size mattress set will be well over 1000 dollars. The high price point comes from a variety of factors. First off, king mattresses are large and utilize a lot of materials. The materials that go into mattresses have gone up drastically over recent years as well as the cost to ship mattresses and being able to cover the online mattress return process. The majority of online retailers offer a free trial period for their mattresses and have to cover that cost in the overall retail price of their mattresses. While there are budget friendly mattresses for under 1000 on the market, you have to search and be careful which you choose.
Is it worth it to spend over 1000 on a king size mattress?
You spend over a third of your life sleeping on your mattress. We believe you should spend as much as you can justify spending on your mattress, as the return will come to you in the quality of sleep you receive. A high end mattress will not only last longer but will provide superior pressure relief and support to your spine, joints and muscles. At some points in life you may be able to get away with skimping on your mattress but if you can afford it we always suggest spending the money for a better sleep.