5 Best "Thin" Mattresses to Buy Online: (Bunk, Trundle, etc..)
Whether you need a thin mattress to fit under a trundle bed , a loft bed or on a bunk bed, you have probably realized that its hard to find a quality thin mattress available on the market.
The mattresses we have listed in this article are all quality mattresses that are either 6″ thick or 8″ thick. 6 inches is the thinnest we suggest your mattress be for proper support, any thinner and it would be considered a pad or a mattress topper.
The mattresses listed below are all from companies we have tested, trust and we know to make a quality product. The types of mattresses listed vary from memory foam to latex and innerspring options. This means there is a thin mattress option for everyone and all comfort preferences.
The thin that you do find on Amazon are largely imported from Asia and are generally low quality. When it comes to a thinner mattress you actually want to be even pickier with the quality of mattress you choose. Due to the fact that thinner mattresses have less layers and less comfort materials, you want to be sure that the materials inside are high enough quality to provide support and that don't break down too quickly.
Quick Picks – Top 5 "Thin" Mattresses
---
Top 5: Best "Thin" Mattresses
---
1. The Dreamfoam Essential by Brooklyn Bedding (6″ or 8″ thick)
Best Overall - Editor's Pick
BUDGET FRIENDLY
This may be the best budget friendly mattress on the market. The combination of high density support foam and memory foam comfort layers makes for a supportive, pressure relieving sleep experience. If you like the feel of memory foam and are looking for an affordable sleeping option then this is the best mattress you will find. Brooklyn Bedding makes all of their mattresses in their own factories in Arizona and are able to cut out the middle man and offer customers factory direct prices.
What we love:
Budget friendly price point

High quality, supportive memory foam design

Made in the USA (Arizona Factory)

Available in custom sizes and thicknesses
Buy Here
What our testers are saying:
The Dreamfoam Essential comes in a variety of thicknesses from 6″ thick to 14″ thick. This mattress blew us away at the level of quality it provides for the price point. The fact that it is also made 100% in the USA at the Brooklyn Bedding factory in Arizona is also a plus. Knowing they are using higher quality and more regulated materials than competing entry level mattresses which are imported from Asia, makes this mattress an amazing bang for your buck. This mattress is perfect for use in a bunk bed, trundle bed, murphy bed or daybed. The high density support foam offers enough support for adults or children, while the memory foam provides comfort and lasting pressure relief. The cover is also easily unzipped and removed for cleaning/washing. If you want a thin mattress then this is hands down our testers top pick in just about every category.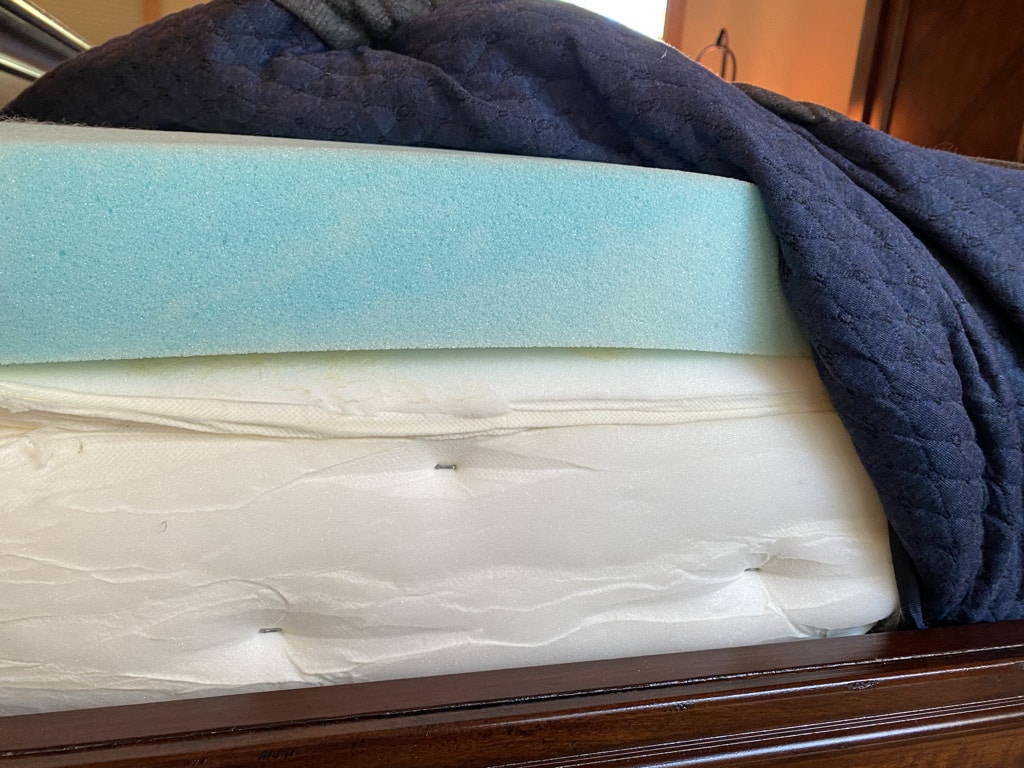 ---
2. The Natural Bliss Latex Mattress By PlushBeds (8″ thick)
Best Natural Option
Plushbeds is known throughout the industry for their high quality affordable latex mattress options. The Natural Bliss is their most budget friendly latex mattress and provides all the healthy benefits of a latex at a great price. The Natural bliss is available in multiple firmness options to suit all comfort levels and preferences. This mattress also has an organic cotton cover and is perfect for any individuals with allergies or who are sensitive to non-organic fabrics.
What we love:
100% Natural Latex

Organic Cotton Cover

No glues or chemicals used

Variety of firmness levels available

Great value
Buy Now
What our testers are saying:
PlusBeds specializes in eco-friendly and chemical free mattresses. Their Natural Bliss mattress combines natural latex and an organic cotton cover to give customers a healthy and hypoallergenic sleeping surface that they can feel good about. PlushBeds has been in the mattress industry for many years and is one of the most trusted "eco-friendly" sleep brands on the market. Their prices are also very reasonable compared to their competitors. Their Natural bliss comes in a 8″ thickness option, which should perfectly fit the vast majority of trundle or bunk beds. It is also one of the only natural latex options available in an 8″ option. If you are looking for a natural thin mattress then this is a perfect option.
---
3. The Luxury Gel Memory Foam Mattress by Mattress Insider (8″ thick)
Best Memory Foam Option
BEST MEMORY FOAM OPTION
The Luxury Gel foam mattress by Mattress Insider is a great all around memory foam mattress and comes standard with an organic cotton cover. This mattress features an easily removable zippered cover and adjustable comfort layers. This means customers can adjust the firmness of the mattress in the comfort of their home. Mattress Insider has been specializing in custom and odd size mattresses since 2008 and is a trusted name in the custom mattress market. If you are looking for a memory foam mattress in a custom size, this is the best option on the market.
What we love:
Adjustable Comfort: Easily unzip the cover and adjust the foam layers for a firmer or softer feel

Available in any custom size

Great reviews and customer service.
Buy Here
What our testers are saying:
The luxury gel foam mattress by Mattress Insider gives a luxury memory foam feel at a great price. This mattress utilizes a high density support foam with gel infused memory foam for a luxurious and supportive sleep. The mattress is 8″ thick and is flippable, meaning you can decide to sleep on the softer or firmer surface. Mattress Insider has coupled this mattress with a high end organic cotton cover that you can feel comfortable resting your head on. The 8″ thickness makes this mattress perfect for most bunk or trundle beds. Mattress Insider has also been in the mattress industry since 2008 and is a brand you can trust. If you enjoy the feel of memory foam, then this is a great option for you.
---
4. The Park Meadow Pocketed Coil Mattress by Mattress Insider (8″ thick)
Best Innerspring Option
BEST INNERSPRING OPTION
The park meadow mattress is a great mattress for customers suffering from back pain or who require extra support. It is also perfect for individuals who prefer a traditional spring mattress feel over that of an all foam mattress. Mattress Insider offers all of their mattresses in an array of different custom sizes. They are a trusted name in the mattress industry and have been making custom mattresses since 2008. The park meadow is made with individually pocketed innerspring coils which helps to reduce partner disturbance while still giving the support of an innerspring mattress.
What we love:
Available in any custom size imaginable.

Pocketed coil innerspring unit for heavy duty support

Reputable company with great reviews and customer support
Buy Here
What our testers are saying:
The Park Meadow mattress by Mattress Insider is the only mattress on this list that utilizes an innerspring (aka pocketed coil) support system. This mattress is great for heavier sleepers or for those who prefer the feel of a traditional innerspring mattress over that of memory foam or an all foam option. Traditionally innerspring mattresses tend to last longer than all foam mattresses as well. Mattress Insider has been making mattresses since 2008 and is a trusted name in the industry. If you are looking for an innerspring mattress that has support but is still thin enough to slide under a trundle bed then this mattress is a great option.
---
5. The 5 Little Monkeys Kids Mattress (8″ thick)
Best for Kids
The Kids Mattress
BUILT FOR KIDS
The Kids Mattress by 5 Little Monkeys is built just for your kids and makes for the perfect single mattress option. It is non-toxic, waterproof, hypoallergenic and the perfect firmness for children. 5 little monkeys also sells a variety of accessories that you can get with the mattress, from bed frames to pillows and mattress protectors. If you are looking for a kids mattress, this is one of the best on the market and the only mattress designed exclusively with your child's needs in mind.
What we love:
Waterproof

Temperature regulating

Non-toxic and hypoallergenic

Supportive for young growing bodies

Organic cotton cover

Made in the USA
Buy Here
What our testers are saying :
5 Little Monkeys is one of the only companies on the market that manufactures a mattress specifically for kids. Their mattress is 8″ thick and made of temperature regulating memory foam. It also comes with an organic cotton removable/washable cover and a pillow. The 8 inch thickness of this mattress will easily fit most kids bunks or trundles.
---
What is considered a thin mattress?
The majority of standard mattresses are between 8″ and 14″ thick. A thin mattress varies in its definition but would generally be 8″ or thinner. We do not suggest getting a mattress that is any thinner than 6″ as it would be difficult for a mattress that thin to provide proper support for a sleeper. For the purpose of this post all of the "thin mattresses" we have listed are either 6″ or 8″ thick. A 6″ or 8″ mattress height generally is perfect for fitting under a trundle bed, on a bunk bed or even as a floor mattress. It is also sturdy enough to support a guest and easy enough to roll or fold up and put away for storage. Anything thinner than 6″ we would consider a pad and not a mattress.
What is a thin mattress used for?
A thin mattress can have a variety of uses and benefits for sleepers. We have listed some of the most common uses for a thinner profile mattress below.
Trundle Beds: Trundle beds are a specific type of bed set where a mattress can be popped up from underneath the bed to accommodate an additional sleeper. Many trundle beds require a thinner mattress to be able to fit underneath the bed when not in use. Most trundle beds will require a mattress that is 8″ thick or thinner.
Bunk Bed: Bunk beds often require a thinner mattress that will fit below the safety rail. A thick mattress will lift the sleeper too high above the safety rail and can be hazard for sleepers to potentially fall out of bed. We recommend checking with your specific bunk bed manufacturer to see what thickness of mattress they recommend for your model.
Lower Overall Bed Height: Many individuals have trouble getting in and out of a bed set that is too high off the ground. They then opt for a thinner mattress in order to make the overall height of their bed lower. If that is the case but you would prefer to stay with a thicker mattress you can always use a low profile box spring, bed slats or a bunkie board to lower the overall height.
Things to consider before buying a thin mattress.
Frequency of Usage: We have listed mattresses that meet all standards and budgets. Be sure to think about how often you will be using your mattress. If it will be a guest bed or an extra sleeper you may want to go with a budget mattress, while if it is an every night sleeper you may lean towards a more luxury sleeping experience.
Material: When it comes to material memory foam, latex and innerspring mattresses all have different benefits and feels. It is important to know which you prefer and choose a mattress that meets your needs.
Price: Generally speaking, the more expensive the mattress the higher quality materials and the longer it will last. Our best all around mattress is a great middle ground between quality materials and an affordable price.
The different types of thin mattresses available
Thinner mattresses that are used for trundle beds or bunk beds are very common in the marketplace . There are a variety of options and different materials to choose from, each with its own benefits and downsides.
Memory Foam: Memory foam was originally invented and used by NASA and ultimately transitioned into use within the sleep industry. Memory foam has great pressure relief abilities but can have a unique feel that takes some getting used to. If you have never slept on a memory foam mattress we recommend testing one out before deciding to purchase one.
Latex: Latex is one of the most natural and eco-friendly materials in the bedding industry. Latex is not only a popular health-conscious choice but it also has amazing pressure relief and support capabilities. The only downside to latex is that it is quite a bit more expensive than competing foams.
Innerspring: An innerspring mattress is going to give the most support and "bounce" out of all the mattress types. Innerspring mattresses are also commonly referred to as "hybrid" mattresses. If you have back pain or are looking for additional support, then we generally recommend an innerspring option. Innerspring mattresses will also usually hold up longer than their all foam competitors.
Need accessories for your mattress?
If you need sheets, comforters, mattress protectors, etc… all of the companies listed above also provide accessories that you can purchase with your mattress.
Alternative options for purchasing a custom thin mattress?
If you prefer not to purchase your mattress online you can look for custom mattress factories in your area to build you a mattress you can test out before buying. A couple custom mattress manufacturers you can check out in person are:
What to do with your old mattress?
When you purchase a mattress online you are left to find a way to get rid of your old one. Luckily "A Bedder World" has mattress disposal services throughout the country. We work with mattress recycling centers to make sure your old mattress gets disposed of in the most eco-friendly manner possible. To date we have recycled over 500K mattresses. Book a pick up here. Or try recycling it yourself!
Conclusion
Thinner profile mattresses are very common in the market place and there are quite a few high quality companies providing options for replacement mattresses. All of the companies listed in this post are companies that we trust and that have great reputations within the sleep community. You can feel confident placing an order with an of them.