(Top 7) Best "RV Replacement" Mattresses, After Testing Dozens – 2023
You probably found that the mattress in your RV or camper is less than ideal when it comes to comfort. You also probably found that it is a different size than a standard twin, full, queen or king mattress. RV mattresses come in their own unique sizes in order to maximize the living area and fit inside the RV properly.
Our team has tested just about every replacement RV mattress on the market and has put together a comprehensive guide on where you can buy a replacement mattress for each specific RV mattress size. These mattresses are well made and are many of the same mattresses that customers sleep in in their homes every night.
---
Quick Picks – 7 Best Rv Replacement Mattresses
Need A Custom Cut Mattress?
Buy custom cut mattresses online
---
Need an RV Mattress Topper?
---
---
Top 7: Best RV Replacement Mattresses
---
1. The Aurora by Brooklyn Bedding
Best Overall (Editor's Pick)
by Rv Mattress and Brooklyn Bedding
The Brooklyn Aurora is made as a collaboration between Brooklyn Bedding and RV Mattress.com. This mattress is the same luxury pillow top mattress that millions choose to sleep on in their homes every night, available to you in a variety of odd and custom sizes to fit your RV or other odd size beds. The pocketed coil support system combined with their patented Titan foam makes this mattress an industry leader in support, pressure relief and cooling technology. Choose from a soft, medium or firm comfort level to meet your specific needs. Each mattress is handcrafted to order in Brooklyn Bedding's factory in Arizona and shipped directly to you.
What we love:
Made in the USA with factory direct pricing

Supportive and pressure relieving

Unbeatable value

Available in a variety of odd and custom sizes

Multiple firmness options
Buy Here
What our testers are saying:
The Aurora provides the same luxurious comfort you expect from a mattress you would sleep on in your home and brings it with you on the road. The heavy duty pocketed coil system combined with extensive comfort layers provides support and pressure relief for any style of sleeper. Enjoy a cool, dry and breathable sleep in any climate. The mattress comes in three firmness levels, for the average sleeper we would recommend choosing the "medium" firmness level. This is a great all around mattress and for the price, the quality of this bed for the price can't be beat.
---
2. The Wanderlust by RV Mattress
Budget Friendly Pick
The Dreamfoam mattress is great all around supportive memory foam mattress at an unbeatable price point. This mattress is available in a variety of thicknesses and odd and custom sizes to fit RV's, Campers, Boats, Trucks and more. 100% made in the USA at their own factory in Arizona, which allows them to offer highly competitive factory direct pricing.
What we love:
Amazing value

High quality memory foam construction

Variety of thicknesses and odd sizes available

Great reviews online

Made in the USA
Buy Here
We earn a commission if you click this link and make a purchase at no additional cost to you.
What our testers are saying:
The Wanderlust mattress is the most affordable mattress on this list and is an amazing quality for the price. This mattress is available in a variety of thicknesses and odd sizes including a short queen option (they call it an RV queen). If you are a heavier individual or plan on sleeping on this mattress multiple nights in a row we recommend purchasing at least the 8″ thickness option. The Wanderlust is made by RVMattress.com which is owned by the Brooklyn Bedding Company. This is a well known company who has been making mattresses in their own factory in Arizona before the online mattress trend. This allows them to offer customers factory direct pricing on all of their mattresses, making them a great value.
We still can't believe the amazing quality the Wanderlust mattress provides with its very low price tag. If you are looking for a comfortable mattress for your RV that won't break the bank, this is a great option. The memory foam comfort layers cradle your body and provide the pressure relief that we would expect from a memory foam mattress, while also getting plenty of support and spinal alignment from the high density support foam underneath.
Available in a variety of RV sizes and different thicknesses
Removable zippered waterproof cover
Quality materials for the price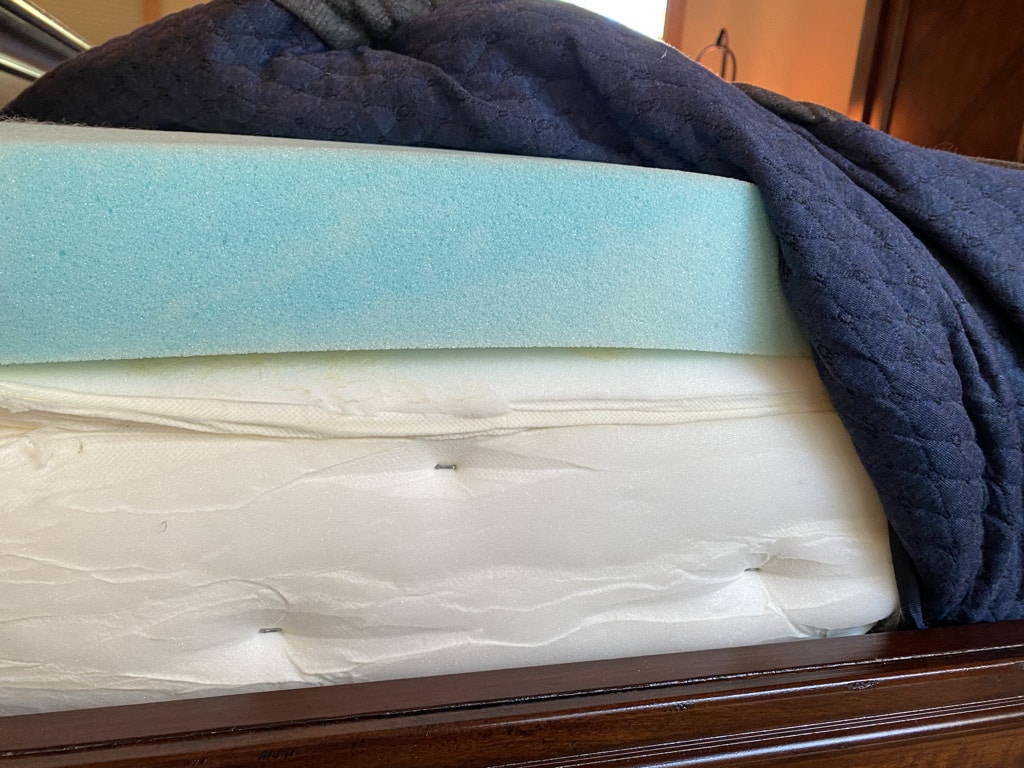 ---
3. The Plank Mattress
Best Firm Option
BEST FIRM MATTRESS
Inspired by the minimalist approach to sleep in the Far East, the firmer, flatter, flippable surface of the Plank mattress creates a neutral spine position that's better for your back and posture overall. The dual comfort design offers two variations: the top side of the mattress features an ultra-firm sleep experience; the bottom side of the mattress feels like a traditional firm, allowing for a highly customizable sleep. Each Plank mattress is manufactured to order in their own factory in Arizona and shipped directly to your door.
What we love:
Built specifically for people who love a firm mattress

Flippable (2 sided) - Firm and Extra-firm sleeping option

Reputable manufacturer. 1000+ reviews.
Buy Here
What our testers are saying:
The Plank is one of the only mattresses that has exclusively focused on creating a mattress for firm lovers. This mattress is not only the best firm mattress for Short Queen RV mattress customers but may be the best firm mattress on the market. The Plank comes with 2 sides one being firm and the other being extra-firm. This allows for sleepers to choose which firmness level is right for them. Customer's seeking an RV queen mattress that is extra firm for sleeping or one that is also great for sitting and lounging on will love this mattress.
Optional cooling cover
2-sided for a firm or extra-firm sleeping surface
---
4. The Signature Hybrid by RV Mattress
Best Innerspring Option
by RV Mattress & Brooklyn Bedding
Brief Summary:
The same mattress millions of people choose to sleep on in their homes every night is now available in a variety RV, odd and custom sizes. This hybrid mattress is made with a high quality pocketed coil innerspring unit as well as luxury comfort layers for pressure relief and alignment.
What we love:
Luxury hybrid innerspring design

High quality support and pressure relief

Available in a variety of odd and custom sizes

Made in the USA
Buy Here
What our testers are saying:
This mattress has a traditional innerspring mattress feel and is one of the only innerspring mattress made in a variety of RV sizes. Not only is the price point under $1000, it also provides a surprisingly supportive and comfortable sleep that we would expect from a higher priced luxury mattress.
The Brooklyn signature mattress is one of the most popular and value friendly hybrid mattresses on the market. It combines the benefits of a traditional innerspring mattress with the cushioning and comfort properties of a foam mattress. This mattress utilizes "Titan foam" which combines the best properties of latex and memory foam to appeal to all sleeping and comfort preferences. This mattress offers something for everyone and is our top pick for the best innerspring mattress in a short queen size. RV Mattress offers their mattresses in a variety of the more popular "odd sizes" and this includes the RV size options. RVMattress.com products are owned and made by Brooklyn Bedding who has been in the mattress industry for years and has their own factory where all of their mattresses are made. This allows them to offer customers a factory direct price, so you get a great product at an extremely competitive price point. The Brooklyn Bedding company owns RVMattress.com where they specialize in RV mattresses, so if you are looking at a short queen for your RV you can be sure this mattress will be a great fit and that you are buying from a company who understands RVer's sleeping needs and preferences.
Same quality mattress thousands of people sleep on at home
Luxury support and pressure relief
Built to fit short queen RVs beds
---
5. The GhostBed Short Queen RV Mattress
Best Memory Foam Option
GhostBed has been in the mattress industry for over 20 years and sells one of the highest rated memory foam mattresses on the market. They have now made this mattress available in an RV short queen and RV king size. This mattress has been designed to meet the medium-firm comfort preference of the vast majority of sleepers. It is made with a high-density core and topped with 2 layers of comfort foam for hotel-like luxury right in the comfort of your rig.
What we love:
Highly reviewed memory foam mattress

Great value

Supportive design with pressure relief benefits

Made in the USA
Buy Now
What our testers are saying:
It is clear Ghostbed knows what they are doing when it comes to creating a memory foam mattress that fits a wide variety of sleeping styles. Their short queen RV is slightly on the firmer side and provides nice support while also comfortably cradling your body. If you like the feel of memory foam and want a memory foam mattress in a short queen RV size, then this is the one we recommend.
---
6. The Eco-Green Latex Mattress (Short Queen) – by Plushbeds
Best Natural Option
BEST NATURAL LATEX OPTION
The Plush Beds Eco-green latex mattress is one of the only latex mattresses available in a 3/4 size (AKA RV Special). Latex provides you with a healthy and high end comfort experience while also providing amazing support. The Eco-Green latex mattress is coupled with an organic cotton cover to ensure the most pure and healthy sleeping environment. PlushBeds has been in the mattress industry for many years and has a strict focus on environmentally friendly and sustainable business practices. They are one of the most well known latex mattress manufacturers and are a company you can feel comfortable purchasing from. If you are looking for a latex mattress for your RV then this is your best option on the market.
What we love:
Natural latex with organic cotton cover

Greenguard gold certified

Made in the USA. Reputable manufacturer
Buy Here
We earn a commission if you click this link and make a purchase at no additional cost to you.
What our testers are saying:
This mattress utilizes 100% natural latex with a supportive high density foam core. This is the same quality latex mattress many people sleep on in their homes and it is now available for you to take with you on the road in a short queen. The organic cotton cover also provides hypoallergenic benefits and keeps the mattress all natural appeal. This mattress is greenguard certified and 100% free of chemicals or heavy metals.
---
7. The Sedona Luxury Hybrid
Best Luxury Option
LUXURY SUPPORT AND COMFORT
The Sedona mattress is Brooklyn Beddings most luxurious mattress in their lineup. The Sedona offers premium comfort layers with a top quality pocketed coil innerspring support. With over 1000 pocketed coils this inner spring unit is going to conform to your body and align your spine as you move. The gel infused memory foam comfort layers also offer pressure relief and cooling capabilities.
What we love:
Luxurious, handcrafted mattress with resort style comfort

Pairs premium foams and a high-end coil system

Made in the USA

Great value
Buy Here
Thoughts from our testers:
We Sedona hybrid is by far the most luxurious and supportive mattress we have tested for an RV. with a short queen bed. This mattress provides the luxurious pocketed coil comfort you would find in a hotel and brings it to your RV. If you plan to sleep in your RV for weeks on end or for a cross country road trip and want the luxury comforts of home then this is the mattress we would suggest. The higher price point also means it is built to last and will hold up for years and years of travel.
---
RVs and campers can be a home away from home. However, with the newest trend of tiny homes sweeping the nation, many people are looking at RVs as a full-time home, but with less maintenance and expense. The 2020 census report states that 11.2 million American families own an RV, and as the tiny home phenomenon grows, that future census number likely will as well.
RVs still have seasonal and yearly maintenance, although RV upkeep costs can be a lot less than regular home repairs, of course, depending on what needs your attention. This fact should help you sleep at night better unless your RV mattress isn't doing its job correctly.
Adults sleep an average of eight hours a night, which equals almost three thousand hours a year. Having the right mattress is imperative to overall health, and bad beds can cause poor sleep, insomnia, back pain, muscle pain and allergies. Not to mention, inadequate sleep can cause another multitude of problems like drowsiness, slow reflexes, headaches, stomach issues and irritability.
Just because it's known as a recreational vehicle that can provide shelter from the wilderness doesn't mean that an RV is supposed to be uncomfortable inside. RV mattresses can offer one of the best night's sleep if you know what to shop for in today's market.
What Is an RV Mattress?
As we know already, an RV is a mobile home, and all homes need a comfortable, inviting place to rest a weary head. RV beds come with stock mattresses, which are usually thin and firm. These mattresses are quality-code standard, but don't hold up for an extended period of time according to every size and weight. Also, they aren't considered always to be the most comfortable or reliable of beds for everybody, universally.
Many RV owners who spend a significant amount of time inside the mobile home choose to upgrade the mattresses fairly early.
The general assumption is that a home mattress will last for approximately ten years. It's not a guarantee by any means, but more so of a personal preference. As for an RV mattress, the time is usually cut in half because the mattress is much thinner and lighter.
However, with today's new technology and more people residing in recreational vehicles, RV mattresses are crafted to give other indoor mattresses a run for their money.
When Is It Time to Replace an RV Mattress?
The answer to this is subjective. So, here are a few scenarios to think about when it comes to debating if it is time to replace the RV mattress:
Most mattresses wear out after about five years, so get rid of it if you know you bought it a long time ago.
It's time to replace it if the previous owner used the mattress and you don't want to invest time in sanitizing.
If you wake up with aches and pains, it's time to either get a chiropractic adjustment or invest in a new mattress.
If you slept eight hours and still don't feel rested, and this has happened repeatedly, then it's time to invest in better sleep. The mattress was certainly tested and approved when it was first made, but the bed will eventually wear down and wear out as time goes on.
If the RV took on water, there's a chance mold spores got into the bed. Cleaning everything after a leak is of the utmost importance, but mattresses are next to impossible to remove all the dampness and can become a playground for mold. A new mattress should be a top priority.
If the mattress has a strange odor, it's time to start looking for a new bed. Aromas can only be covered up so much when it comes to mattresses. The foul smell could be from a spill or accident, and cleaning it immediately is the best option. Yet, other odors could be caused by bacteria, molds, or filler breaking down inside the bed. These odors can do more than stink up an RV; they can make the entire family sick.
Finally, if the bed is visibly lumpy or has springs poking through the material, it is time to get a new mattress immediately.
Can You Replace an RV Mattress with a Regular Size Mattress?
No, regular-sized indoor mattresses will not fit properly in an RV. Although it might be tempting to get a mattress just like the one you got on your bed at home, regular mattresses are a different size in most cases.
RV's have been designed for compact living. The specs for an RV would be hard to accommodate regular-sized furniture of any kind. Couches are visibly smaller and more compact, and dining areas are built-in for space-saving. The same goes for beds in an RV. The framing is built-in, utilizing the space as best as possible.
In the master bedroom area, most times, there are dresser spaces or storage cabinets built right into the bed frame. Whether a bed is classified as a Queen or King size, a standard Queen or King bed that would fit onto a box spring or frame inside a house would not work in an RV. That's because most RV built-ins are not always cut to square, resulting in the mattress needing a little play in size.
RV's take advantage of every space available, so that pillow-top mattress from home that you love so much might fit length and width wise, but it sits too high. There's a good chance your head might hit the above cabinet built-in, or the mattress might cover half the window. Anything obstructing the window would prevent it from being able to be used, which could turn out to be a safety hazard.
It's understandable if you are trying to save money and want to use a mattress from home for a short period of time. If the measurements match up and the mattress won't obstruct anything, causing a safety issue, then so be it.
However, you must take into consideration that residential beds weigh much more than RV mattresses, so lugging that extra weight around on road trips will cause more wear and tear on the "vehicle" part of an RV.
How Much Does an RV Replacement Mattress Cost?
Depending on the size and type of mattress, the price can range anywhere from $200 to $1500 per mattress.
What Are the Typical RV Replacement Mattress Sizes?
RV mattresses are not standard residential mattress sizes, usually because of height and weight. RV mattresses are designed to be just as comfy as residential mattresses but are crafted to where they are a lighter load for installing, as well as transporting in the recreational vehicle.
RV mattresses are also thinner in height to remain aesthetically compact while providing the necessary support your body needs to get a restful night's sleep.
If the RV has built-in bunk beds as a sleeping option, the width of the RV bunk is thinner than residential bunk beds. Residential bunk beds would take a regular standard Twin mattress to sit perfectly on its frame.
However, RV bunk beds are designed to be extra sleek while taking advantage of the above space as an additional livable space in an RV. So, the standard RV bunk bed size is around 28" to 34," as opposed to 38" wide.
It's crucial to always measure twice before purchasing a new mattress for the RV. Off by an inch can cause a big problem in the compact living space of an RV since most things are built-in around the bed. RV mattresses have almost a dozen manufactured sizes to choose from that should fit the prefabricated space.
The most common sizes for ordering a new mattress would be the following:
An rv bunk mattress is most commonly used in smaller locations within an rv or camper. As the name suggests bunk beds within an rv are usually not as wide as a traditional twin mattresses and require a custom or odd sized mattress. RV bunks are most commonly square but can also come with rounded or cut corners, which would require you to purchase a custom cut mattress. RV bunks are a great way to sleep kids or multiple guests in a smaller footprint.
An RV short queen mattress is one of the most common RV mattress sizes found in traditional RVs and campers. A standard queen is 80″ long, making a short queen about 6″ short. This helps to provide sleepers with the width of a queen mattress that can accommodate 2 sleepers while saving room in the RV by making it slightly shorter. Some short queens have cut corners but most will be a standard square size.
A three quarter mattress is a slightly thinner version of a standard full size mattress. It is wider than a twin but thinner than a full and is often called an RV full or 3/4 size mattress. As with all rv mattress sizes, it is made to maximize the space within smaller sleeping quarters and can be found in RV bunks or pullout style beds.
A traditional king size mattress takes up a large footprint, especially when you are trying to save space within a smaller RV space. RV king sizes allow for 2 sleepers to fit comfortably in a king size style bed while still maximizing the space within your Rv. There are a variety of different RV king sizes on the market all commercially available so it should be doable to find one that fits your RV king perfectly. Some larger RV's actually use standard size king mattresses, but these are generally full size campers or Rvs that don't have the same space restrictions.
There are other no-so-traditional pre-manufactured sizes available as well:
Custom Sizing
Custom-sized mattresses are not unheard of when it comes to an RV. RV designers try to utilize all the space in a well-crafted mobile home. This can result in oddly shaped bed frames, cabinet overhangs and significantly more than expected bed areas, like an area that is 70" x 80".
Custom sizes are able to be made through manufacturers online or in-stores. Custom mattresses can take several weeks to be completed and delivered. Many manufacturers have easily understandable forms to fill out using the measurements you have taken on your own. Most manufacturers offer several option choices and comfort levels so that you can create your own custom mattress in no time at all.
RV Mattress Types
Nowadays, there are several types of mattresses to choose from when picking an RV mattress. The days of settling for a firm, lumpy RV mattresses are gone, thanks to the desirable lifestyle brought on by recreational vehicles and the glamping trend.
Air Mattress
An RV air mattress might sound like the most cost-effective option when replacing an RV mattress, but it's not if you're looking at a real-deal air mattress. Air mattresses are on the highest end of the price spectrum, ranging up to $2000. The fact that the mattress has an adjustable dual air chamber on each side of the bed for personal comfort might explain the price tag.
Innerspring Coil Mattress
Innerspring coils with pocketed coils is a high-quality mattress that allows the mattress to conform to the body. With newer technology, it has reduced motion transfer when tossing in bed.
Foam Mattress
Foam mattresses come in different thicknesses for comfort and stability. The standard thickness of an RV foam mattress is between 5" to 6." Foam mattresses are suitable for any body type and size. High-density foam can hold heavier weights without breaking down quickly.
Memory Foam Mattress
Memory foam has a higher density and provides more comfort. The standard RV memory foam mattress is 8" thick. It can handle better weight distribution than regular foam, but it also has a high price tag for that reason.
Latex Mattress
Latex mattresses come in a variety of latex. There is synthetic, natural or blended. All are equally comfortable at first, but synthetic can break down over time when exposed to heat and UV rays. Springing for the natural bacteria-resistant latex might be the better option in the long run, especially since the natural latex is also hypoallergenic while repelling dust mites.
However, this is probably not your mattress if you have a severe latex allergy. Most natural latex has the protein allergen, hevea, removed, but if you are highly sensitive to latex, talk to your doctor before risking it.
Factors to Consider When Choosing a Replacement Mattress for Your RV
Before laying down a bunch of money on a new RV mattress, there are several factors to consider. Any RV mattress you choose can be viewed as a major purchase and a heavy hit to the wallet if you need to purchase more than one.
How Many Mattresses Need Replacing?
First, you must consider how many mattresses need to be replaced? Answering that will help in determining your budget. If only one bed needs replacing, it might be good to buy your first choice. However, if you need to shell out money on two or three, going 'middle of the road' might be better for your pocket.
What Thickness Do You Need?
It isn't the best idea to think that a 2" piece of foam will cut it as a comfy bed as a long-term solution. It will be more comfortable than sleeping on the wooden frame alone, but it will soon break down and cause a lot of aches and pains.
Most standard RV mattresses are between 5" to 8" thick. This provides excellent support and comfort. Consider your weight and size when making the purchase.
No matter the size, the thicker the mattress is, the longer it will take to break down over time. Thinner mattresses will begin to sag from the body's impression. This can become a real hassle causing sore muscles and joints. It is best to be proactive in comparing the different types of mattresses and their thickness to get the best night's sleep you deserve.
What Size Should You Buy?
By now, you should know that it is crucial to measure the old mattress and the bed's platform to find the perfect fit for the bed frame, but there are a few other measurements that should be taken before selecting a mattress size.
Measure the built-ins and nearby windows to make sure there are no obstructions to the bed or the use of built-ins.
Measure the RV entry doors to ensure that the new mattress will fit through effortlessly.
Can You Afford the Cost?
The question is phrased this way because you need to consider the price and what it might cost you not to get the mattress replaced. Replacing the RV mattresses in your mobile home will be a financial undertaking. Yet, if you don't replace the beds, will you suffer from back pains every day? It might sound extreme, but bad mattresses can lead to hip injuries.
Another thing to consider when it comes to cost is downgrading to save a couple of bucks, which is usually a terrible idea. Finding deals and searching for sales is a great way to save money, but you shouldn't spare quality if you don't have to.
For example, if a 250lb man saves $40 on buying the 6" mattress instead of the 8," he will need to replace the mattress again two years sooner than he thought he would. He won't really save any money in the long run.
Do You Want a Firmer or Softer Mattress?
You don't have to be a Goldilocks and try them all. If you've slept in a bed before, you already have some sort of idea of which kind of mattress you prefer. Higher-end RV mattresses will give a larger selection of firmness, allowing the customers to choose from Plush, Firm or Soft Pillow Top.
It comes down to personal preference. However, a few theories are out there to help determine which might be best for you:
Plush: It is excellent for couples who want to cuddle but then want to have their own space, too. Plush will contour the body and reduce motion transfer.
Firm: It is believed that it is ideal for stomach sleepers or starfish sleepers to sleep on a firm mattress.
Soft Pillow Top: It is perfect for side sleepers and those who want to feel like they're sleeping in the clouds.
What Type of Material Is Best?
Deciding which material is best for your new RV mattress is also subjective. However, it is good to think about where the RV will be traveling most often. Before choosing the new mattress of your dreams, these are all things you should probably consider first.
If it is at the hot beach year-round, perhaps pick something that can withstand the heat without breaking down.
If the RV will be in the cool mountains, pick something that offers better temperature control.
Natural latex handles humidity better than foam, and the latex is wrapped in a bamboo cover in most cases.
Can You Purchase RV Replacement Bedding and Accessories?
Bedding for RVs can be complicated. Using standard residential bedding is acceptable, but regular bedding might be too big or small depending on what you buy because of the RV mattress sizing difference.
It might be a good idea to invest in bedding suspenders when using regular-sized bedding to avoid flat sheet slippage. There is nothing more annoying than popping a corner off the flat sheet when sleeping.
There are manufacturers who make bedding specifically for RV mattresses that fit the proper sizes. Some companies like Beddy's or ZipIt make 3-1 bedding that zippers the sheets and comforter into one easy-to-fit bedding. This product is desirable for anyone with built-ins around the bed because making a bed look magazine-cover-ready when contending with a wall or cabinet can be challenging.
Mattress covers, including toppers and pads, are available in RV sizes. Mattress covers can add an extra comfort level as well as protect the mattress from harsh elements.
RV bedding accessories, like pillows, are available for purchase through manufacturers who specifically focus on RV bedding, but really, you can buy throw pillows and head pillows anywhere. Just pick what you like to match your décor and personal style.
The Pros and Cons of Purchasing an RV Replacement Mattress
There are a few pros and cons to purchasing an RV replacement mattress, as with anything in life.
Pros
You'll get a better night's sleep.
You can experience that new mattress feeling when you fall asleep and wake up every day for the first few months.
You don't have to worry about a new mattress again for at least five years.
There are many options to choose from, whether it be foam, coil, or latex.
Many styles today are as comfy as your bed at home.
There are so many possibilities available out there in today's market, giving options to choose between soft pillow, plush or firm.
If you measure the frames and doors before purchasing, it will guarantee fewer headaches later during the replacement and installation process.
Cons
It's expensive.
You can't always try it before you buy it.
You may accidentally choose the wrong style.
You must figure out what the options feel like before making a high-dollar choice.
You need to know how to measure and read a tape measure accurately to get the right size.
In Conclusion
When it comes to replacing an RV mattress, you know there are over a dozen sizes, styles and options to look at when making this choice. However, now you can make that big purchase with confidence and get a better night's rest while in your mobile home.