(Top 7)
Best Twin Size Mattress for Adults
Whether you're trying to save money, want to save space, or simply don't want to get anything bigger, twin mattresses remain practical choices for many adult sleepers. Here's what you should look for to find the best twin mattress for adults.
Twin Mattress vs Twin XL Size Consideration for Adults
A standard twin mattress is 75″ long x 38″ wide. A twin mattress is generally great at accommodating adults that are 5'10" or shorter. If you are taller than 5 foot 10 inches then a twin may be too short. If that is the case, consider getting a Twin XL bed instead (38″wide by 80″ long). A Twin XL mattress is the same size as a twin mattress but adds 5 inches in length. These five inches added to the length of the mattress, makes as twin xl more comfortable for many adults without significantly increasing the size.
---
TOP 7 – Best Twin Mattresses for Adults
---
Best Overall (Editor's Pick)
GREAT ALL AROUND VALUE
TRADITIONAL INNERSPRING FEEL
An all around hybrid mattress that combines the benefits of a traditional innerspring mattress with Brooklyn Bedding's patented "Titan foam" comfort layers (combining the best properties of latex and memory foam to appeal to all sleeping and comfort preferences). Brooklyn Bedding has been in the mattress industry for years and makes each mattress at their own factory, meaning they can cut out the middle man and provide a great price. This mattress has thousands of 5-star reviews from customers who rave about its value and universal comfort.
What we love:
Unbeatable comfort for the price

Luxury hybrid innerspring design

High quality support and pressure relief

Choose soft, medium or firm

Over 2,000 5-star reviews.

Made in the USA
Buy Now
What our testers are saying:
The Signature Hybrid by Brooklyn Bedding is a great all around mattress at a very valuable friendly price point. The pocketed coil innerspring unit give enough support for heavier adult sleepers while the top layers provide pressure relief for all styles of sleepers. The mattress comes in 3 firmness levels in order to allow you to choose the feel that is right for you. At 12 inches thick this mattress is heavy duty enough to provide support while not being too thick. The quality materials means it will hold up for years to come without prematurely breaking down and the price point makes it great for an every night sleeping option or for a guest room that will be sleeping anyone from adults to children.
---
Best Natural Option
The Birch Natural mattress is a high quality natural mattress at a highly competitive price point. The pocketed coils provide a luxuriously supportive base that offers industry leading spinal alignment and cradles the natural curves of the body. Birch has built this mattress around optimizing pressure relief with the use of natural latex and wool comfort layers. Latex is one of the best foams on the market for providing pressure relief while still being supportive. The wool adds comfort while naturally wicking moisture and sleeping cool. Birch then has topped the mattress off with an organic cotton cover, making is naturally hypoallergenic and dust mite resistant. This mattress is a great all-around natural option for anyone looking for a medium-firm hybrid mattress that is chemical free.
What we love:
100% Made in the USA

Non-Toxic

Supportive, hybrid pocketed coil design

Luxury pressure relief

Natural and Organic Materials (Latex, Organic Wool & Cotton)

Universal "Medium-Firm" Feel
Buy Now
What our testers are saying:
Birch is known throughout the industry for their high quality natural latex mattress options. The Birch is their most budget friendly latex mattress and provides all the healthy benefits of a latex with the benefits of a pocketed coil innerspring unit. The Birch comes in a medium-firm comfort level to suit the vast majority of comfort levels and preferences. This mattress also has an organic cotton cover and is perfect for any adults or individuals with allergies or who are sensitive to non-organic fabrics. While there are other latex mattress options on the market that may cost more, this mattress is by the the best bang-for-your-buck natural mattress.
What Customers love: Natural latex mattress at an affordable price.
---
3. The Chill by Brooklyn Bedding
Budget Friendly Pick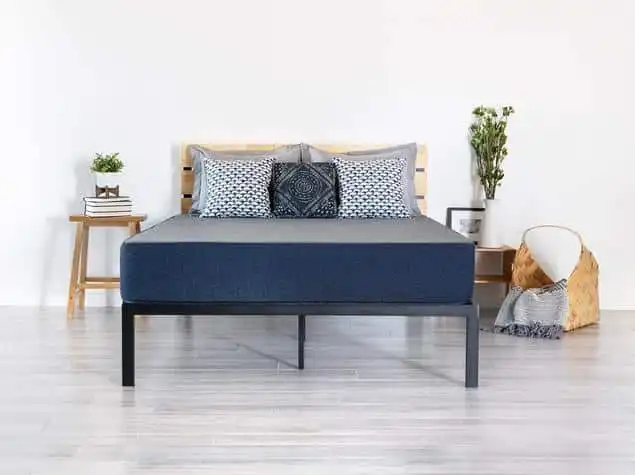 BUDGET FRIENDLY
This may be the best budget friendly mattress on the market. The combination of high density support foam and memory foam comfort layers makes for a supportive, pressure relieving sleep experience. If you like the feel of memory foam and are looking for an affordable sleeping option then this is the best mattress you will find. Brooklyn Bedding makes all of their mattresses in their own factories in Arizona and are able to cut out the middle man and offer customers factory direct prices.
What we love:
Budget friendly price point

High quality, supportive memory foam design

Made in the USA (Arizona Factory)

Available in custom sizes and thicknesses
Buy Here
What our testers are saying:
The Chill is probably the best kept secret when it comes to quality entry level and budget friendly mattresses. This is a great option if you are looking for a quality memory foam mattress at a great price. The high density base foam coupled with the memory foam make it a supportive and comfortable mattress. It also comes in a variety of thicknesses to meet the needs of bunk beds, daybeds, trundle beds and much more. The reviews of this mattress are highly positive. If you are looking for an affordable twin mattress to support the weight of adults, then this is likely the best choice for you.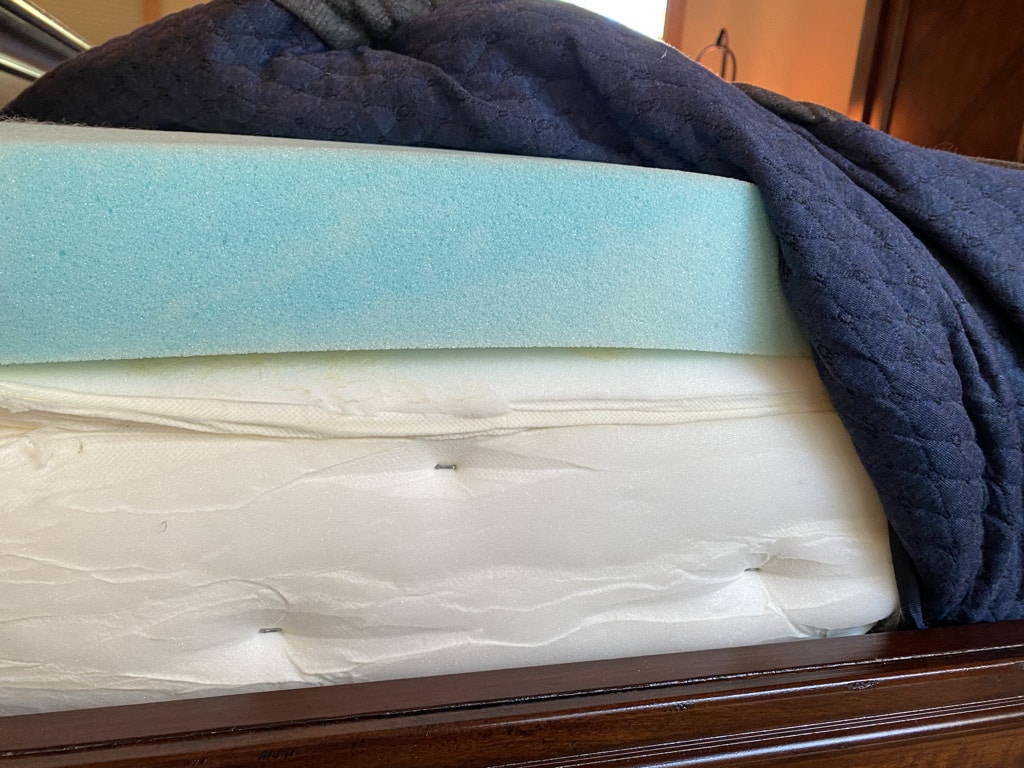 What Customers love: High quality, affordable memory foam mattress
---
4. The Plank by Plank Mattress
Best Firm Mattress
BEST FIRM MATTRESS
Inspired by the minimalist approach to sleep in the Far East, the firmer, flatter, flippable surface of the Plank mattress creates a neutral spine position that's better for your back and posture overall. The dual comfort design offers two variations: the top side of the mattress features an ultra-firm sleep experience; the bottom side of the mattress feels like a traditional firm, allowing for a highly customizable sleep. Each Plank mattress is manufactured to order in their own factory in Arizona and shipped directly to your door.
What we love:
Built specifically for people who love a firm mattress

Flippable (2 sided) - Firm and Extra-firm sleeping option

Reputable manufacturer. 1000+ reviews.
Buy Here
What our testers are saying:
The Plank is one of the only mattresses made specifically for adults sleepers who love a firm feeling mattress. This mattress comes at a mid level price point and is a very high quality firm mattress for the price. Its 2-sided design allows you to choose a firm or extra-firm sleeping surface by simply flipping the mattress over. The thinner 11″ profile with solid edge supports makes this mattress perfect for a twin mattress.
What Customers love: Built specifically for sleepers who prefer an extra-firm mattress
---
Best Memory Foam Option
GREAT VALUE MEMORY FOAM MATTRESS
The Puffy Original Mattress is a luxurious memory foam mattress at a great price. It has a medium-firm feel and is a perfect comfort level for the majority of sleepers. Puffy's memory foam design conforms to your body and is great for kids or adults. Puffy is a reputable brand name in the industry and has won a variety of awards for the quality of their US made sleep products.
What we love:
Medium-firm feel fits all sleep types

Multiple awards for best all around mattress

100% made in the USA!

Breathable and cooling

Firm supportive base foam

Stain-resistant cover

Donates beds to children in need
Buy Now
What our testers are saying:
The Puffy mattress is a great value mattress for the price. It is a medium-firm feel and is a perfect comfort level for the majority of sleepers. The single size Puffy mattress retail costs about $495 dollars and includes free shipping, free returns and 101-night risk-free trial. If you don't like the mattress after 101 days they will refund you and come and it pick up for you. Puffy's memory foam design conforms to your body and is great for kids or adults.
The Highlights:
Medium-firm feel fits all sleep types and weights (multiple awards for best all around mattress).
101 day free sleep trial with free shipping and free returns
Fits on any surface (box spring, adjustable base, platform bed, etc..)
Comes with a lifetime warranty
100% made in the USA!
Breathable and cooling with Tempurature stabilizing climate control
Firm supportive base foam for luxury level spinal alignment and pressure relief
Stain-resistant cover
Donates beds to children in need
What Customers love: Great value. Fits majority of sleep preferences. Over 6000 5-star reviews.
---
Best Luxury Option
The Helix Midnight LUXE is their most awarded mattress and is a great all around mattress in our opinion. This mattress is going to have a medium-firm feel which is perfect for most sleep preferences and styles. The pocketed coil support system provides the support and bounce of a traditional innerspring unit but has the bonus of "zoned" support which means it perfectly supports and gives to the natural curvature of your body, allowing for industry leading spinal alignment and pressure relief. Helix also offers a softer and firmer option in their LUXE lineup if you prefer something on one of the other ends of the firmness spectrum. Overall, our team loves this mattress and many of our employees choose this exact mattress in their own homes at night.
What we love:
Medium-firm feel

Made in the USA

Cooling/Breathable cover

Highly awarded and reviewed

"Zoned" lumbar support coils for luxury support and pressure relief

Premium quilted pillow top

Hypoallergenic cover
Buy Now
What our testers are saying:
The Midnight LUXE is our testers favorite all around mattress and is the one many of our team choose to sleep on every night. This is one of the most universally liked and recommended mattresses in the industry. It is supportive while still being comfortable. It has a mix of pocketed coils and a memory foam pillow top, to give support and pressure relief. It also has a cool and breathable cover. This mattress won "best mattress of the year" and is a great all around luxury choice for a twin mattress. 
What Customers love: Luxury pillow-top comfort. Great for all sleeping types
---
Best Pressure Relief
BEST PRESSURE RELIEF
The Layla hybrid mattress utilizes a pocketed coil support system combined with 2 sides of copper infused memory foam. This design provides support while also cradling the body and relieving pressure points. The Layla hybrid is 2-sided so you can choose to sleep on the firm or soft side. If you suffer from back pain, hip or shoulder pain this mattress may be a great option for you.
What we love:
Industry leading pressure relief

2 sided (soft and firm sides)

Copper infused for a cooler and cleaner sleep
Buy Here
What our testers are saying:
The Layla hybrid mattress utilizes a pocketed coil support system combined with 2 sides of copper infused memory foam. This design provides support while also cradling the body and relieving pressure points. The Layla hybrid is 2-sided so you can choose to sleep on the firm or soft side.
Highlights:
Hybrid mix of pocketed coils and copper infused memory foam for ultimate body support and recovery
2-sided for firm and soft sleeping options
Sleeps cool with copper infused memory foam
120 night free trial with free shipping and free returns
Made in the USA
What Customers love: Amazing pressure relief and support. 2-sided soft and firm options.
---
Mattress Types for Adults to Choose From
The type of mattress you buy has the most significant impact on your comfort while sleeping. There are five major mattress types currently available, although most adults tend to gravitate towards buying the top two.
Memory Foam
The current poster child for the industry, memory foam, is a type of polyurethane that shapes around the body in response to heat and pressure. Other mattress types tend to put a lot of pressure on specific areas, but memory foam provides similar support everywhere.
Most memory foam mattresses have several layers to them. The bottom layers are usually denser and firmer, offering support and structure for the mattress. Top layers are softer, making them more comfortable and easier to sink into.
People have different preferences in bedding, so there's no depth for comfort foam that's universally ideal. However, in general, heavier people do better with deeper comfort foam. If you don't have enough comfort foam for your weight, you may sink to the firmer layer, which can be uncomfortable.
Most adults will do well with about four inches of comfort foam. Lighter adults may be able to get away with two or three inches, and heavier people may need as many as six inches. It's better to try and get exactly the amount of comfort foam you need. If you have too much, you may not get enough support from the mattress below you.
Remember that you can always add comfort foam on top by purchasing separate pads, so it's best to start with the lowest amount of comfort foam you think you need. You can't remove foam from the mattress, but you can add foam layers, so that's the easiest way to adjust a mattress's feel.
Memory foam is an excellent choice if you prefer sleeping on your side.
The main downside of memory foam is that it can trap heat more than other mattress types. That's not a bad trait if you live in a cold area and want the warmth, but some manufacturers are taking steps to cool things down.
Innerspring
The other popular style of mattresses, innerspring, has a series of steel coils that hold up the top. Most of these mattresses measure things in gauge, which refers to how thick the steel springs are. Almost all spring mattresses have a gauge from 12 to 15, with higher numbers meaning thicker and firmer mattresses.
Innerspring mattresses are noticeably firmer than memory foam and don't contour to the body very well, although some have an inch or two of memory foam to provide a little more comfort.
These work particularly well for back and stomach sleepers, where a firmer surface helps maintain spinal alignment. Many adults find spring mattresses to be less comfortable than memory foam, but ultimately only you can decide what surface you prefer sleeping on.
Innerspring mattresses have more space for air to flow between the coils, so they tend to run cooler than memory foam. That's a noticeable upside if you live in a warmer area, but if your room gets too cold at night, you may prefer warmer foam instead.
Latex
Latex mattresses are rarer than memory foam and innerspring mattresses, but you can still find them if you go looking. Latex is essentially a rubber foam made with some combination of natural and synthetic components. Wholly natural latex beds are rare and expensive, but also impressively durable.
Natural latex can also be comfortable for people with allergies because it rarely triggers them. If you're looking for an organic mattress, natural latex is an excellent place to start.
Latex contours well, but it's also somewhat bouncier than memory foam and quickly returns to its original shape after you stop putting pressure on it. Most latex mattresses use one of two manufacturing processes, although some beds will have elements of both.
Dunlop latex is made with one complete pour. This results in a small amount of settling, so the foam is slightly denser at the bottom than the top. In mixed mattresses, Dunlop latex tends to be a middle layer thanks to the change from light to dense.
Talalay latex is partially filled in a mold before getting air pumped in. That expands the latex. Talalay is slightly less durable than Dunlop, but it's also more consistent, so this is usually the top layer in a mixed mattress.
Latex is better at cooling and air circulation than memory foam, so it works better in warmer climates. Some manufacturers also sell latex mattresses with integrated air pockets, which are even better for cooling.
Most latex mattresses are high-quality products, but you can expect a significantly higher price tag even for a twin-size mattress. A typical latex mattress will last at least 20 years and possibly more, which is about twice the lifespan of other materials. In the long run, buying latex mattresses may save you money.
Adjustable
Finally, adjustable beds are the rarest option currently available. These beds have air chambers that you can use to adjust how firm the mattress feels. Adjustable twin-size beds are mainly helpful if you expect many different people to use the bed, which can happen with some hotels and rental properties.
However, when the adjustable system breaks, you're left with a bed that ends up at its softest. Adjustable beds are mainly helpful if comfort matters more than price and you're okay with replacing the bed regularly. Otherwise, it's hard to recommend this over finding a permanent firmness that you like better.
Different Firmness Levels for Adults Sleepers
Firmness levels are hard to judge because they're highly subjective and not necessarily the same between manufacturers. Most people don't report experiencing firmness the same way manufacturers rate it.
In short, these levels are highly subjective, and the only way to understand them is by trying different beds and experiencing them for yourself. However, most manufacturers use a 10-point scale split into five main sections.
Remember, the main goal of firmness is to let the bed contour around the body enough to relieve pressure, but not so much that you end up going down to the support foam and feeling the pressure again. That's why most people focus on the 5-8 range for firmness, rather than buying something in the extremes.
1-4: Soft and Medium-Soft Mattresses
The softest mattresses are ideal for light adults, which usually means anyone under 130 lbs. These have excellent contouring but don't have the internal structure to hold heavier users without bottoming out. Most adults are too heavy for a soft mattress to be comfortable.
Furthermore, soft mattresses usually involve thinner and weaker foam than other options. That means the foam wears out faster, and you'll need to replace the bed more often. Consider a bed in this range if you're both light and prefer sleeping on your side.
As a secondary consideration, it may be worth getting a firm mattress and placing two to four inches of lightweight foam on top. This can provide most of the comfort of a soft bed, but instead of replacing the entire thing, you can replace the lighter foam layers when they wear out. This is a more budget-friendly strategy in the long term.
5-7: Medium to Medium-Firm
Medium is the range that most adults prefer, so start here if you're not sure what firmness to experiment with first. Medium mattresses have a roughly even split between contouring and sinking, making them an excellent choice for both side and back sleepers.
Interestingly, medium-firm mattresses also tend to be more affordable than softer ones. Comfort foam is somewhat more expensive because companies don't make as much of it, so medium-firm mattresses tend to be a budget-friendly option.
Most mattresses in this range will last at least seven years and often longer, regardless of the material you make them out of.
8-10: Firm Mattresses
The firmest mattresses tend to make you feel like you're sleeping on top of the mattress, rather than sinking into it. These are the best choice for buyers 230 lbs and up, as the superior support helps resist the collapse of materials. Lighter people won't get enough contouring, so they should avoid this density.
Firm mattresses are excellent for back and stomach sleepers because the density of the support helps maintain proper alignments. Innerspring mattresses tend to fall into this range, but some types of latex and memory foam can also produce firm mattresses.
These are not a good choice for side sleepers. Firm mattresses don't offer enough contouring or pressure relief, so if you want to sleep on your side, don't go past a 7 in firmness.
Finally, firm mattresses tend to be the most durable. It takes longer to wear through their thicker foam, so you won't be replacing these nearly as often.
Some people put medium-density pads on top of a firm mattress to get additional longevity without sacrificing comfort. That's also a practical strategy if you don't mind your bed being a few inches taller.
Additional Construction Elements Adults Should Consider
Bedding materials are important, but they're not the only thing that affects your comfort when you're trying to find the best twin mattress for adults. Here are some other traits to think about before you go shopping.
Edge Support
One of the problems with cheap and all-foam mattresses is that they lack edge support. This means that it's hard to sit on the side, and if you're a heavier adults sleeping near the edge of a twin size mattress, you may feel like you're more at risk of falling off.
It's easier to avoid this issue on a larger mattress like a queen-size bed, but twin beds don't have a lot of room to move around. If you want to sit on the side of your bed a lot, consider getting an innerspring (which is naturally better at support) or a foam mattress with a denser edge.
Mattress Height
Mattress height affects several aspects. Taller mattresses tend to be more comfortable because they can fit more comfortably on top of the supporting layers. A good mattress usually has at least six inches in its main support area, and another four inches in comfort layers.
Shorter mattresses tend to be more affordable, easier to carry, and easier to put fitted sheets on. This is especially important because many people buy mattress toppers these days, which can add several inches in height.
As a secondary consideration, tall mattresses may not fit in all rooms. For example, if you want to put your mattress near a slanted ceiling or on top of a bunk bed frame, having that mattress be too tall could result in smacking your head into the ceiling when you wake up.
These don't affect everyone, but they do show why it's important to consider your bed's location when selecting the height.
Motion Isolation
Motion isolation is a natural feature of memory foam beds. High-quality memory foam is exceptionally good at minimizing the transmission of force, to the point that Tempur-Pedic famously filmed people not disturbing a wine glass while jumping on a bed.
This isn't as relevant for adults sleeping on a twin-size mattress because most people aren't sleeping two at a time on a bed this size, but it can be a valuable trait if your mattress is pulling double-duty as a couch for people. Latex, innerspring, and hybrid mattresses are significantly worse at motion isolation than memory foam is.
Pricing
Twin mattresses are the most affordable option on the market. Anything cheaper probably isn't a mattress at all, though you may be able to get a good alternative like a Japanese-style futon for a great price.
A twin bed might lack space, but the reduction in price means you can get a significantly more comfortable bed for the same amount of money as a less-pleasant Queen bed.
Budget Models
Budget models for a twin bed are around $400 to $500, although they can go as low as $250 if you're willing to sacrifice basic materials. All-foam beds tend to be the cheapest option here. For the best balance of savings and comfort, consider getting an inexpensive base and adding the highest-quality memory foam pads you can afford on top.
Customizing is often important here because budget-range twin beds may have few or no comfort layers on top. It's easy to get a firm bed in this range if you prefer those, but expect to pay a little more if you want medium firmness instead. Naturally soft beds are rare at this price.
Anything less than $200 is almost definitely a used model. Buying used is usually a poor choice unless you literally can't afford anything else. Used mattresses may have stains, pests, smells, or other problems. They also tend to be closer to the end of their lifespan, so they won't last as long as a bed you can get for slightly more money. That's a big waste in the long run.
Mid-Range Models
A mid-range twin bed costs around $600. Like budget beds, these tend to be foam-focused, but you may also see some innerspring mattresses or hybrids that use decent materials. Mid-range models may not need extra pads on top to be comfortable.
It's worth noting that a medium-range bed costs about the same as a budget bed with some extra pads on top. That means budget models are more customizable and can save you up to several hundred dollars if you need to customize a mid-range model.
Luxury Models
Luxury models aren't as rare as you might expect for twin-size beds. Queens get a lot of the focus, but this range is where you'll find the best twin mattress for adults. A good luxury mattress will cost at least $1000 and often up to $1300. Any more than that, and you're probably overpaying.
Luxury twin beds tend to use latex, possibly with a layer of coils beneath them for added support. These mattresses seldom need extra toppers or adjustment. Even better, retailers usually have generous testing policies so you can try the bed for weeks or even months before completely committing to it.
Purchase Location
Buying online is significantly more affordable than purchasing a bed in person. Physical stores have much higher markups, and may also disguise the names of specific models to make it much harder to do comparison shopping. This is why it's important to look at the features and construction of a mattress, not just the name.
Of course, this isn't to say it's hard to find a physical retailer if you want to. Mattress stores are so common that people occasionally wonder if they're there for money laundering. Either way, physical stores allow you to test out different firmness levels, and that's always a good idea before you go shopping.
Disposal
Finally, how are you going to get rid of your old mattress, if you have one? There may be a slight cost to this, but there are a few options for recycling instead of just throwing it away.
Many areas in the country have recycling centers that can take out valuable materials like memory foam and steel, then sell or repurpose them into something else. For example, a significant amount of foam that goes beneath carpets is recycled from old beds. Here are some of the best disposal options for your old mattress:
If you're getting a bed delivered directly, the store may take away your old one. This might be for free, or for a nominal fee. Stores usually recycle these mattresses, and since they're doing the removal, this is the easiest choice.
Local waste management companies may pick up bulk items like mattresses. Call them and ask about this.
Many second-hand stores, such as Goodwill, may accept mattresses. They usually don't sell these directly, but they can recycle them directly or deliver them to someone else who can.
Hauling companies can take materials away to recycle in bulk. This may not be good if you're just getting rid of a mattress, but if you need to dispose of a lot of stuff at the same time, it's both practical and effective.
Finally, you can bring the mattress to a recycling center yourself.
Final Thoughts
Finding the best twin mattress for adults can take a little time. This has less to do with the specific quality of the mattress and more to do with personal taste. People prefer different things, so we can't pick one mattress and say that it's objectively the best.
However, with the information in this guide, you've learned about the materials, price ranges, firmness levels, and other attributes that can make a mattress worthwhile. Whether you're about to start shopping or just want to learn this for the future, keep these details in mind and you'll find it much easier to get the right mattress for your needs.