(Top 5):
Best RV Bunk Mattresses Online
What is an "RV Bunk" mattress and where can you buy one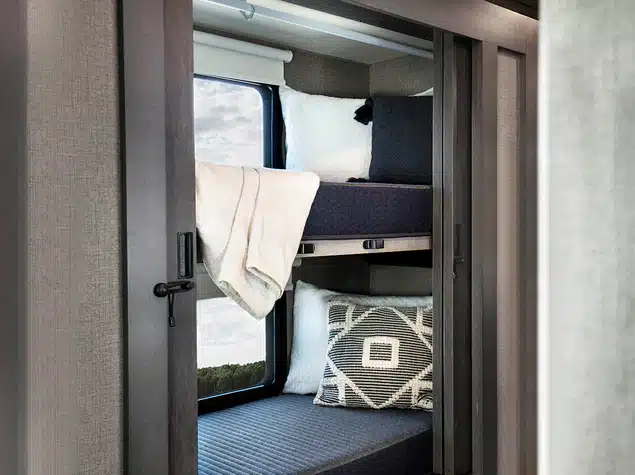 RV manufacturers try to accommodate as many sleepers as they can in a small space, which means odd sized mattresses and the inevitable bunk bed. Bunk beds are a great way to save space but you probably realized your RV Bunks are a different size than a standard twin mattress. You probably also realized the mattresses that the manufacturer put originally put in are not very comfortable. If you are looking for where to buy a replacement RV Bunk Mattress you have come to the right place. With a rise in the online mattress trend over recent years, you are now able to easily purchase custom mattresses online. We have done all the research and listed our top picks for the best options available on the market today. Our list includes everything from luxury options to customizable options and budget friendly picks. We have done our best to make sure that by the end of this post you know which mattress will suit your needs best.
Quick Picks – 5 Best Rv Bunk Mattresses
Need A Custom Cut RV Bunk Mattress?
Buy custom cut mattresses online
---
Top 5: Best RV Bunk Mattresses
---
1. The Wanderlust by RV Mattress
Budget Friendly Pick
The Dreamfoam mattress is great all around supportive memory foam mattress at an unbeatable price point. This mattress is available in a variety of thicknesses and odd and custom sizes to fit RV's, Campers, Boats, Trucks and more. 100% made in the USA at their own factory in Arizona, which allows them to offer highly competitive factory direct pricing.
What we love:
Amazing value

High quality memory foam construction

Variety of thicknesses and odd sizes available

Great reviews online

Made in the USA
Buy Here
We earn a commission if you click this link and make a purchase at no additional cost to you.
What our testers are saying:
The Wanderlust RV bunk mattress is made by RvMattress.com which is owned by The Brooklyn Bedding Company. This is a great value friendly memory foam mattress and is perfect for the vast majority of sleepers. The fact that this mattress starts at only $186 makes it a great buy and a perfect mattress for putting in a camper or RV that gets occasional use.
The Wanderlust mattress is the most affordable mattress on this list and is an amazing quality for the price. This mattress is available in a variety of thicknesses and odd sizes including multiple different RV bunk sizes. If you are a heavier individual or plan on sleeping on this mattress multiple nights in a row we recommend purchasing at least the 8″ thickness option. The Wanderlust is made by RVMattress.com which is owned by the Brooklyn Bedding Company. This is a well known company who has been making mattresses in their own factory in Arizona before the online mattress trend. This allows them to offer customers factory direct pricing on all of their mattresses, making them a great value.
We still can't believe the amazing quality the Wanderlust mattress provides with its very low price tag. If you are looking for a comfortable mattress for your RV that won't break the bank, this is a great option. The memory foam comfort layers cradle your body and provide the pressure relief that we would expect from a memory foam mattress, while also getting plenty of support and spinal alignment from the high density support foam underneath.
Available in a variety of RV sizes and different thicknesses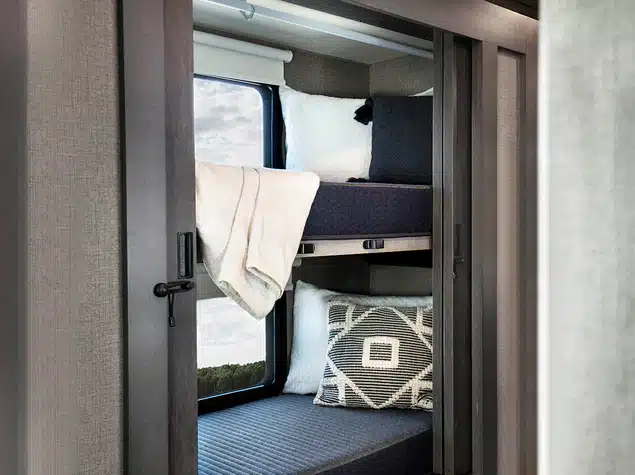 Removable zippered waterproof cover
Quality materials for the price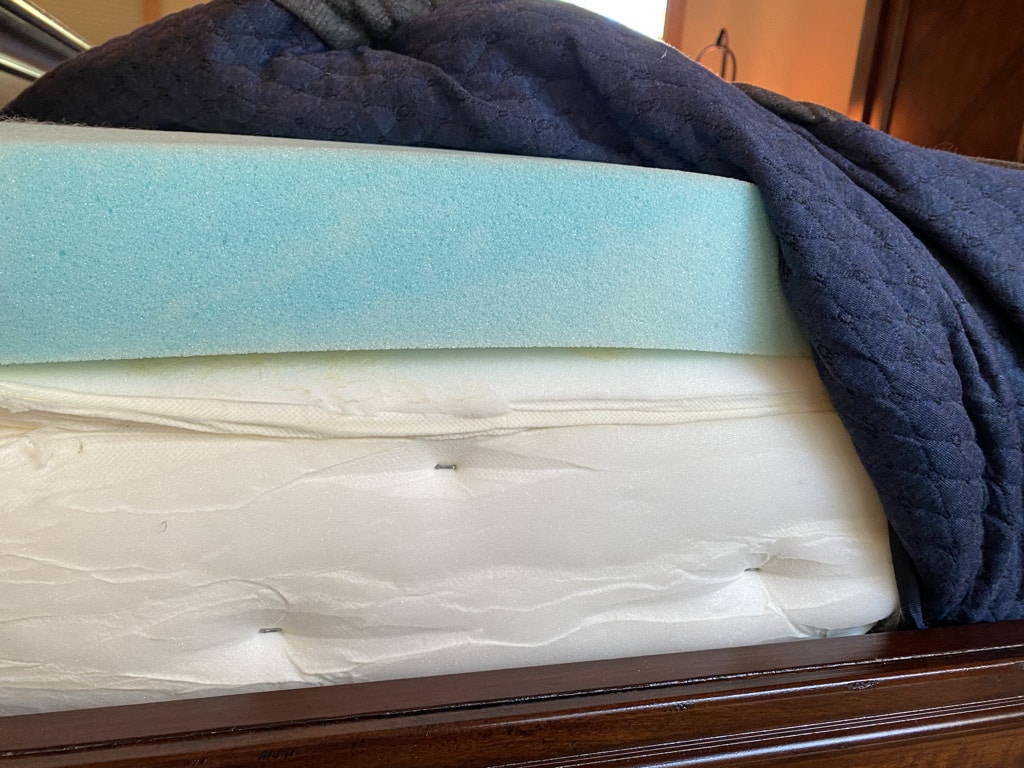 ---
2. The Natural Latex RV Mattress by Mattress Insider
Best Natural Option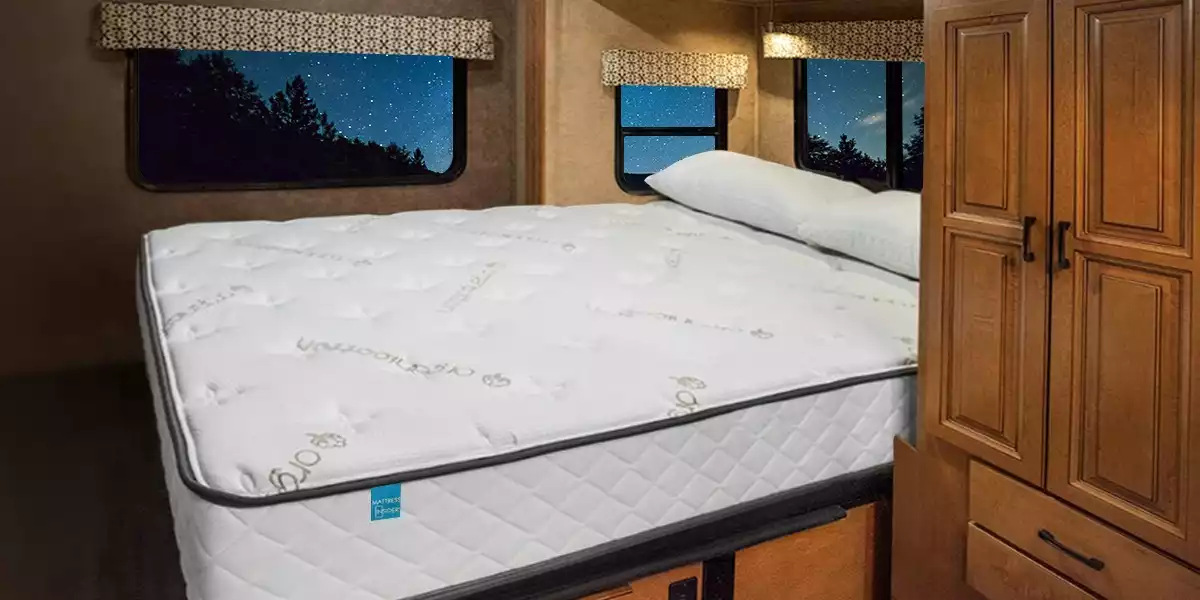 The natural latex mattress by Mattress Insider is made with naturally poured latex foam and an organic cotton cover. This mattress is non-toxic, chemical free and naturally hypoallergenic. Mattress Insider is known for their custom and odd sized mattresses, offering this mattress in a variety of RV sizes, including all of the popular RV bunk sizes. If you are looking for a natural sleeping option for your RV then this is an amazing pick and is one of the only custom sized natural mattress options on the market.
What we love:
Non-toxic and chemical free

Made in the USA

Natural latex and organic cotton

Supportive 8.5" thickness\

Naturally Hypoallergenic
Buy Now
What our testers are saying:
This mattress is made with high quality latex and organic cotton in the cover. At 8.5″ thick it is very supportive and will hold adults or kids. The quality of latex will hold up for years to come and provides a hypoallergenic and natural sleep environment while on the road. This is one of the only natural mattresses available in RV. Bunk and custom sizes.
---
3. The Aurora RV Bunk Mattress (42×80) by Brooklyn Bedding
Best Overall (Editor's Pick)
by Rv Mattress and Brooklyn Bedding
The Brooklyn Aurora is made as a collaboration between Brooklyn Bedding and RV Mattress.com. This mattress is the same luxury pillow top mattress that millions choose to sleep on in their homes every night, available to you in a variety of odd and custom sizes to fit your RV or other odd size beds. The pocketed coil support system combined with their patented Titan foam makes this mattress an industry leader in support, pressure relief and cooling technology. Choose from a soft, medium or firm comfort level to meet your specific needs. Each mattress is handcrafted to order in Brooklyn Bedding's factory in Arizona and shipped directly to you.
What we love:
Made in the USA with factory direct pricing

Supportive and pressure relieving

Unbeatable value

Available in a variety of odd and custom sizes

Multiple firmness options
Buy Here
What our testers are saying:
The Brooklyn Aurora RV bunk mattress is perfect for the ultimate comfortable during life on the road. This is Brooklyn Bedding's most popular mattress and they have decided to offer it in aRV bunk size to accommodate RVs and campers. If you want the most luxurious night sleep while you travel then this is hands down the highest quality mattress available in an RV Bunk size. The hybrid element means the Aurora utilizes springs as well as foam comfort layers in order to provide the support and bounce of a traditional innerspring mattress with the comfort and pressure relief of foam. The Aurora is available in soft, medium and firm options to meet all comfort needs (if you are unsure of your comfort preference we recommend going with the Medium feel as this generally meets over 80% of sleepers). Thousands of customers happily sleep on the Aurora mattress in their homes every night so this mattress is built to withstand daily use and the elements of life on the road.
---
4. The Bear Trek RV Mattress by Bear Mattress
Best Memory Foam Option
Bear has taken their popular original memory foam mattress and expanded their expertise into the RV mattress market. Offering their "Bear Trek" mattress in RV Bunk, RV Queen, and RV King sizes. The Bear trek is made with high density support foam and memory foam to keep you supported while also giving superior pressure relief. This mattress is perfect for anyone looking to replace their current RV mattress with a value friendly memory foam option.
What we love:
Great Value

Supportive

Luxurious Pressure Relief

Made in the USA

Breathable Cover

Sleeps cool
Buy Now
What our testers are saying:
The Bear Trek Mattress by Bear is a quality memory foam mattress at a great price. If you enjoy the unique feel of memory foam then this mattress is a great option for you. Bear has made their most popular memory foam mattress available in a variety of sizes including the popular rv bunk size. The cooling gel foam helps to regulate the sleeping temperature to help keep you sleeping cool during hot summer months. The mattress has a high density supportive base to hold adults comfortably and has a breathable cover giving it a luxuriously soft and breathable sleeping environment.
---
5. The Park Meadow Pocketed Coil RV Mattress by Mattress Insider
Best Innerspring Option
BEST INNERSPRING OPTION
The park meadow mattress is a great mattress for customers suffering from back pain or who require extra support. It is also perfect for individuals who prefer a traditional spring mattress feel over that of an all foam mattress. Mattress Insider offers all of their mattresses in an array of different custom sizes. They are a trusted name in the mattress industry and have been making custom mattresses since 2008. The park meadow is made with individually pocketed innerspring coils which helps to reduce partner disturbance while still giving the support of an innerspring mattress.
What we love:
Available in any custom size imaginable.

Pocketed coil innerspring unit for heavy duty support

Reputable company with great reviews and customer support
Buy Here
What our testers are saying:
The park meadow mattress is great for RV owners who are looking for a bunk mattress that has a traditional innerspring feel. Many of the mattresses today are made with all foam, but an all foam mattress can feel quite different than an innerspring mattress that many customers have grown accustomed to. For customers suffering from back pain or who require extra support this mattress is a perfect option. Mattress Insider specializes in custom and unique size mattresses. They have been manufacturing mattresses since 2008 and have serviced over 70,000 happy customers! Their customer service is 2nd to none, as customers rave about their quick response time and friendly staff. We have personally purchased mattresses for our RV from Mattress Insider and feel confident recommending any products they offer.
What size is an "RV Bunk" mattress?
RV Bunk Mattresses are usually thin and long and can support one sleeper comfortably. They can come in a variety of sizes depending on the RV/Camper model and manufacturer. The most common RV bunk sizes are:
28 inches by 75 inches
30 inches by 75 inches
30 inches by 80 inches
34 inches by 75 inches
35 inches by 79 inches
How thick should an RV bunk mattress be?
Bunk mattresses should generally not raise above the guard rail at the edge of the bed. This is to help avoid falling out of the bed. Usually most guard rails will support a 6″ thick mattress and sometimes 8 or 10″". Check your RV or camper and choose a thickness that is right for your space. Most of the retailers we have listed will allow you to choose from a variety of mattress thicknesses.
What is an RV bunk mattress?
An RV bunk mattress is exactly what the name suggests, a mattress that goes inside a bunkbed within your RV or camper. Many RV manufacturers use bunk style mattresses to accommodate more sleepers. These bunks vary in size depending on the RV model and manufacturer. An RV bunk mattress is usually thinner and long and is made to fit a single sleeper comfortably.
What are the different types of rv bunk mattresses available?
While options for rv mattresses that fit into an odd sized bunk are limited there are surprisingly quite a few mattress manufacturers that have expanded their offerings to include RV bunk sizes. This means customers still have an option to choose a mattress style and comfort that fits their needs. Below are some of the different mattress styles available in an RV bunk size:
Innerspring RV bunk mattress: An innerspring mattress is a traditional style mattress that utilizes coils for its support system. This is the most common type of mattress and is the typew that most sleepers are used to. We have listed one manufacturer that makes an innerspring bunk mattress above but when it comes to bunk style mattresses the fact that they are so thin usually better suits an all foam mattress construction.
Hybrid RV Bunk Mattress: A hybrid mattress is a fancy way of specifying that the mattress utilizes innersprings as well as foam. This gives the sleeper the traditional bounce and support of a spring mattress while also providing pressure relief and comfort properties of a foam mattress. We recommend hybrid mattresses to the large majority of sleepers who don't have any specific sleep needs.
Memory RV bunk mattress: Memory foam has recently become very popular in the bedding market. The material was originally made for use by NASA and was ultimately used in mattresses due to its unique pressure relief and cradling properties. Memory foam has a very unique feel that some people love and others hate. If you have never tried sleeping on a memory foam mattress before it is important to note that the feeling it very different from a traditional spring mattress.
Custom cut corners and sizes: Many RV mattresses may have a rounded corner or custom cut our edges. If this is the case we have provided a retailer below in our suggestions that will be able to accommodate and custom cuts for you.
How much does an RV bunk mattress cost
Due to the smaller size and thinner profile of an rv bunk mattress the pricing is much more affordasble than other mattresses on the market. Our cheapest memory foam option listed starts at $186 while the most expensive option can run upwards of $1000.
Things to consider before choosing a mattress for your rv bunk bed.
These are important factors to take into consideration when deciding which replacement rv mattress to purchase.
Usage: How often will you be sleeping on this mattress? How long will it need to last? If you plan to sleep on this mattress for multiple nights in a row or want it to last for many years we recommend staying away from the entry level affordable mattresses.
Does your mattress have custom cut corners? If your mattress has custom cut corners your options will be more limited to one or 2 retailers.
Material: Do you prefer a specific type of feel. The comfort level of Memory foam to innerspring mattresses or latex mattresses is all very different. It is important to understand what it is you like to sleep on before choosing a mattress that is right for you.
Firmness: What firmness do you prefer? Many of the mattresses we provide on this list will allow you to choose a firmness or are built to accommodate the large 80% of sleepers who prefer to sleep on a medium-firm mattress.
Sizing: Be sure to measure the exact size of your bed platform to be sure the mattress you choose will fit exactly. Many custom mattresses come with a zero return policy.
Where to buy custom rv bunk sheets:
Our favorite retailer for custom size bed sheets is mattressinsider.com. They have the best selection and provide great customer service. They also sell custom mattresses so they understand exactly the sizes you will need.
Where to buy an rv bunk topper:
If you need a custom size mattress topper then mattressinsider.com is the place to go and is honestly one of the only places that provides mattress toppers for RVs. You can choose to purchase a memory foam topper and can even add an organic cotton cover to it.
Other popular RV mattress sizes:
RV Bunk
28" x 75"30" x 75"30" x 80"34" x 75"35" x 79"
Generally used in rv bunks and smaller sleeping quarters of campers.
RV Full
53" x 75"54" x 75"55" x 75
Three-Quarter
48" x 75"48" x 80"
Three-quarter size mattresses are slightly smaller than a standard full or double mattress
RV Short Queen
60" x 74"60" x 75"
The RV short queen is about 5 inches shorter than a standard queen size mattress
RV Queen
60" x 80"
An RV queen is the same size as a standard queen mattress.
RV Short King
72″ X 75″
As the name implies, the RV short king is 5" shorter than the standard king mattress, so sleepers can enjoy the comfort of space while on the road.
RV King
72" x 80"
King size beds are common in motorhomes, RVs, and campers.
Eastern King
76" x 80"
The Eastern king size is the same as a standard king size bed
RV California King
72" x 84"
Can you put a regular mattress in an RV?
Most often the answer is no. A regular mattress is nit going to fit in a custom size bed platform. While some RVs do in fact use standard size mattresses, most will use a odd sizes in order to gain additional living space within the RV.
Are RV mattresses different than regular mattresses?
RV mattresses are different sizes than standard mattresses. This is usually due to a lack of usable space within the RV. Manufacturers opt to use a shorter mattress in order to gain more space. These shorter "RV mattresses" are generally still able to accommodate the majority of sleepers (minus some taller than average individuals who may find their feet hanging off the end).
How can I make my RV bunk mattress more comfortable?
To make your RV mattress more comfortable you can either decide to purchase an entirely new mattress from one of the retailers we have listed or you can choose to purchase a mattress topper from a place like mattressinsider.com
Alternative options for purchasing a custom size mattress
If you prefer not to purchase your mattress online you can look for custom mattress factories in your area to build you a mattress you can test out before buying. A couple custom mattress manufacturers you can check out in person are:
What to do with your old custom mattress?
When you purchase a mattress online you are left to find a way to get rid of your old one. Luckily "A Bedder World" has mattress disposal services throughout the country. We work with mattress recycling centers to make sure your old mattress gets disposed of in the most eco-friendly manner possible. To date we have recycled over 500K mattresses. Book a pick up here. Or try recycling it yourself!
Conclusion
Odd size mattresses are very common in RVs and there are quite a few high quality companies providing options for replacement rv bunk mattresses. All of the companies listed in this post are companies that we trust and that have great reputations within the sleep community. You can feel confident placing an order with an of them.