(Top 7)
Best Pregnancy Mattresses
One of the most common complaints during pregnancy is that of being continually uncomfortable, especially while trying to sleep.
Finding comfort as your body and hormones change can be difficult. One of the most difficult times is night and sleeping. You can never seem to get in a comfortable position, your arm falls asleep, you have to pee…. You name it, it will keep you from the deep nights sleep that you so desperately crave.
One of the ways to help ease this discomfort is to get a quality sleeping environment that will help minimize some of the new discomforts you are experiencing. The mattresses we have chosen in this post all have features that are great perfect for pregnant sleepers.
What to look for in a pregnancy mattress
When you are pregnant, buying a mattress may come with some new feature requirements. It is important to take these new needs into account while also recognizing that after 9 months you will no longer be pregnant but will still most likely be sleeping on this same mattress. All the mattresses we have chosen in this post are great for pregnancy as well as great for every day sleeping use.
Things to consider when looking for a pregnancy mattress:
SPINAL ALIGNMENT – You want to make sure the mattress you choose has enough support and stability to help keep your spine aligned and your lower back supported. The new and altered weight distribution during pregnancy can be tough on the spine and lower back muscles so be sure to choose a mattress that can help you with that. Generally, mattresses on the firmer end of the spectrum tend to be better for spinal support, although that is not always the case.
MOTION TRANSFER – When you are pregnant you will be getting up a lot more at night to pee and will most likely be tossing and turning more often. A mattress that minimizes motion transfer will help to make sure your partner doesn't get woken up every time you move. Memory foam and mattresses with individually pocketed coils will help minimize motion dramatically.
COOLING – Many pregnant women complain about feeling hot, especially during the night. A mattress that has breathable and cooling features will help to give some relief.
NON-TOXIC – Some pregnant women may be worried about the chemicals in their mattress since their head will be directly next to it for the whole night. If you prefer a mattress with organic materials we have provided our favorite organic option below.
---
7 Best Pregnancy Mattresses
---
1. The Puffy LUX Hybrid
---
2. The Helix Dusk LUXE
---
3. Brooklyn Signature Hybrid
---
4. The Plank LUXE Hybrid
---
---
5. The Birch Mattress
---
6. Bear Elite Hybrid
---
7. The Midnight LUXE
What position should I sleep in when pregnant?
The position you usually sleep in may have to change when you become pregnant. If you are curious about what position is safest for yourself and your unborn baby we suggest you checkout this article. They do a great job of explaining the different sleep positions and different stages of your pregnancy and why each may or may not be safe and comfortable. In general sleeping on your back or side is going to be the most common while pregnant. The most important thing is to make sure your spine is aligned in order to minimize back pain.
What type of mattress is best for pregnancy?
There are a variety of different mattresses that work well and benefit a changing pregnant body. Each type of mattress has its own benefits and draw backs that we will cover:
Pocketed Coil Mattresses:
A pocketed coil mattress utilizes innersprings that are each individually wrapped and move independently. This is a great way to offer support while also conforming to the curves of the body and providing excellent spinal alignment. In general a quality pocketed coil mattress is going to be one of the best mattresses for pregnancy in terms of support and comfort.
Memory Foam
Memory foam is great at pressure relief and at "hugging" the natural curves of the body. Memory foam can be used on top of a pocketed coil unit as a comfort foam or it can be used on top of a base foam. In general we like to see memory foam when used in conjunction with a pocketed coil system if you are looking for the best sleeping environment while pregnant.
Latex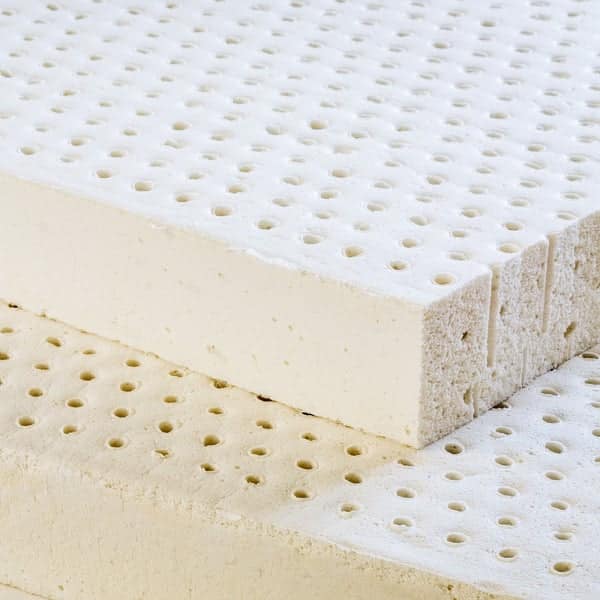 Latex is an all natural foam that comes from the rubber tree. It is non-toxic and naturally hypoallergenic and is a great option for anyone who has sensitivities or allergies. Latex does a wonderful job at supporting the body while providing pressure relief to joints. Latex does cost quite a bit more to produce than its memory foam competitor.
FAQs
What are the best types of mattresses for pregnancy?
Hybrid, memory foam, and latex mattresses are generally considered the best options for pregnancy due to their ability to contour to the body, provide support, and relieve pressure points.
How firm should a mattress be for pregnant individuals?
A medium-firm mattress is typically recommended for pregnant people, as it provides a balance of support and comfort. However, personal preference and individual needs should also be taken into account.
What features should I look for in a pregnancy mattress?
Key features to consider include proper spinal alignment, pressure relief, motion isolation, temperature regulation, adaptability to changing body shape, and overall comfort.
Is a mattress topper suitable for improving pregnancy sleep?
Yes, a mattress topper can improve the comfort and support of your existing mattress, which may be especially helpful during pregnancy. Look for toppers made from memory foam or latex for the best results.
How often should I rotate or flip my mattress during pregnancy?
To maintain even wear and support, it's recommended to rotate your mattress every three months. However, not all mattresses are designed to be flipped. Check the manufacturer's recommendations for specific instructions.
Can I use a pregnancy pillow in addition to a quality mattress?
Yes, using a pregnancy pillow in combination with a quality mattress can further improve sleep quality and comfort. Pregnancy pillows provide additional support to specific areas, such as the belly, back, and hips.
How can I tell if my current mattress is suitable for pregnancy?
If you're experiencing discomfort, difficulty sleeping, or waking up with pain, it may be time to consider a new mattress. A suitable mattress should provide adequate support, maintain proper spinal alignment, and offer comfort throughout pregnancy.
How to get rid of your old mattress when buying online?
You are pregnant and just bought a new mattress. It arrives in a box and you can't wait to test it out. But wait, how do you get rid of your old mattress? The mattress store used to take it away for you. Well, luckily we specialize in mattress recycling throughout the country. You can simply book a mattress pick up online with us, put your mattress outside and POOF we will come take it away. We have recycled over 500K mattresses to date and work with a lot of the bed-in-a-box companies.
Overall, choosing from different pregnancy mattresses shouldn't be any more difficult than choosing a mattress as you usually would. Look at the features that you need and make an educated decision based on your specific needs and what features you think would benefit you and your situation the most. The one thing we do recommend is that you do not skimp on a mattress at this time in your life. If you are sleeping on a mattress that does not provide you the right support it will only cause you more discomfort down the road and you will ultimately end up spending more on another mattress within a year or two.