7 Best Fiberglass Free Mattresses + Buyer Guide
Did you know some mattresses actually contain fiberglass? We will cover why some mattresses utilize fiberglass, if there are corresponding health risks and which mattresses are 100% fiberglass-free.
It's complicated enough trying to determine which mattress is right for you. But worrying about toxic materials in your bed shouldn't be part of the equation.
This article answers all of your questions. Here are the top things to consider when buying a mattress without fiberglass.
---
Quick Picks – Top 7 Mattresses Without Fiberglass
---
What Is Fiberglass?
Understanding what fiberglass is makes your mattress-buying experience safer. Fiberglass is a human-made mineral fiber first used in the 1930s as a thermal insulation material. And then later, it served as a replacement for asbestos in the 1950s.
A process called pultrusion exposes silica sand, soda ash, and limestone to very high temperatures. And then, the materials get pushed through tiny holes to make glass filament. By itself, fiberglass is chemically inert. However, other added ingredients make up different fiberglass uses.
And so, fiberglass becomes an irritant when tiny bits of it embed themselves under your skin's outer layer. In addition, small fiberglass dust particles can irritate your eyes and even cause breathing difficulty.
What Is the Role of Fiberglass in Mattresses?
Manufacturers use fiberglass wool in mattresses as a fire retardant layer. It works to suppress flammability since fire can quickly consume household materials.
"Flame retardant" means that the fiberglass functions to slow the fire down. It doesn't have chemical properties that fight the fire, but instead, it helps keep a fire from starting. Or it also slows an already burning flame down.
Is Fiberglass in a Mattress Safe?
To determine whether fiberglass in a mattress is safe, let's examine some health concerns about the material.
Skin irritation usually presents as itchy, red blotches. They occur when the dust or fragments get embedded in your skin's outer layer. Sometimes fiberglass works its way out of your skin on its own. But occasionally, it requires medical intervention.
Irritation of the eyes and throat occurs when fiberglass dust floats through the air, landing on your face. The tiny dust particles irritate the eyes and throat during exposure.
Contact dermatitis may occur when someone has an allergy to the resin coating the fiberglass fragments.
Difficulty in breathing rarely occurs but is a potential side effect of fiberglass exposure. This generally happens in occupational settings and would not likely occur with fiberglass in a mattress.
According to Washington State's Department of Health, "glass wool" is not classified as a carcinogen. And even workers who manufacture this "wool" do not show a higher concentration of cancers than the average US population.
So, while these health concerns are legitimate, they usually disappear once you remove the exposure. Consequently, consider throwing it out if your old mattress contains fiberglass and sustains a tear in the cover. The mattress could release the glass fibers and cause health concerns.
What Part of the Mattress Has Fiberglass in It?
Fiberglass layers are beneath the outer-covering layer. It remains contained within the covering but close enough to the outer layer to provide the most fire protection.
Platform bed frames have become very popular in recent years, beating out their original bed frame competitors. Platform beds are a great all in one option that you can put your mattress directly on, without the need of purchasing a box spring. This all-in-one design is generally more affordable, easier to assemble and easier to ship which is a major benefit with much of the mattress industry moving to online purchases.
---
7 Best Mattresses WITHOUT Fiberglass
OUR RESEARCH: Our team runs mattress recycling facilities throughout the country. The facilities also receive returns of mattresses that customers do not like. We have analyzed over 500K mattresses and sleep products from all the major companies. We know which products are made well and which mattresses customers are keeping or returning.
---
1. The Helix Dusk LUXE
Best Overall (Editor's Pick)
The Helix Dusk is a quality hybrid mattress with a medium-firm comfort level that is great for the vast majority of sleep preferences and styles. The Dusk utilizes zoned support within its pocketed coil system to adapt to pressure points and offer spinal alignment for combination sleepers. This mattress was awarded best mattress for sciatica by Medical News and is a great all around option for pressure and pain relief. Helix is a trusted brand within the mattress industry and makes all of their mattresses 100% in the USA.
What we love:
Spinal alignment with zoned support system

Pressure Relief

Made in the USA

Sleeps Cool

Great for combination sleepers or couples

Pain relief benefits
Buy Now
What our testers are saying:
The Helix Dusk is a great all around mattress and has won a variety of awards for its quality and value. The zoned pocketed coil innerspring unit is supportive and perfect for use on any platform bed or bed slats. It offers quality comfort and support with a medium feel that allows for the natural curvature of your spine whether you sleep on your back or stomach. The top comfort layers of this mattress provide pressure relief and contouring to adapt to different styles of sleepers and couples.
High quality pressure relief and support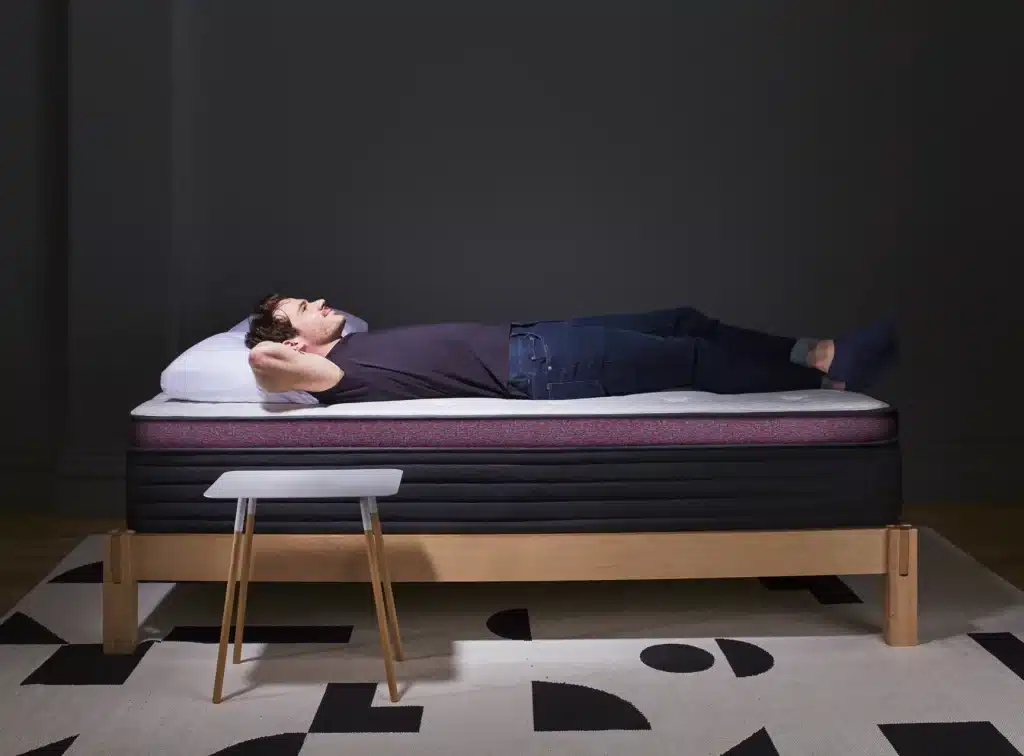 Luxurious tufted cover with quality stitching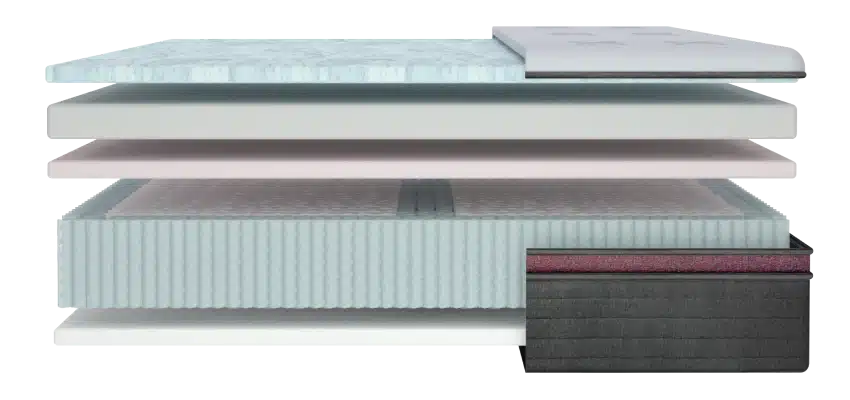 Great all-around hybrid design
---
2. Brooklyn Signature Hybrid
Best Value
GREAT ALL AROUND VALUE
TRADITIONAL INNERSPRING FEEL
An all around hybrid mattress that combines the benefits of a traditional innerspring mattress with Brooklyn Bedding's patented "Titan foam" comfort layers (combining the best properties of latex and memory foam to appeal to all sleeping and comfort preferences). Brooklyn Bedding has been in the mattress industry for years and makes each mattress at their own factory, meaning they can cut out the middle man and provide a great price. This mattress has thousands of 5-star reviews from customers who rave about its value and universal comfort.
What we love:
Unbeatable comfort for the price

Luxury hybrid innerspring design

High quality support and pressure relief

Choose soft, medium or firm

Over 2,000 5-star reviews.

Made in the USA
Buy Now
What our testers are saying:
The Signature Mattress is Brooklyn Beddings most popular mattress. It utilizes a pocketed coil innerspring support system with Titan foam comfort layers on top (combines the best properties of latex and memory foam into one foam). This mattress is great for anyone who wants a quality product at a very competitive price point. The Signature has thousands of 5 star reviews from customers who love the quality. This mattress is available in a soft, medium or firm option. For anyone with back pain we recommend a medium or firm level of comfort. The high end build quality and structural support of this mattress make it a great option for use with platform beds.
High quality pressure relief and support
Luxurious tufted cover with quality stitching
Great all-around hybrid design
---
3. The Plank LUXE Hybrid
Best Firm Option
The flippable Plank Luxe Hybrid is designed to be the firmest mattress on the market—pairing all of the benefits of the original Plank with the additional responsiveness and pressure point relief of individually encased coils. Inspired by the minimalist approach to sleep in the Far East, the firmer, flatter, flippable surface of the Plank mattress creates a neutral spine position that's better for your back and posture overall. The 2-sided design allows for multiple comfort preferences - The top side of the mattress feels like a traditional firm; the bottom side of the mattress is ultra-firm.
What we love:
Built specifically for people who like a firm mattress

2-sided (firm and extra-firm)

Heavy duty individually encased coil support system
Buy Here
What our testers are saying:
The Plank Hybrid mattress is made specifically for those sleepers who prefer an extra firm sleeping surface, which is great for anyone with back pain. It is by far the best mattress on the market for people who love a firm mattress. If you buy mattresses and constantly are wanting them firmer then this mattress was made for you. The Plank hybrid mattress takes firm to the next level and offers a 2 sided design with a standard firm and extra firm surface. They also offer an option "cooling layer" that you can add on top to help keep you sleeping cooler during hot months. At just over 1000 for a queen size, the price point is very competitive. Putting a firm mattress on a platform style bed is going to maximize its firmness level because it takes away any give or bounce that a box spring would add.
---
4. The Puffy LUX Hybrid
Best Memory Foam
LUXURY HYBRID MEMORY FOAM MATTRESS
The Puffy Lux Hybrid Mattress measures 12″ in thickness and is a great all around hybrid mattress for any sleeper. The combination of wrapped coils and memory foam offer superior adaptability and pressure relief for side, back and stomach sleepers. If you are looking for a quality mattress at a great price that will be your every-night mattress, the Puffy Lux is hard to beat.
What we love:
Unbeatable value

Heavy duty support from wrapped coil system

Luxury pressure relief

Removable and washable cover

Made in the USA
Buy Here
What our testers are saying:
The Puffy Lux mattress is a hybrid memory foam mattress that incorporates the use of a very supportive pocketed coil innerspring unit with luxury memory foam top layers. The pocketed coil innerspring base in the LUX offers heavy duty support that doesn't give or sag under pressure and leaves you feeling very supported even on the edge of the mattress. The memory foam top layers allow for pressure relief when sleeping on your side and hug the hips and shoulders. The medium-firm feel is a great comfort level for the vast majority of sleepers and is a comfortable mix for side sleepers who want support and some give. A memory foam mattress like of this quality is great for a platform bed and will give you a luxurious level of comfort and pressure relief.
What Customers love: Luxury memory foam mattress. Fits majority of sleep preferences. Over 6000 5-star reviews.
---
5. The Birch Mattress
Best Natural Option
The Birch Natural mattress is a high quality natural mattress at a highly competitive price point. The wrapped coils provide a luxuriously supportive base that offers industry leading spinal alignment and cradles the natural curves of the body. Birch has built this mattress around optimizing pressure relief with the use of natural latex and wool comfort layers. Latex is one of the best foams on the market for providing pressure relief while still being supportive. The wool adds comfort while naturally wicking moisture and sleeping cool. Birch then has topped the mattress off with an organic cotton cover, making is naturally hypoallergenic and dust mite resistant. This mattress is a great all-around natural option for anyone looking for a medium-firm hybrid mattress that is chemical free.
What we love:
100% Made in the USA

Non-Toxic

Supportive, hybrid wrapped coil design

Luxury pressure relief

Natural and Organic Materials (Latex, Organic Wool & Cotton)

Universal "Medium-Firm" Feel
Buy Now
What our testers are saying:
Birch is a well built, medium-firm natural latex mattress that has the perfect level of support and pressure relief. Coupled with a platform bed this mattress is at its best. The firmness of a platform combined with the sturdy pocketed coil base and natural latex, provides a healthy and luxurious sleep environment you will love. Birch is known throughout the industry for their high quality natural latex mattress options. The Birch is their most budget friendly latex mattress and provides all the healthy benefits of a latex with the benefits of a pocketed coil innerspring unit. The Birch comes in a medium-firm comfort level to suit the vast majority of comfort levels and preferences and is perfect for a side sleeper. This mattress also has an organic cotton cove for any individuals with allergies or who are sensitive to non-organic fabrics.
What Customers love: Medium-firm, natural latex mattress at an affordable price.
---
6. Bear Elite Hybrid
Best Pressure Relief
The Bear Elite Hybrid is a luxury hybrid mattress with a supportive wrapped coil innerspring unit and pressure relieving comfort layers. This mattress is available in a variety of firmness levels from luxury-plush to Extra-Firm. Bear is known for their memory foam mattresses and this mattress combines their memory foam design with the support of a traditional mattress. The mattress sleeps very cool and is built to last for years.
What we love:
Luxury materials and build

Choose firmness level: Luxury-Plush to Extra-Firm

Made in the USA

Sleeps Cool

Supportive Wrapped Coils System
Buy Now
What our testers are saying:
Bear has taken their original memory foam mattress to the next level and provided a luxury Hybrid mattress that incorporates heavy duty pocketed coils for a traditional mattress feel with extra support. Their extra-firm option is the most luxurious and high end extra-firm mattress in the industry. If you want a well made luxury mattress feel then you can't go wrong with the Bear Elite Hybrid.
WHAT CUSTOMERS LOVE: Luxury firm feel and heavy duty support.
---
7. The Midnight LUXE
Best for Side Sleepers
The Helix Midnight LUXE is their most awarded mattress and is a great all around mattress in our opinion. This mattress is going to have a medium-firm feel which is perfect for most sleep preferences and styles. The individually wrapped coil support system provides the support and bounce of a traditional innerspring unit but has the bonus of "zoned" support which means it perfectly supports and gives to the natural curvature of your body, allowing for industry leading spinal alignment and pressure relief. Helix also offers a softer and firmer option in their LUXE lineup if you prefer something on one of the other ends of the firmness spectrum. Overall, our team loves this mattress and many of our employees choose this exact mattress in their own homes at night.
What we love:
Medium-firm feel

Made in the USA

Cooling/Breathable cover

Highly awarded and reviewed

"Zoned" lumbar support coils for luxury support and pressure relief

Premium quilted pillow top

Hypoallergenic cover
Buy Now
What our testers are saying:
The Midnight LUXE is our testers favorite all around mattress for side sleepers and is the one many of our team choose to sleep on every night. This is one of the most universally liked and recommended mattresses in the industry. It is supportive while still being comfortable and has a mix of pocketed coils and a memory foam pillow top, to give support and pressure relief. This mattress was made specifically for side sleepers who prefer a medium firmness, giving them the best of both worlds in terms of support and pressure relief. The zoned pocketed coil system works to add extra support under the hips and shoulders to keep a flat and straight spine.
What Customers love: Luxury pillow-top comfort. Great for all sleeping types
---
Do All Mattresses Contain Fiberglass?
Not all mattresses contain fiberglass. And remember that as long as the mattress cover remains intact, the likelihood of fiberglass irritation is low.
Cheaper mattress-in-a-box options often contain glass wool, as do some spring mattresses. So instead, consider eco-friendly alternatives when buying a mattress without fiberglass. Look for organic wool or plant fibers for your most comfortable and safe sleep.
Does Memory Foam Contain Fiberglass?
Some mattress-in-a-box options contain lower-quality memory foam, which likely contains fiberglass. Sometimes the saying is true: "You get what you pay for."
Higher-quality mattresses use more plant fibers and organic materials, which are less likely to contain fiberglass or silica wool.
How To Tell if a Mattress Contains Fiberglass
Doing your research, like reading this article, helps you understand potential health issues from fiberglass in your mattress. But still, check the mattress label to evaluate each layer's contents.
Mattresses must contain the percentage amount of fiberglass inside. However, it may say glass fiber or wool, like XX% glass fiber. So check carefully to catch the specific wording.
Another sign that a mattress contains fiberglass is if the label warns, "Do not remove the cover." That is generally a clear sign glass wool is present.
What Are the Alternatives to Fiberglass in a Mattress?
Fiberglass came into mattress manufacturing to replace more toxic flame retardants. But now we're learning fiberglass acts as a skin irritant or contaminant, so look for a mattress that uses natural products for fire suppression.
Natural Wool or Silk Cotton Mattress
Natural and organic wool or silk cotton mattress alternatives offer soft surfaces with enhanced comfort properties. Organic sheep wool keeps you cool and dry throughout the night. Cotton mattresses have been around for many years.
Since wool and silk cotton are natural materials, they win out over synthetic challengers in mattress construction. Look for organic designations, like the ones listed below, for your best mattress option without fiberglass.
Organic wool offers fire resistance, even as it comforts you with a soft layer. So you'll have the protection of fiberglass without any of its harmful properties. In addition, natural organics inhibit bacteria, mold, and mildew growth for a long-lasting mattress.
Another advantage of natural wool and silk cotton mattresses over synthetic materials is their airflow properties. These natural fibers permit air circulation and maintain temperature regulation, so you stay cool even on the hottest nights. And their moisture-wicking properties mean that your skin stays dry.
Natural Latex Mattress
Natural latex comes from rubber trees and often combines with springs for a comfortable and chemical-free mattress construction. You'll rest easier knowing there's no chance of chemical out-gassing or fiberglass particulate irritation.
When using natural latex products, you shouldn't notice any chemical odors like might result in a regular memory foam mattress. However, you'll still feel the positive effects of motion isolation and body support that consumers have come to expect from memory foam.
Natural latex keeps you comfortable and alleviates pressure points by conforming to your body's natural curves. So your spine stays aligned, reducing potential backaches or discomfort.
Combine a natural latex mattress with a cooling fiber, moisture-wicking cover for your best night of rest. Skip the fiberglass and still sleep safely.
Plant Fiber Mattress
PLA fiber is a high-performance synthetic fiber that is hypo-allergenic and non-toxic. PLA is polylactic acid made from renewable and organic resources. This plant fiber comes from cornstarch and sugar cane, making it a great alternative to fiberglass in your mattress.
In addition, PLA fiber washes easily and resists body impressions as you sleep. It also wicks away moisture making for a comfortable rest even during the summer heat.
Finally, the environmental friendliness of plant fibers makes them an excellent alternative to fiberglass in mattresses. It takes 65% less energy to create PLA fibers than conventional plastics. And the manufacturing process also generates 68% fewer greenhouse gases.
Comfortable and eco-friendly products are some things to consider when buying a mattress without fiberglass.
Things To Consider When Buying a Mattress Without Fiberglass
Of course, some things don't change when buying a mattress with or without fiberglass. Consider firmness, cooling capability, and construction when purchasing a mattress. And, of course, price, warranty, and trial periods play into the equation.
You may need to buy a mattress quickly because of an impending family visit. On the other hand, your budget might not allow for an expensive purchase.
But even if you're under a deadline or have tight finances, you can still make a quality and safety-based decision for your purchase. So here are items to consider when buying a mattress without fiberglass.
Firmness
What support level are you seeking for your night's sleep? Today's mattresses consider all things, like spine alignment and ensuring your pressure points remain elevated throughout the night.
Medium support mattresses without fiberglass have a pressure-relieving effect for side sleepers. While you'll see improved circulation and more even weight distribution with a firmer mattress, stomach and back sleepers still find comfort.
Look for ergonomic zones and pressure-free technology that cradle your body. As a result, your spine stays aligned for a comfortable position. And you need not worry about harmful contagions like silica wool.
Sleep tremendously and stay worry-free when you choose a mattress without fiberglass.
Construction of Fiberglass-Free Mattresses
When buying a new mattress, consider the materials composing each layer. Are they keeping you and your family safe? Or does the layer contain fiberglass or chemicals?
Mattress manufacturers use a lot of different terms to describe their products. So it's easy to feel confused when making a purchase. You'll hear terms like bio-Pur, cool-to-touch, and bounce foam. And those words might not mean much until you dig a little deeper.
Here are a few construction items to consider when buying a mattress without fiberglass.
Is the mattress material made from contouring gel memory foam? Or is it a natural fiber such as the ones listed above?
High-density foams may offer extra stability and prevent dipping or edge sliding.
Check for a naturally cooling fiber with a moisture-wicking cover for temperature-regulated sleep.
Mattresses come in differing heights, including 9, 10, and 12-inch sizes. Unfortunately, this height difference might mean you can't use the sheets you already own.
Is there a layer of micro or steel coils to support your body? Or does the mattress offer a hybrid innerspring option?
And finally, what are the cooling capabilities of the mattress in question? Some mattress manufacturers use wording such as a heat-wicking effect. Others list how much cooler you'll sleep by temperature degree. And others use wording such as ultra-breathable when referring to natural fibers.
Becoming familiar with mattress terminology helps you make the best decision for your mattress purchase.
Sustainability and Certifications
Eco-friendly mattress manufacturers also have a wide variety of certification claims. When buying a mattress without fiberglass, look for one of these designations to ensure your health.
As you can see, these certifications require manufacturers to adhere to exceptionally high standards. Additionally, the products are certified at each stage of the supply chain, ensuring your family's safety.
What Else Should You Consider When Buying a Fiberglass-Free Mattress?
Other items to consider when buying a mattress without fiberglass include verifying who will use the mattress. For example, if a couple will share the bed, is motion-isolation technology important to you? Today's mattresses allow you to turn over without disrupting your partner's rest.
Along the lines of movement, verify that the mattress works with adjustable bed frames. For example, will it allow you to sit up easily or to raise your head or feet independently of your partners?
And some final mattress considerations that may influence your purchasing decision include:
Availability of sizes
Price
Warranty
Trial period
Shipping costs
Final Recommendations
If you're looking for a new bed, consider buying a fiberglass-free mattress. Health concerns like skin irritation or breathing difficulty should not be a factor in getting a good night's rest. So, instead, make your selection from today's high-quality natural fibers.
The bonus of a certification designation ensures higher standards for human health, indoor air quality, growing and manufacturing considerations, and supply chain standardization.