(Top 3) Best Queen Size Mattresses for Under $500: Where to Buy
Our top mattress picks for the most value friendly options on the market. These queen mattresses are all made well and come in under $500.
---
Queen mattresses are the most common mattress size on the market. You may have noticed they range in price from a few hundred dollars to a few thousand. It can be confusing to figure out which mattresses are worth purchasing and why the price gap is so large. I
In this post we have compiled our picks for the best queen mattresses you can buy under the 500 dollar price point. These mattresses are all made with quality materials and are products that we feel comfortable recommending as a mattress you can sleep on every night
Many low priced mattresses are imported from Asia and made with low quality materials and minimal quality control. The options on this list are made by reputable companies who have been in the industry for years and stand behind the quality of their products.
How we choose the mattresses we recommend?
Our company has warehouses throughout the country where we recycle old mattresses. We also receive mattress returns from major online companies as well as test products for new and innovative sleep products. Our teams have tested hundreds of mattresses from all the major brands. We have an inside look at mattress quality, and what mattresses customers are returning or liking. Our goal is to pass our inside knowledge on to you so you can make an informed decision.
(Top 3) Best Queen Mattresses Under 500
---
1. The Brooklyn Chill – $449
Best Overall (Editor's Pick)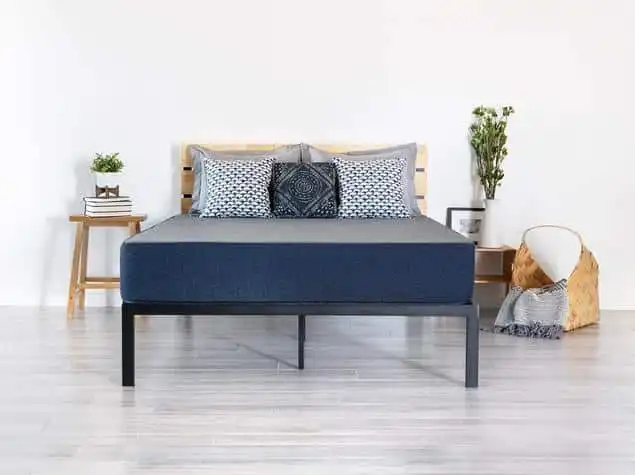 The Brooklyn Chill
BUDGET FRIENDLY
This may be the best budget friendly mattress on the market. The combination of high density support foam and memory foam comfort layers makes for a supportive, pressure relieving sleep experience. If you like the feel of memory foam and are looking for an affordable sleeping option then this is the best mattress you will find. Brooklyn Bedding makes all of their mattresses in their own factories in Arizona and are able to cut out the middle man and offer customers factory direct prices.
What we love:
Budget friendly price point

High quality, supportive memory foam design

Made in the USA (Arizona Factory)

Available in custom sizes and thicknesses
Buy Here
2. The Arctic Dreams Hybrid – $411
Budget Friendly Hybrid
The Arctic Dreams (Cool Gel Hybrid)
BUDGET FRIENDLY HYBRID MATTRESS
GREAT VALUE
The Arctic Dreams Hybrid mattress is engineered with one of the most advanced fabrics on the market—typically reserved for luxury beds—to deliver cooling relief on contact. This premium temperature moderation is paired with a four-layer hybrid design that offers a combination of high-quality foams and individually encased coils for deeper compression support. If you are looking for an entry level hybrid mattress this is a perfect option.
What we love:
Sleeps cool

Supportive hybrid design

Entry level price point

Made in the USA
Buy Now
3. The 8″ Memory Foam Mattress by Zinus
Best Amazon Option
BEST AMAZON MATTRESS
This mattress is crafted with skillfully engineered memory and comfort foams that mold to the shape of your body for a customized fit that pressure relief. The top layer is made of ultra cooling-gel infused memory foam which means that your body temperature will perfectly regulated and cool.The mattress is wrapped in a soft feathers poly jacquard cover and delivered to your door with a 10-year free warranty.
Buy On Amazon
Can you get a quality queen mattress for under 500 dollars?
Yes, it is possible to purchase a quality queen mattress for under 500 dollars. You just have to be weary and know where to look. While price point is a major indicator in the quality of the mattress you receive, there also are a variety of other factors that can impact how much you pay for the mattress you receive. The type of mattress, manufacturing and supply chain system, companies profit margin, thickness of the mattress and quality all play a role in the final price tag.
Factors to consider when buying a queen mattress that is under $500?
There are a variety of factors to take into account when buying an affordably priced mattress that will ultimately affect the quality of product you end up with.
Price
The first and most obvious factor to consider is price. In general a mattress under 500 is going to be slightly less luxurious than a high end mattress. This means you may have to sacrifice the organic cover and fancy foams but you can still get a quality product for this price point.
Type of mattress
The type of mattress you choose is going to have a large impact on the final price. In general latex mattresses are going to be the most expensive. The mid level will be hybrid or innerspring mattresses and at the budget friendly options will likely be memory foam mattresses. This does not mean memory foam is low quality, it simply means it is easier to produce and more cost-friendly. If you are ok with the feel of memory foam you will be able to find a great product for under 500.
Manufacturing and supply chain process
Some companies manufacture their own mattresses in their own factories and sell them directly to you. This allows them to cut out the middleman and pass savings along to you. Other companies buy directly from other manufacturers, mark the mattresses up and then sell them to you, fetching a larger price. If you can buy from a factory direct company like Brooklyn Bedding or Purple you will save.
Mattress thickness
The thickness of the mattress you buy will play a large role in the price as well as how comfortable it is. You can find a lot of budget friendly thin mattresses that are 6″ or 8″ thick that may be great for a trundle bed mattress or bunk bed mattress but will not provide the support adult sleepers need when utilizing their mattress every night. In general, we recommend buying a mattress that is at least 8 inches thick, 10 inches to 12 inches thick is the ideal sweet spot for comfort and budget. When you start getting into thicker mattresses that are 14 inches thick or more the price point is going to jump a lot higher simply due to the fact they they require more materials.
What type of queen mattress is the most budget friendly when looking under 500 dollars?
When looking to buy a queen sized mattress that is under 500 you are going to want to look at foam mattresses. More specifically budget friendly memory foam mattresses . Memory foam is the most budget friendly style of mattress to produce and is going to offer consumers the highest quality product for the lowest price. memory foam is able to give sleepers the support and pressure relief they need for a high quality sleep and be able to do it without the need for high priced innerspring units or latex foams.
What to look out for when purchasing abudget mattress online
Where it is made – Many foam mattresses sold on Amazon or in big box stores are imported in bulk from Asia. In general their foams are lower quality and their inspection process is less than satisfactory from what we have seen. If you are buying a queen size mattress that you plan to use as a main sleeping mattress then we recommend spending a little more and purchasing a mattress that is made in the US with US materials and from a reputable company backing it.
Thickness – The thickness of a mattress doesn't generally determine its quality unless the mattress is 8″ or less. An 8″ mattress or thinner can be a great option for kids or for bunk beds but will not provide the support an adult needs for every night sleeping.
Type of foam – There are a variety of different styles of foam mattress on the market from memory foam to latex and alternative foams. Each foam will have a different benefit and price point that you will want to research in order to make the right decision for your needs.
Price – Foam mattresses vary wildly in price, mainly due to the different types of foam used within the mattress. A latex mattress may cost you a few thousand dollars while a memory foam mattress may be half the price. Each has its own benefits and price is more a reflection on how hard the foam is to produce rather than it is on the quality.
What size is a queen mattress
A queen mattress measure 60″ wide by 80″ long. Queen mattresses are the most commonly purchased mattress on the market and are ideal for a single adult or adult couple. The 80″ length is the same length as a king mattress and will fit the vast majority of sleepers in the average height ranges. If you are very tall the only other option would be a California King mattress and bed set that measures 84″ in height. A queen mattress is a great budget friendly option for those couples or individuals who do not want to spend the additional money for a king size option.
Is purchasing a used mattress safe?
Purchasing a used mattress can be a great way to get a deal on a more expensive mattress. You can get a luxurious multi thousand dollar queen mattress for under 500 but you have to be very careful. There are a lot of scammers selling used mattresses and it is easy to get ripped off. Be sure to check the tag on the mattress for the manufactured date and check to make sure the mattress does not have bed bugs. Be sure to lay on the mattress and check for indentations or manufacturing defects. Ask the seller why they are selling the mattress and see if their reasoning makes sense.
How to dispose of your old mattress
When you buy a new mattress online many of the retailers do not take away your old mattress. If you are looking to get rid of your old mattress you can book a pick up with us and our team will come by and grab it for you. We have recycled over 500K mattresses to date and are 20-30% less than the major junk companies.
---
---