The Vibe Mattress – Reviewed and Tested
Are you looking for a new budget friendly mattress? One of the most popular mattresses on the market at the moment is the Vibe Gel Memory Foam Mattress.
This is a mattress designed and manufactured by Classic Brands, and satisfied customers have been singing its praises, describing it as an 'amazing mattress' and even 'the best mattress I've ever owned'
But is the Vibe mattress really worth the money? What are the bad reviews saying? Read our review and find out!
IMPORTANT NOTE: Some customers claim the mattress is shedding fiberglass.

If you want to try something similar, that is made in the US without fiberglass we recommend the Dreamfoam Essential. It is a very similar price point.
Our Favorite Alternative:
Best Budget Friendly Alternative Option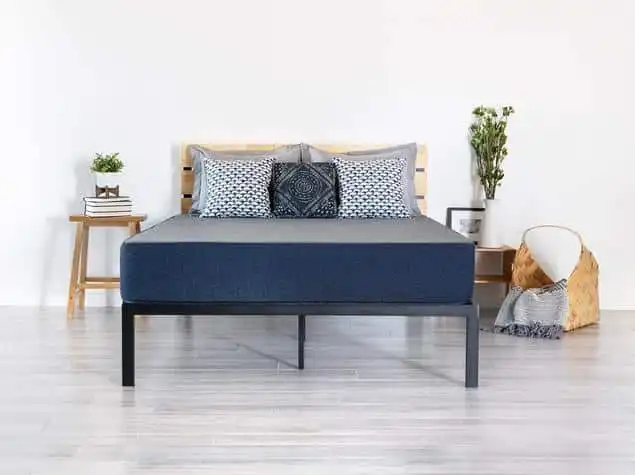 Dreamfoam Essential
What we love:
Budget friendly price point

High quality, supportive memory foam design

Made in the USA (Arizona Factory)

Available in custom sizes and thicknesses
Buy Here
---
Quick Summary: What You Need To Know
The Good:
Many customers rave about the quality of the mattress for the price point. It definitely seems to be a great bang for your buck option.
The Bad:
EXPANSION PROBLEM: The Vibe mattress comes compressed in a box. You cut it open and it expands.

There seems to be a a decent amount of customers whose Vibe mattresses DID NOT expand all the way. Many expanded to 10 inches but not fully to 12 inches. This is likely due to the mattress sitting in the warehouse too long.
FIBERGLASS: Some customers said the mattress began to shed fiberglass after a certain period of time.
The good news is Amazon should offer you a refund if you have any issues. Then it will likely be up to you to figure out how to get rid of it since it won't fit back in the box once its been opened.
The Vibe Gel Memory Foam mattress measures 60 inches by 80 inches, with a thickness of 12 inches. These are the dimensions for the Queen-sized mattress, which is the most popular size, although you can also purchase the Vibe mattress as a King, Full, Twin, or Twin XL mattress.
Thanks to the 3-inch gel-infused foam combined with a 2-inch layer of gel-infused memory foam, the mattress has a plush feel but still retains a good amount of firmness. Therefore, it can be described as 'medium-plush'.
The gel in the memory foam also has a cooling effect to regulate your body temperature during the night.
There are also 7 inches of high-density foam in the base of the mattress. This thick foam later is there to conform to your body shape while providing even and responsive support.
Unlike some other mattresses, you can put the Vibe mattress onto an adjustable base with no issues, and it even comes with a stretch-knit quilted cover!
Just remember to leave the Vibe Mattress in a warm room to decompress for anywhere between 24 and 72 hours after delivery. Expansion times will be longer in a colder environment.
Pros
Medium-plush mattress – Good balance between soft and supportive
Available in various sizes – Can be ordered to fit most beds
Gel infused foam and memory foam – Cooling and comfortable
Thick base foam – Supports in the right places
Quilted cover included – Protects mattress
Cons
Takes up to 72 hours to decompress – Significant waiting time after delivery
Also Available At
Product Overview
As we mentioned, the Vibe mattress is part of a range created by Classic Brands – a company that has been established since the 1970s and used to be known for its range of water beds.
However, today, Classic Brands has an impressive selection of memory foam mattresses, including the Vibe mattress.
You can purchase the Vibe mattress either as an all-foam mattress (featuring the memory foam later as well as the denser core, also made of foam) or the hybrid model. The hybrid mattress features the same memory foam later, but it also has coil support.
In this guide, we'll be taking a look at both versions of the Vibe mattress to ensure that you can choose the best option for you.
Both are around the same price, in the region of $500, so choosing one over the other shouldn't have significant financial implications, and both boast the same medium-plush level of firmness.
Key Features Of The Vibe Mattresses
The Vibe Memory Foam mattress has a thickness of 12 inches, which is primarily made up of 2 layers.
The first layer (the one closest to the surface) is made of gel-infused memory foam. The purpose of this foam later is to contour the shape of your body while you sleep, relieving pressure off the parts of your body that make contact with the mattress.
Underneath, you have the comfort foam layer, which sits on top of the support core and takes even more pressure off your joints.
Then, at the bottom, there's the support core, which is made of high-density base foam. This foam layer is thicker than the other two, measuring 7 inches.
Considering that you get 2 layers of comfort foam and a thick layer of base foam in this mattress, we think it's absolutely worth the money. The foam is good quality, and the different types of foam strike an excellent balance between supporting you and relieving pressure.
Additionally, unlike some other foam mattresses that suffer from poor air circulation, this mattress features convolutions in the base foam. This means that air can pass through freely, keeping the mattress breathable and at a regulated temperature.
Alternatively, you could opt for the Vibe Hybrid mattress, which has a slightly different construction to the Vibe Memory Foam.
Like the Vibe Memory Foam, the Vibe Hybrid is 12 inches thick and features both memory foam and poly foam. You get the same pressure-reduction and cooling sensation thanks to the gel in the memory foam.
However, instead of the high-density foam that makes up the support core in the Memory Foam mattress, the Vibe Hybrid features pocket coils. These are springs that are wrapped individually and sit underneath the foam layers.
Because of where the springs sit inside the mattress, and because they're individually-wrapped, you won't feel them, so you don't need to worry about this mattress being less comfortable than the Vibe Memory Foam.
The coils provide the same amount of support as the high-density foam, so there's no difference in firmness between the two, but the comfort of this mattress does compare favorably to other innerspring mattresses because of the individual wrapping.
Overall User Experience (what are people saying)
We personally tested both the Vibe Memory Foam and Vibe Hybrid mattresses.
Both mattresses gave the same medium-plush feel. The memory foam has a more conforming sinking feel while the hybrid has more bounce that you would expect from a traditional mattress.
If you're not familiar with different mattress ratings, medium-plush means that you do sink down into the mattress when you lie down on it, but not to the extent that you struggle to get back up.
When you sit on the top of either mattress, you can easily see where the foam is giving way to the pressure points, but you also stay comfortably on top of the mattress rather than sinking all the way down. It's comfortable without being inconvenient or unsupportive.
Downsides
Decompression Time & Issues
The main issue we had with both the Vibe Memory Foam and Vibe Hybrid mattresses was the time it took for them to decompress and some didn't expand fully.
A decompression period of between 24 and 72 hours was advertised online, which is already a significant amount of time to have a mattress that you can't use lying around in your home.
Unfortunately, the reality is that these mattresses will probably take longer than 72 hours to decompress fully, even in a warm environment or may never fully decompress. This is because mattresses that are boxed and stored in Amazon warehouses for weeks or months adapt to their compressed shape over time.
Fiberglass shedding
Some customers complained that after some time the mattress began shedding fiberglass. This is certainly concerning. Fiberglass type material can be upgraded sed in the firesock of some of these mattresses to help keep the mattress from catching on fire in the event one should break out.
The fact that this fiberglass is getting out into the open air is not something you want your body to be breathing in or your skin to be in contact with at night.
Subjective Experiences of Firmness
While we were personally satisfied with the plushness-to-firmness rating of both the Vibe Memory Foam and Vibe Hybrid mattresses, not everyone who purchased one of these mattresses felt the same.
Ultimately, this comes down to subjective interpretations of such ratings. What feels very plush and 'squishy' to one person might feel surprisingly firm to another.
Experience of the plushness of a mattress also comes down to sleeping positions. For example, many people are side sleepers, which means that overnight, a lot of pressure is placed on a smaller area of the body.
For this reason, a lot of side sleepers seek out plush mattresses, and may have been expected to sink into the mattress a little more.
In this case, the issue isn't really with the mattress itself, but with the advertising. It would be useful to have more information provided about what kinds of sleepers the mattress is designed for and how it will feel for different body types and sleeping positions.
Should I Get The Vibe Mattress?
Wondering whether you should buy a Vibe mattress? This is ultimately a personal decision, but here's some guidance based on our experiences:
Is The Vibe Memory Foam Mattress Right For You?
You may want to choose the Vibe Memory Foam mattress if you think you'd be more comfortable on a mattress that's entirely made of foam rather than one containing springs.
Although we didn't personally feel a difference in the comfort levels between the two mattresses, some people simply don't want to sleep on an innerspring mattress.
Additionally, one benefit of the Vibe Memory Foam mattress is its motion isolation. This isn't just a case of comparing the two Vibe mattresses, since foam mattresses generally perform better in this area, but you'll definitely want to choose the memory foam if you're going to be sleeping with a partner.
It's also worth mentioning that the Vibe Memory Foam is more popular than the Hybrid mattress. This may or may not matter to you, but the fact remains that more people have chosen to buy the Memory Foam mattress so far.
Should You Buy The Vibe Hybrid Mattress?
Although the Vibe Memory Foam mattress does have good circulation through the high-density foam core compared to competitors, the individually-wrapped coils in the Hybrid mattress provide better air circulation.
Therefore, if you tend to overheat during the night, the Hybrid will be the better choice for you.
Another reason why you might prefer the Vibe Hybrid is the fact that its edge support is better thanks to the wrapping of the springs. If you usually sleep close to the edge of your mattress and don't want to feel unsupported, the Vibe Hybrid mattress will be your best bet.
Something else to consider is whether you've tried a memory foam mattress before. If you've never slept on memory foam, transitioning straight from an innerspring mattress to a memory foam construction can feel like a lot.
Therefore, the combination of springs and foam might help you to feel more comfortable when you first start sleeping on your new mattress.
When To Look Elsewhere
We were very pleased with our experiences testing out the Vibe Memory Foam and Hybrid mattresses.
With that being said, they won't be the right choice for everyone. After all, a mattress is a personal thing, and it should fit your unique body type, sleeping style, and preferences.
For example, we would not recommend the Vibe mattresses to stomach sleepers, and the same goes for any plush mattress. If you sleep on your stomach, you're going to need a firm surface to sleep on so that your spine and pelvic area don't fall out of alignment and cause back pain in the long term.
We also wouldn't necessarily recommend Vibe to people who weigh more than around 230 lbs. Of course, you know your body best, and if you weigh more than this and find plush mattresses to be comfortable and supportive enough for you, go for it!
However, many people over this weight have reported feeling uncomfortable on the Vibe mattresses due to the upper foam layers compressing. You may end up feeling like you're sleeping directly on top of the core layer, which isn't particularly comfortable.
Alternatives To The Vibe Mattress Without Fiberglass
If you've decided that the Vibe mattress isn't for you due to the scare of fiberglass then don't worry – there are plenty of other budget friendly mattresses without fiberglass that will cater to your sleeping needs.
Alternative Mattresses Without Fiberglass
Final Thoughts
The Vibe Memory Foam or Hybrid mattress might be right for you if you like your mattresses to be more on the plush side without compromising on proper back and joint support.
However, if you prefer a firmer mattress or a very plush mattress, there are other bestselling options available on Amazon to meet your needs.