Novilla Mattress Review: Is it worth buying?
Is the Novilla Gel Memory Foam Mattress an excellent value for money, or will you end up with a low-quality mattress to match the low price? This is what we were aiming to find out when we tested out the Novilla mattress.
Read on to find out whether the Novilla Twin mattress is good-quality for the price, or a waste of your money.
IMPORTANT NOTE: Due to a high number of customers receiving Novilla mattresses that didn't fully expand we cannot recommend buying this mattress anymore.

If you want to try something similar we recommend the Dreamfoam Essential. It is a very similar price point but made in the USA and a more reliable option.
Our Favorite Alternative:
Best Budget Friendly Alternative Option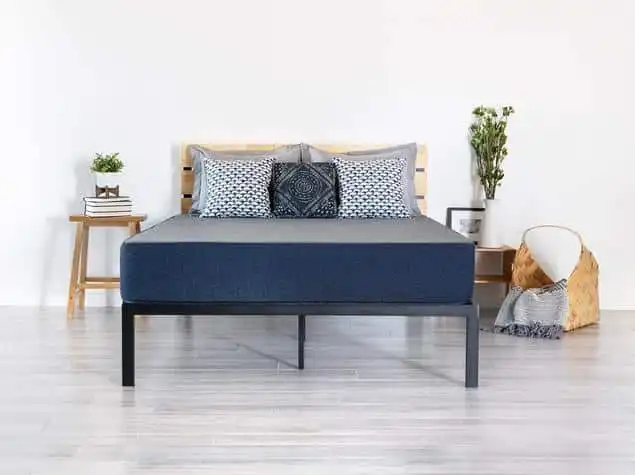 Dreamfoam Essential
What we love:
Budget friendly price point

High quality, supportive memory foam design

Made in the USA (Arizona Factory)

Available in custom sizes and thicknesses
Buy Here
---
Quick Summary: What You Need To Know
The Good:
The Customers who received a mattress that was not defective raved about the quality of the mattress for the price point.
The Bad:
EXPANSION PROBLEM: The Novilla mattress comes compressed in a box. You cut it open and it expands.

There seems to be a lot of customers whose Novilla mattresses DID NOT expand all the way. This is likely due to the mattress sitting in the warehouse too long.
BROKEN ZIPPER: Some customers said the zippered cover broke after a few uses or arrived broken.
So it is up to you if you want to roll the dice and give it a try. Amazon should offer you a refund if the mattress doesn't expand fully. Then it will likely be up to you to figure out how to get rid of it since it won't fit back in the box once its been opened.
---
Overview Of The Novilla Mattress (we tested a mattress that fully expanded)
The Novilla mattress is made of gel-infused memory foam, which has cooling properties and also helps you to feel comfortable and supported throughout the night.
In addition to the layers of airflow and air-circulation foam underneath the gel-infused layer, the mattress comes with a breathable bamboo cover, which helps the mattress to remain odorless and hygienic.
You can purchase this mattress in 8-inch, 10-inch, or 12-inch thicknesses depending on what you prefer, but be aware that there is only between 3 and 3.5 inches of base foam regardless of thickness. This means that the mattress might not remain supportive for as long as a thicker higher quality mattress.
With that being said, you get a 10-year warranty to claim repairs or a replacement on this mattress, and there's also a 30-day trial period you can use if you want to test out the mattress first.
Pros
Gel-infused memory foam – Supportive and cooling
Bamboo cover – Odorless, breathable, and soft
30-day free trial – Sleep-test before buying
10-year warranty – Repair or replace in case of damage
8, 10, and 12-inch thickness – Suits different preferences
Cons
Only 3 – 3.5 inches of base foam – Not the most durable construction
Also Available At
Novilla Twin Mattress Construction
The Novilla Twin mattress is made up of 3 sections: the base layer, the comfort layers, and the mattress cover. We're going to discuss each of these layers individually so that you know exactly what you're paying for when you buy the Novilla mattress.
Base Foam Layer
The base layer of the mattress might not be the one you actually feel when you get into bed, but it serves a very important function, which is to ensure that your mattress provides you with proper support as well as comfort.
The first thing that stood out to us when we looked into the measurements of each layer was that this base layer only measures 3.5 inches for the 12-inch mattress, and only 3 inches for the 10-inch version of the mattress.
While this is not likely to cause issues for children or lighter adults, your average adult might find this mattress to be lacking in support.
It might even be fine for a guest room since it wouldn't be getting used every day in this case, but daily use by an adult of average size and weight could cause the base layer to wear out quicker than you might expect.
Comfort Foam Layers
Above the base layer, the Novilla Twin mattress has 4 layers of comfort foam. These layers are designed to help you to feel comfortable, both in terms of texture and temperature.
The top layer of comfort foam is gel-infused memory foam. Not only is this comfort foam layer soft and plush, but it's infused with cooling gel to help regulate the temperature of the mattress while you're using it.
The next two layers are the airflow layer and the air-circulation layer. Both of these layers help air to circulate through the mattress, improving breathability. This will help to stop any unwanted odors from building up inside the mattress over time and will also help to prevent problems like mildew.
Overall, these foam layers ensure that you have a healthy surface to sleep on, and they also participate in regulating the temperature.
Between the comfort foam layers and the base layer, there's another layer of high-density foam.
Something to bear in mind is that while the base foam layer increases in thickness for the 12-inch mattress compared to the 10-inch mattress, the other layers do not increase proportionally.
For example, the airflow comfort foam layer is the same thickness (2 inches) for both mattresses. This could potentially be an issue if you purchase the 12-inch version of the mattress because the amount of airflow and circulation isn't proportional to the increased thickness, so it may not be as effective.
Mattress Cover
The Novilla Twin mattress also comes with a bamboo rayon cover. We love this part of the mattress because it allows the mattress to breathe and feels soft to the touch.
The cover is removable because it has a strong zipper that goes along the edge of the mattress. Because of where the zip is positioned, you won't feel it, but it's easy to access when you need to remove the cover for washing.
Bamboo is an excellent material for mattress covers because it has antimicrobial properties and doesn't have or hold any odors. However, we would still recommend that you use the mattress with a protector to make sure that the cover stays in good condition for as long as possible.
Other Factors To Consider
It's important to understand the construction of any mattress before buying it, but it's equally important to think about other factors such as the cost, warranty and free trial details, and how the mattress will be delivered to your home.
Read on to find out more about buying the Novilla Twin mattress:
Cost
The low cost is one of the main reasons why the Novilla mattress is so popular. Whereas other memory foam and gel-infused mattresses can cost anywhere from $500 to $1000 in some cases, the Novilla Twin mattress is very budget-friendly.
We can't specify an exact price because Amazon prices change on a regular basis, but you can currently buy this mattress for a fraction of the price that competitors charge for memory foam mattresses.
Warranty
There's a 10-year warranty on your Novilla mattress, which means that you won't end up out of pocket with an unusable mattress if anything goes wrong with the quality.
You might be thinking that a 10-year warranty isn't that impressive for a mattress, since 10 years is the average mattress's lifespan. However, bear in mind that Novilla's mattresses are very affordable, which means that you would normally expect a warranty closer to 5 years.
If you notice that your Novilla mattress is showing signs of wear or damage before the 10-year mark, and you've used the mattress according to instructions, you can contact Novilla about the problem.
If the problem can be fixed by the repairs team, Novilla will try to fix the mattress, but if it's beyond repair, you can have a replacement delivered at no extra cost to you.
Free Trial
Novilla offers buyers a 30-day free trial, which means you can test out the Novilla Twin mattress for a whole month before you decide whether it's the right fit for you.
However, bear in mind that Amazon's listing advertises a 100-day free trial, which is not correct. Novilla was asked to clarify this and specified that the information provided by Amazon is a mistake and that the trial is only 30 days regardless of where you buy the mattress from.
So, please don't buy the Novilla Twin mattress thinking that you'll get to trial it for 100 days. While the free sleep trial is generous and will help you to make the right decision, the information on Novilla's website is correct: the trial lasts for 30 days.
Delivery Information
Getting your Novilla Twin mattress delivered to your home is easy and stress-free. The mattress is packaged in a box, and it's folded up very small thanks to the vacuum seal.
This means that the mattress will easily fit through your door and can be carried upstairs or into any room without issues.
It's worth noting that the 10-inch mattress and the 12-inch mattress have different weights, as you might expect. While the 12-inch mattress weighs just under 68 lbs, the 10-inch mattress is significantly lighter, at just over 51 lbs.
Be careful when lifting your mattress, and get someone to help you if you need to get it up a flight of stairs.
What Past Customers Have To Say
We wanted to see if other customers had similar thoughts about the Novilla mattress as we did, so we looked at some of the reviews and testimonials left by past buyers.
Positive Reviews
Overall, Novilla's mattress is rated 4.4 out of a possible 5 stars on Amazon. This is promising, especially considering how many people have bought and reviewed the mattress (over 23,000, at this point).
Most reviewers gave the Novilla mattress 5 stars, which is impressive. The reviewers who gave 4 and 5-star ratings said that the mattress felt supportive, but also retained its softness for an extended period of time.
Some people have been using their Novilla mattress for years and find it just as comfortable as it was on the first night.
Additionally, customers said that the mattress was decompressed and ready to use in a matter of hours and that it even helped to get rid of common mattress-related aches and pains such as spine and neck pain.
Negative Reviews
However, not everyone was blown away by the quality or comfort of the Novilla mattress.
Some reviewers gave the mattress less than 3 stars, and these reviews tended to say that the mattress didn't expand properly and had some lumps and bumps under the surface even after several days.
It seems that most of the decompression issues were around the corners of the mattress, which is typical of budget-friendly mattresses.
This might seem confusing given that so many people praised the mattress for its ability to decompress, but remember that decompression relies on a variety of factors including temperature and how long it was stored while compressed, so it could have something to do with this.
Another common issue customers had with the Novilla mattress was that the zipper and packaging was damaged on arrival. This in itself wouldn't be a huge problem, except that some instances of the gel pockets being torn were also reported.
This definitely is a downside because the gel pockets are important to the cooling and supportive functions of the mattress.
Alternatives To The Novilla Twin Mattress
Editor's Pick - Best Alternative Option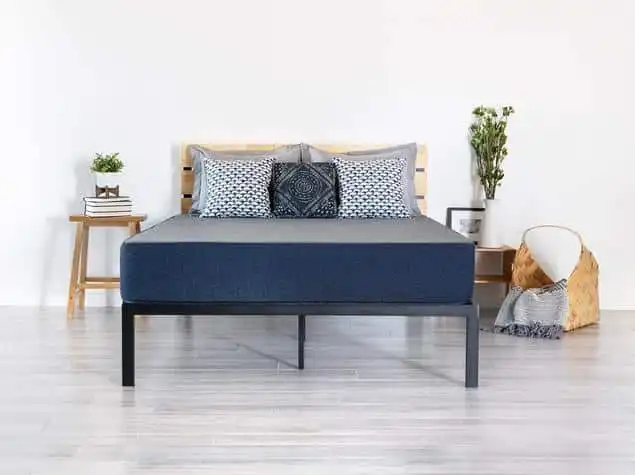 The Dreamfoam Essential
BUDGET FRIENDLY
This may be the best budget friendly mattress on the market. The combination of high density support foam and memory foam comfort layers makes for a supportive, pressure relieving sleep experience. If you like the feel of memory foam and are looking for an affordable sleeping option then this is the best mattress you will find. Brooklyn Bedding makes all of their mattresses in their own factories in Arizona and are able to cut out the middle man and offer customers factory direct prices.
What we love:
Budget friendly price point

High quality, supportive memory foam design

Made in the USA (Arizona Factory)

Available in custom sizes and thicknesses
Buy Here
---
Best Value Memory Foam Mattress
The Puffy Original
GREAT VALUE MEMORY FOAM MATTRESS
The Puffy Original Mattress is a luxurious memory foam mattress at a great price. It has a medium-firm feel and is a perfect comfort level for the majority of sleepers. Puffy's memory foam design conforms to your body and is great for kids or adults. Puffy is a reputable brand name in the industry and has won a variety of awards for the quality of their US made sleep products.
What we love:
Medium-firm feel fits all sleep types

Multiple awards for best all around mattress

100% made in the USA!

Breathable and cooling

Firm supportive base foam

Stain-resistant cover

Donates beds to children in need
Buy Now
---
Best Amazon Option
Zinus 8 Inch Gel-Infused Memory Foam Mattress
BEST AMAZON MATTRESS
This mattress is crafted with skillfully engineered memory and comfort foams that mold to the shape of your body for a customized fit that pressure relief. The top layer is made of ultra cooling-gel infused memory foam which means that your body temperature will perfectly regulated and cool.The mattress is wrapped in a soft feathers poly jacquard cover and delivered to your door with a 10-year free warranty.
Buy On Amazon
The Zinus mattress has recently been re-designed to include extra memory foam, enhancing support and comfort.
Green tea is infused into each layer of foam, which ensures that every layer stays fresh for years to come. This freshness is further maximized by the knitted cover, which is designed for breathability as well as softness.
However, this mattress may not be the best choice for those who prefer extremely plush mattresses, since it's quite firm overall.
A 10-year warranty is in place to cover the mattress in case of quality control issues or premature wear and tear, so you can sleep well at night knowing your purchase is protected.
Pros
Extra memory foam – Enhances comfort and cushioning
Green tea-infused – Ensures long-lasting freshness
Knitted cover – Breathable and soft
10-year warranty – Peace of mind
Cons
Too firm for some buyers' tastes – Not for those who prefer extra-plush mattresses
---
Other Amazon Options
The Molblly 8-Inch Twin Gel Memory Foam Mattress is made up of a layer of base foam and layers of memory foam. The memory foam is designed to be cooling as well as supportive, while contouring to the shape of your body for a comfortable night's sleep.
Meanwhile, the 4 inches of base foam encourages proper spinal and neck alignment to reduce aches and pains.
Note that there may be a strong odor when you open the mattress, but this should dissipate over time. You get a 10-year warranty period to report any other issues you might encounter.
Pros
3-layer memory foam – Cooling and supportive
4-inch base foam layer – Encourages alignment
Body contouring design – Very comfortable
10-year warranty – Free repair or replacement
Cons
Strong odor on opening – May take time to dissipate
Also Available At:
If you're looking for a thin, memory foam mattress, the 5-inch Cooling Essential Twin Memory Foam Mattress from Zinus is the perfect choice.
This mattress consists of multiple layers of both comfort and support foam, so it's firm but comfortable at the same time. The foam is CertiPUR-certified, so you can be sure all materials are high-quality and safe to sleep on.
The cooling cover helps to improve breathability for hygiene and odor-reduction, and you get a 10-year warranty in case of premature damage or defects.
If you weigh more than 250 lbs, however, you'll need a larger mattress size, since the twin size only supports 250 lbs.
Pros
Multi-layer support and comfort foam – Firm yet comfortable
CertiPUR certification – Safe and high-quality
Cooling cover – Breathable and prevents overheating
10-year warranty – Financial protection
Cons
Maximum weight of 250 lbs – Larger size needed 500 lb capacity
Also Available At:
The Zinus 6-Inch Twin Green Tea Memory Foam Mattress is the same design as the 12-inch mattress, except it's thinner.
Like the 12-inch model, this mattress is infused with green tea to prevent odors, while the ActivCharcoal infusion helps to absorb moisture.
5 inches of base foam under the top inch of memory foam means that the mattress is firm and supportive, but if you notice any issues, you have a 10-year warranty to cover replacements.
However, the twin size is not suitable for people weighing more than 250 lbs, whereas the other sizes can support up to 500 lbs.
Pros
Infused with green tea – No unpleasant odors
ActivCharcoal infusion – Absorbs moisture
5 inches of base foam – Extra-supportive
10-year warranty – Covers necessary replacements
Cons
Supports up to 250 lbs maximum – Other sizes support up to 500 lbs
Also Available At:
Final Thoughts
The Novilla mattress is a good option if you don't have the budget for a more expensive mattress. Considering the low price point, it has some good features and provides a decent amount of support and cushioning.
However, there have been some issues with the mattress not decompressing properly, and the thin base support layer may lose its shape over time. Therefore, you may want to consider some of our suggested alternatives instead.