(Top 4) Best "Non-Toxic" Mattress Toppers (Organic & Natural Materials)
Are you looking for a non-toxic mattress topper? One that you can feel comfortable resting you head on and breathing next to every night? As humans, we spend up to a third of our time in bed. The right sleep products deeply impact the quality of our sleep. Because the quality of our lives is directly tied to sleep, being deliberate about what we put on our beds is a must. It's essential to purchase high- quality products made without harmful chemicals, including the new mattress topper you're considering.
For many people, "high-quality" is more than durability or luxury. It means avoiding potentially harmful toxins, buying sustainable products, and reducing our impact. If you're shopping for a mattress topper, you're probably wondering how to navigate the vast selection and narrow your options.
Unfortunately, it's not just the amount of options that can be overwhelming. Plenty of brands cut corners and use less-than-stellar materials in their products. So how do you find the best non-toxic mattress topper? Today, we're going to cover everything you need to know.
---
4 Best Non-Toxic Mattress Toppers
---
1. The Organic Mattress Topper by Birch
Best Overall (Editor's Pick)
Birch is known in the mattress industry for their organic and eco-conscious sleep products. Their mattress is one of the top rated natural mattress options on the market and now they also offer this organic topper. This topper is 3" thick and utilizes organic cotton, wool and natural latex to provide a healthy and non-toxic sleep environment. It is GREENGUARD Gold and GOTS certified. It's also free of any polyurethane based foams or harmful chemicals. If you are looking for a healthy and comfortable natural mattress topper then the Birch Organic Topper is a great option.
What we love:
Non-Toxic & Eco-Conscious

Organic & Natural Materials

Hypoallergenic

3" thick

Made in the USA
Buy Now
What our testers are saying:
This topper is a great all around option for anyone looking to add comfort to their mattress in a healthy and eco-friendly way. The topper incorporates organic cotton, wool and natural latex to give sleepers benefits from each. The organic cotton and wool are naturally hypoallergenic and moisture wicking. They regulate temperature and will help to keep you sleeping at the perfect temperature throughout the year. The latex base offers industry leading support and pressure relief that latex is known for. The 3″ height is generally what we recommend in a topper.
---
2. The 100% Latex Topper by PlushBeds
Best Latex Topper
The natural latex topper by Plushbeds is very reasonably priced for an all latex mattress topper. Plushbeds allows you to choose from a 2″ or 3″ thickness as well as a variety of different firmnesses to meet your comfort needs. Plushbeds also gives you the option to add an organic cotton cover to the outside of your topper in order to protect it.
What we love:
2" or 3" thickness available

100% natural latex

Made in the USA

Optional organic cotton cover
Buy Here
What our testers are saying:
Latex is great at relieving pressure while offering support to body and aligning the spine. An all latex topper is sure to add a luxurious comfort and feel to your existing mattress and will do so in an eco-friendly and non-toxic way. This topper lets you choose your firmness preference from soft to extra-firm to meet the needs of all sleepers. Latex is made from the rubber tree and is free from any chemicals or additives. If you are looking for a topper that will be healthy and supportive then an all latex topper is a great pick and Plushbeds uses quality materials that you can trust and that will last.
---
3. The Wool Topper by Plushbeds
Best Wool Topper
Enjoy the plush piloow comfort of a wool topper. Add comfort to soften any mattress.
This topper is handmade in the USA, with the finest quality, ethically sourced, 100% natural wool and cotton. It is hypoallergenic, and 100% chemical and cruelty-free.
Each natural wool topper is hand tufted and carefully stitched, for superior comfort and lasting durability. This craftsmanship results in a luxurious sleep experience, with exceptional comfort every night.
Buy Now
---
4. The Merino Pad by Sleep & Beyond
Best Mattress Pad
Certified organic merino wool fibers enable myMerino Topper to serve as a superior body temperature regulator.This year-round comfortable topper is soothing for those who have multiple chemical sensitivities, certain allergies, and/or suffer from discomfort due to arthritis or fibromyalgia, or other health challenges. Quickly wicks away moisture without making you feel cold or clammy. This topper should last for many years with proper care. Wool has been out-performing other fibers used for bedding for many years.
What we love:
1.5" thick.

Encased in certified organic cotton

Filled with certified organic superfine merino wool.

Perfect for all-year round comfort.

Comes in eco-friendly, reusable cotton packaging.

3rd party certified

5 year manufacturer warranty.
Buy Now
---
What Is a Mattress Topper?
But before diving into the discussion about non-toxic mattress toppers, let's talk about what mattress toppers are–and why you might want one.
A mattress topper is an extra layer of material a few inches thick that you place directly over your mattress. They serve one purpose, which is to improve the feel of your bed.
Imagine that you bought a new mattress and later realized it's not what you envisioned. Maybe you're a side sleeper and need more support on your hips and shoulders. Or perhaps you have an older mattress that is starting to sag a bit but still has a few years left.
Whatever the reason, a mattress topper is an excellent way to change things up without spending a ton of money on a new mattress. It affords you the flexibility to tweak some aspects of your sleep and extend the life of your current mattress. With a mattress topper, you can make your bed:
Cooler
Warmer
Firmer
Softer
Different Types of Non-Toxic Mattress Toppers
Traditional mattress toppers are commonly made from memory foam, latex, feathers, or poly-fiber. But when it comes to non-toxic varieties, the options are somewhat different. And because the properties of each one vary, it's vital to understand the differences between them.
Natural Latex
Whether you choose it for its eco-friendly non-toxic properties or not, natural latex is one of the most popular materials in the sleep industry. It's derived from the sap of rubber trees and has excellent properties.
Natural latex is antimicrobial, dust-mite resistant, and it has thermo-neutral features. If you sleep with a partner who tosses and turns all night, adding a mattress topper made of this material is a fantastic way to deaden the feeling of their movements. It's also a vegan product (if that's important to you), though keep in mind that natural latex can get a bit hot.
Cotton
Cotton is another common non-toxic mattress topper material.
However, all-cotton toppers can be challenging to find. They get pretty expensive, so most people go for a cotton and latex blend. These materials combine to make a cozy mattress topper that's excellent at helping sleepers regulate their temperature. Keep in mind that they're not suitable for anyone with allergies to cotton or those who follow a vegan diet/lifestyle.
Wool
Lastly, you may consider a wool mattress topper. Wool has many properties that make it an attractive option: it's antimicrobial, soft, and plush. It's also incredibly long-lasting and helps retain your body heat.
You can find all-wool mattress toppers, but as is true of cotton, latex and wool blends are more common. One reason to combine these materials is that you get better temperature regulation. Together, they keep you cool in summer and provide extra warmth in the colder months. Otherwise, an all-wool mattress topper can become pretty toasty.
Another reason to combine the two is that you receive better support. Wool on its own is often a bit flimsy. However, if you want to feel warmer at night and don't need much support, an all-wool mattress topper could be right for you.
Do Traditional Mattress Toppers Contain Toxic Chemicals?
By now, you might be wondering about the composition of traditional mattress toppers. Do they–can they–contain toxic chemicals? Let's look at some common materials and how they stack up.
Is Polyurethane Foam Carcinogenic?
It depends. Most memory foam contains polyurethane foam, which is a stable non-irritant once it's formed. It provides the structured support people love in these mattresses, but polyurethane foam has one primary issue: off-gassing.
Off-gassing is when manufactured household items release volatile organic compounds (VOCs). These gasses are emitted into the air, and some are harmful. When you buy a new mattress, off-gassing often occurs right after you receive it. This period typically lasts a few days, and it's most common in bed-in-a-box models. It can also occur in mattress toppers.
For most people, the odor is unpleasant but thought to be harmless. You may find it off-putting, but it's not carcinogenic and won't cause long-term health problems. However, individuals may experience more problematic symptoms.
For example, if you're sensitive to odors, you may want to wait a few days before putting your mattress on the bed. Otherwise, you could have nausea, dizziness, or headaches. Similarly, if you have asthma or allergies, you should also wait. Some people with these conditions report that they have difficulty breathing.
Is Memory Foam Non-Toxic?
Historically, memory foam may not have been non-toxic. Consumers have become aware of companies using questionable materials and non-sustainable practices in the past. For this reason, many people remain reluctant to try memory foam nowadays, despite its many benefits.
What's vital to keep in mind is that manufacturing standards have improved by leaps and bounds. While some products are more non-toxic than others, most are safe to use.
The problems with toxic materials mostly come from older models of memory foam beds and cheaper brands that cut corners. These beds could contain substances that cause health issues. Some of the most common culprits include benzene, acetone, and methylene chloride.
Additionally, because polyurethane foam is a flammable material, manufacturers must make them flame retardant. In the past, memory foam mattresses used to contain a substance called diisocyanates. Although diisocyanates reduced mattress flammability, the Environmental Protection Agency has declared these substances toxic. They're known to irritate the mouth, nose, and eyes.
Research has now shed light on how harmful some of these substances can be, so quality memory foam brands have stopped using them. If you choose a reputable eco-friendly brand (we'll talk about how below), your chances of encountering these materials are even slimmer.
What Memory Foam Ingredients or By-Products Should I Avoid?
We've already talked about how diisocyanates, benzene, acetone, and methylene chloride are problematic. Now let's look at some other harmful ingredients or by-products historically used in memory foam mattresses:
Polyols. Polyols are petroleum oil-based substances that serve as a binding or bulking agent in latex mattresses. They make up the basic structure of memory foam.
Blowing agents: Blowing agents are required to begin the chemical reaction that makes foam. Some companies use chemical-based blowing agents, but water is a much safer alternative.
Formaldehyde: You've likely heard of formaldehyde, which is a known human carcinogen – commonly used in embalming fluid. It can be a by-product of the foam manufacturing process, though this occurs less frequently. Formaldehyde produces fumes that irritate the nose, mouth, and eyes.
Methylene dianiline: This ingredient acts as a reactant while making foam. If it comes into contact with the skin, it causes irritation. Methylene dianiline might also be carcinogenic.
Methylbenzene: You'll probably hear methylbenzene referred to as toluene, but both terms refer to the same substance. It's a transparent liquid naturally occurring in crude oil. If inhaled in great quantities, it can be toxic.
Chlorofluorocarbons: Chlorofluorocarbons (CFCs) are used to manufacture things like aerosol sprays, as refrigerants, and–that's right–as blowing agents for foams. You may already be familiar with CFCs and their ozone-depleting effects. The use of chlorofluorocarbons in many products is banned by US regulators, but older model memory foam may still contain it.
What to Consider When Purchasing a Non-Toxic Mattress Topper
Now it's time to talk about what to consider when shopping for a non-toxic mattress topper. It may seem like an easy decision, but there are several aspects to consider. Some of these tips are specific to non-toxic products, while others apply to the category in general. If you want to make the right purchase, pay close attention to the following.
Natural vs. Synthetic Latex
Latex is one of the most popular materials for mattress toppers, so it's no surprise if you're considering it. But be sure to pay close attention to whether the product is made with natural latex or synthetic latex.
Natural latex is almost always eco-friendly and non-toxic, while synthetic latex is more problematic. This consideration is also critical if you're a vegan. Natural latex is vegan and synthetic latex is not.
Certifications
Clever marketing and packaging can make it difficult to discern which products are actually non-toxic. Thankfully, consumers have a reliable way of weeding out inferior products: certifications. Companies must go the extra mile to earn them, so you know you're purchasing a mattress topper with no harmful chemicals.
OEKO-TEX and the Global Organic Textile Standard (GOTS) are excellent indicators. Products with the OEKO-TEX label have undergone testing and are certified free of harmful levels of toxic substances. Those with GOTS certification have been produced to strict organic standards.
When it comes to animal-sourced products, keep an eye out for the Responsible Down Standard and the Responsible Wool Standard certifications. These two tell you that the product has been made following cruelty-free standards.
The Condition of Your Mattress
It's easy to overlook this factor, but the condition of your mattress is critical in choosing the mattress topper – specifically the right thickness. We'll discuss more regarding thickness below, but some questions to ask yourself are things like the age of the mattress and what condition it's in.
These questions are vital because older mattresses typically need more cushioning. You'll want to purchase something three- to four-inches thick in this case. Sometimes you may want more, depending on how much you need to compensate. But if you have a new mattress and just want to tweak the support, the two inches could be fine for you.
Mattress Size
This point seems obvious, but it's worth mentioning. Whether you're shopping for a king, queen, or something else, you need to know the mattress size. A mattress topper sits directly on top of your bed, so it has to line up exactly with the mattress dimensions.
Thankfully, mattress toppers are available for every size of bed you can imagine. Pro tip: check twice that your child's bed is a twin and not a twin extra long before purchasing.
Toppers vs. Pads vs. Protectors
Many people use these terms interchangeably, although pads and protectors serve an entirely different purpose than toppers. Don't get confused and buy one when you mean to buy the other.
Mattress pads and protectors refer to thin, protective layers that you put on the bed. They provide a barrier between the mattress and sheets.
So if you spill something, your mattress won't get ruined. Similarly, you can avoid stains–especially gross sweat stains–by using a mattress protector. They're also useful for keeping dust mites and allergens at bay.
What mattress pads and protectors don't do is provide any support. If you buy a protector thinking it will change the feel of your bed, you'll end up disappointed. And if you're wondering, yes, you can use a mattress topper and a mattress protector together. The matress topper goes under the protector, which will ensure your topper remains stain and sweat-free.
Density
Density and thickness are easily confused, but they refer to different things. Thickness is the height of the mattress topper, while density is the amount of material it contains. How dense the mattress topper is will significantly affect the feel, so it's vital to pay close attention to the density rating.
You will find three different density ratings when deciding on a product. They describe how much a square foot of foam weighs:
Low: Low-density foam weighs less than three pounds per square foot. If you need very little support, you can opt for low-density foam could be a good option. The downside is that it has a shorter lifespan than medium and high-density options.
Medium: Medium-density foam weighs four or five pounds per square foot. You get plenty of support with medium density, and most individuals don't find these toppers too firm.
High: High-density toppers weigh six pounds per square foot or more. If you need something with a high level of support, a high density may be right for you.
Reviews
Finally, taking time to read customer reviews can be incredibly helpful. Customer reviews paint a picture of customer satisfaction and tell you a lot about the product quality.
How Thick Should a Mattress Topper Be?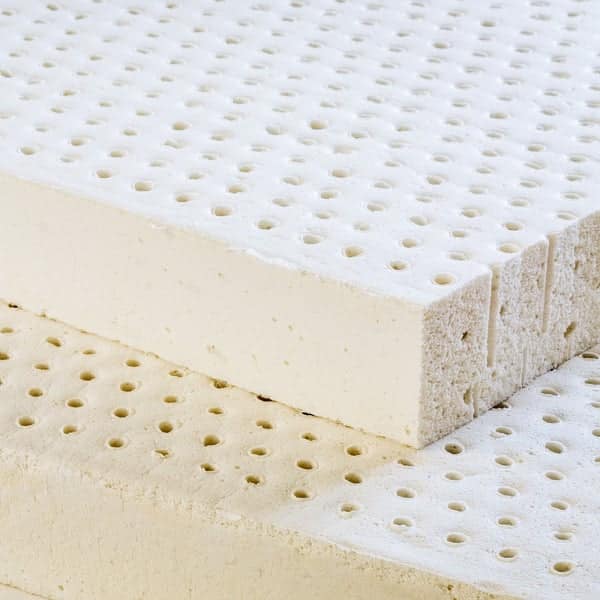 Mattress topper thickness is so critical that it deserves its own section. Most models range from two to four inches thick, which may not seem like much. But you can find mattress toppers up to eight inches! There's quite a range, and not all sizes are created equal.
Ultimately, the thickness you choose will depend on your preferences and what you hope to achieve with the mattress topper. The best way to approach this decision is by letting your sleep style guide you.
Let's take a look at each size and who they're best for. Spoiler alert: anything under five inches will give a new-ish mattress a luxurious feel!
Two Inches
A two-inch mattress topper can be the subtle change your mattress needs. Some people are looking for just a bit of extra support, and a two-inch topper delivers. However, if you can have an extra-firm mattress you're looking to soften up, keep in mind that it won't completely change the feel. Instead, a two-inch topper may provide that something extra you're looking for.
Three Inches
Three-inch mattress toppers are the Goldilocks of mattress toppers. If you're not sure what thickness is best, you should probably start here. They're not too thin, yet not too thick, so they'll be right for many folks.
Three-inch mattress toppers are also one of the most popular sizes. They're excellent for most sleep positions, especially side and back sleepers. If you don't want to give the decision too much thought, you can't go wrong with this thickness.
Four Inches
If you're looking for maximum support, go with a four-inch version. Four-inch mattress toppers provide the highest amount of cushion among the more standard sizes. Putting one on your bed will significantly change the way your current mattress feels.
So who should choose a four-inch topper? Side sleepers are an example of people who find it comfortable. You may also want to consider this size if you're on the heavier side. Likewise, if you're trying to soften up an exceptionally firm or old mattress, going for something thicker usually does the trick.
Above Five Inches
In most cases, choosing a mattress topper thicker than four inches isn't necessary. It can also make finding sheets that fit a challenge.
However, if you're trying to spruce up an old, tired mattress, consider this thickness. It could make a significant difference. Though if your mattress is on its last leg, it's probably more economical to replace it altogether.
How Much Is a Non-Toxic Mattress Topper
If you need to tweak the feel of your mattress, mattress toppers are cost-effective. But as you may have guessed, non-toxic materials typically cost more than their synthetic counterparts. The higher price makes sense: natural materials must go through a more stringent certification process, which ultimately drives up the cost.
So how much can you expect to shell out for a new mattress topper? It's difficult to give an exact number, as the range is quite wide and depends on what size you're shopping for. You can find something decent starting from around $150 to $200, but prices extend up to $1500. Eco-friendly versions typically range from $300-$400 to $800.
How much to spend is a highly personal decision. Ask yourself what you're willing to pay, keeping in mind factors like the age of your current mattress and how long the manufacturer's warranty is. The longer the warranty, the more assured you are of getting a quality product.
And remember that sometimes the cost of a mattress topper is better spent on investing in a new mattress altogether.
Maintaining Your Mattress Topper
You may be curious whether mattress toppers require special maintenance, and the answer is yes. If you want to keep yours in tip-top shape, you should practice regular cleaning. Giving your mattress topper a little TLC helps keep harmful allergens and bacteria at bay.
Luckily, cleaning is a straightforward process in most cases. The vast majority of mattress toppers can go directly into the washing machine. Of course, you should check the manufacturer's washing instructions. Some are dry clean only, so you want to ensure it's safe before throwing yours in the wash.
And how often does a mattress topper need to be cleaned? Some manufacturers recommend washing it every time you change your sheets. But for many people, this recommendation is unrealistic. If so, quarterly cleaning is easier to stay on top of. Set a reminder on your phone to keep your mattress topper nice and fresh.
Final Thoughts
Creating the best environment for sleep begins with your bed. A quality mattress topper allows you to account for any deficiencies and extend the life of your current mattress. But being deliberate with your purchase is critical if you want to avoid harmful toxins and by-products.
We hope you found this information useful in choosing the best non-toxic mattress topper. Here's to more comfortable nights ahead!