7 Best Mattresses Without Memory Foam Inside
In today's mattress market it can be hard to find a mattress without memory foam somewhere inside. This can make the purchasing process difficult for consumers who prefer a mattress without the feel of memory foam. Whether you dislike the feel of memory foam or want something more eco-friendly and non-toxic, we have included a list of mattresses that we love, all made WITHOUT memory foam inside.
Quick Picks – 7 Best Mattresses WITHOUT Memory Foam
---
In this post we provide our top picks for mattresses made without memory foam, as well as discuss the different options for memory foam alternatives on the market. Our team has torn open and tested hundreds of mattresses from all the major manufacturers. It is our goal to pass along our knowledge of the industry to you.
---
7 Best Mattresses Without Memory Foam
HOW WE CHOOSE: Our company has warehouses throughout the country where we recycle old mattresses. Our teams have tested hundreds of mattresses from all the major brands. We have an inside look at mattress quality, and what mattresses customers are liking and keeping and which they are returning.
---
Best Overall - Editor's Pick
The Birch Natural mattress is a high quality natural mattress at a highly competitive price point. The wrapped coils provide a luxuriously supportive base that offers industry leading spinal alignment and cradles the natural curves of the body. Birch has built this mattress around optimizing pressure relief with the use of natural latex and wool comfort layers. Latex is one of the best foams on the market for providing pressure relief while still being supportive. The wool adds comfort while naturally wicking moisture and sleeping cool. Birch then has topped the mattress off with an organic cotton cover, making is naturally hypoallergenic and dust mite resistant. This mattress is a great all-around natural option for anyone looking for a medium-firm hybrid mattress that is chemical free.
What we love:
100% Made in the USA

Non-Toxic

Supportive, hybrid wrapped coil design

Luxury pressure relief

Natural and Organic Materials (Latex, Organic Wool & Cotton)

Universal "Medium-Firm" Feel
Buy Now
What our testers are saying:
The Birch natural mattress is a great natural latex mattress at a value friendly price point. This mattress utilizes natural latex foam and wool instead of memory foam. Latex foam is a highly supportive foam that offers industry leading pressure relief when compared to its polyurethane and memory foam competitors. The mattress also uses a pocketed coil innerspring unit at its base to provide support and the bounce of a traditional style mattress. If you are looking for an alternative to memory foam and want a mattress that comes at a great price point then the Birch is a perfect all around option. At a medium-firm price point this mattress should be great for the vast majority of sleepers and styles.
---
2. The Botanical Bliss Organic Latex Mattress by Plushbeds
Best Organic Option
HIGH QUALITY PRESSURE RELIEF - 100% ORGANIC LATEX
The Botanical Bliss latex mattress by PlushBeds is a supportive and pressure relieving latex mattress at a very competitive price for the quality. Many competitors make their latex mattresses with other layers to save on cost, but the Botanical Bliss is made with 100% organic latex throughout the entire mattress. This provides high end support and pressure relief while also being 100% organic and hypoallergenic. This mattress comes in a variety of split king and queen options which makes it great for couples who have different sleep needs or for individuals who have different firmness preferences.
What we love:
All organic materials

Easily unzip cover and reorganize layers to adjust comfort/firmness

Made in the USA
Buy Here
What our testers are saying:
The Botanical Bliss is a high end latex mattress made with 100% organic materials. The core layers of this mattress are made with 100% organic latex layers and the top layers use organic cotton and wool. If you are looking for the ultimate in an Organic latex mattress then this mattress is for you. Plushbeds is known throughout the industry for their high end and luxurious natural mattresses and has some of the best prices around, when compared to competitors. Latex is a very supportive and chemical free foam that many customers prefer over memory foam. It has more of a supportive and bouncy feel than memory foam and is considered more of a luxury option. The Botanical Bliss is available in a variety of firmness levels to choose from in order to meet your specific needs and sleep style.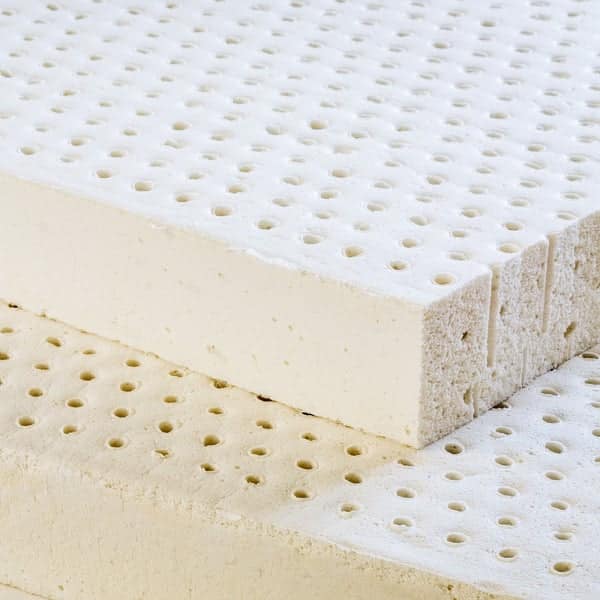 ---
Best Alternative Foam
LUXURY PILLOWTOP
GREAT PRESSURE RELIEF
Nolah is widely known throughout the industry as one of the best mattresses for side sleepers. Their new Evolution Mattress is their highest end luxury option and features a 15″ profile with a pillow top. The Evolution is one of the best mattresses we have found for pressure relief in the hips and shoulders, especially when sleeping on your side. This mattress also has industry leading cooling technology and motion transfer properties.
What we love:
Luxury pillow top feel

Industry leading pressure relief in hips and shoulders.

Highly recognized as the best mattress for side sleepers.
Buy Here
What our testers are saying:
If you are looking for a foam that is just as innovative as memory foam but doesn't have the sinking feeling of memory foam then the Nolah Evolution may be the perfect mattress for you. Nolah uses a graphite infused Air foam that is supportive and breathable and has a bouncier and more traditional feel than that of memory foam. Many people rave about this mattress and prefer it over the feel of any memory foam mattress.
---
Best Firm Feeling Option
BEST FIRM MATTRESS
Inspired by the minimalist approach to sleep in the Far East, the firmer, flatter, flippable surface of the Plank mattress creates a neutral spine position that's better for your back and posture overall. The dual comfort design offers two variations: the top side of the mattress features an ultra-firm sleep experience; the bottom side of the mattress feels like a traditional firm, allowing for a highly customizable sleep. Each Plank mattress is manufactured to order in their own factory in Arizona and shipped directly to your door.
What we love:
Built specifically for people who love a firm mattress

Flippable (2 sided) - Firm and Extra-firm sleeping option

Reputable manufacturer. 1000+ reviews.
Buy Here
What our testers are saying:
The Plank mattress is made for those who can never find a mattress that is firm enough. This mattress stays away from sinking feeling foam like memory foam and sticks to a firm supportive foam layers. The mattress is flippable and comes with 2 sides, a firm and extra firm surface, allowing sleepers to choose what feel they prefer. This mattress is the best extra firm mattress on the market and a great option for back sleepers or anyone with back pain or who needs high levels of support.
---
Budget Friendly Pick
A talalay latex mattress at an affordable price. This mattress has exceptional comfort and responsiveness with a quilted top and soft reflexive foam—paired with a core of individually encased coils for deeper compression support and a cooler, more comfortable night's sleep. The upgraded 12" model comes with a zippered cover, allowing you to personalize both your comfort.
What we love:
Unbeatable value

Pressure relieving hybrid design

Made in the USA

Natural latex foam
Buy Now
What our testers are saying:
The Dreamfoam essential latex mattress is a great latex foam mattress at a budget friendly price. Most latex mattresses will come in well over $1000 for a queen size and often over 2K. This mattress comes in well under $1000 for a queen size and is a well made option for anyone looking to save some money. The mattress is made with a pocketed coil innerspring unit for support and a natural latex comfort layer. The cover uses organic cotton and is naturally hypoallergenic and moisture wicking. This mattress is made from the trusted Dreamfoam brand and is made at their own factory in Arizona and shipped directly to you, cutting out the middleman and saving you money.
---
Best Modern Air Mattress
The Refresh mattress by Natural form is built specifically for pressure relief. it has won a variety of awards in the industry for innovation and their patented technology. The Refresh allows you to adjust the firmness of the mattress to meet your specific needs. This mattress is on the higher end when it comes to price, but for a god reason. If you are looking for the ultimate in pressure relief, then your money is well spent on the Refresh.
What we love:
Award winning patented pressure relief technology

Adjustable Firmness

Reputable manufacturer
Buy Here
---
Best (Cotton) Futon Mattress
BEST ALL-AROUND FUTON MATTRESS
NON-TOXIC AND CHEMICAL FREE
The Chemical Free Pure Comfort Futon Mattress provides you with superior comfort in any sleeping environment. The All Natural Virgin Wool, and Organic Cotton and mattresses has a core of 733 Micro Coils to provide optimum support while reducing motion transfer completely without any Petro-chemicals or Flame retardants. This combination of wool and organic cotton is the perfect blend for luxurious comfort, while the supportive micro-coil core provides infinite pressure relieving support for your body. so you will wake up feeling refreshed and rested. The temperature regulating wool will keep you warm in the winter and cool in the summer, while the organic cotton provides extra layers of luxurious support and comfort.
What we love:
100% Chemical Free

Medium Firm Feel

Anti-Microbial & Dust Mite Resistant

Wool & Organic Cotton

10-15 Year Life Expectancy

Sustainable & Eco-Friendly Materials

Made in the USA
Buy Now
---
What is memory foam? Why do people want mattresses without memory foam?
Memory foam is a newer type of foam that is commonly used in mattresses. It was originally invented by NASA as a pressure relieving foam to be used in the space shuttles. The benefits transferred over to the sleep industry and have been used ever since. Memory foam has a unique property that allows it to conform to the curves of the body while still providing support. However, while many people enjoy memory foam, about 50% of people prefer a traditional innerspring mattress instead. Memory foam can give a feeling of "sinking" into your mattress that many people dislike. Memory foam also is less eco-friendly than latex foam, which can be a concern for anyone looking for a natural and eco-friendly sleep environment.
Why do so many mattresses have memory foam?
Memory foam has become extremely popular in the mattress industry. The combination of its lower price point and comfort benefits make it an appealing option for mattress manufacturers. Luckily, there are plenty of mattress options on the market that utilize memory foam alternatives and eco-friendly sleep materials. Keep in mind many of the eco-friendly foams and mattresses will come at a higher price point.
What mattresses are made without memory foam?
There are quite a few different type so mattresses that you can buy without memory foam inside. These mattresses range in price and quality but offer a complete range of comforts and styles to meet the needs of anyone looking for an alternative to memory foam.
Latex
Latex foam is made by naturally tapped and poured rubber from the rubber tree. It is the second most popular comfort foam used in mattresses and the top pick for anyone looking for a natural and hypoallergenic sleeping surface. Latex is more expensive than memory foam due to its cost to produce. Latex provides a supportive and bouncier feel than memory foam and comes in a variety of thicknesses and firmnesses. It is also available in natural or organic options.
Cotton Mattresses
Cotton mattresses are becoming more common in the mattress industry and often come in the form of a Japanese Futon Mattress. These mattresses utilize the traditional method of cotton as a comfort layer. Cotton is organic and naturally moisture wicking. It is also flexible and easily used on a futon frame or able to be folded up when not in use.
Polyurethane foam mattresses
Polyurethane foam is the foam you are likely most familiar with. It is the yellow foam that most seat cushions and couches are made from. Polyurethane foams are affordable and supportive but do not give as much pressure relief as some of the other more advanced foams on the market.
Alternative foams
Many mattress companies have invented their own patented foams that combine the benefits of the most popular foams on the market. These alternative foams vary in cost and quality, so it is important to purchase an alternative foam mattress from a reputable brand and dealer.
Is memory foam toxic?
Memory foam mattresses historically were known to carry toxic ingredients. In today's market, mattresses have to pass stringent tests in order to meet toxicity and safety standards. The chemicals that memory foam is made with are all stable for the most part by the time they are put into a mattress. Many memory foam mattresses meet GreenGuard Gold Standards of safety and are considered safe to sleep on. With that said, many consumers choose to sleep on latex or cotton mattresses that are made with all natural materials to avoid any use of chemicals.
Memory foam vs standard poly foam?
Many mattresses that do not use memory foam use a standard polyurethane foam instead. Poly foam is the standard yellow foam that you find in couch cushions. The main difference between memory foam and poly foam is that memory foam conforms to your body and provides superior pressure relief while poly foam is very versatile and needs multiple layers of foam to provide the same effect. Poly foam comes in a large variety of firmnesses and can be used as a base support layer or a top comfort layer.
How to get rid of a memory foam mattress
When you buy a new mattress online many of the retailers do not take away your old mattress. If you are looking to get rid of your old mattress you can book a pick up with us and our team will come by and grab it for you. We have recycled over 500K mattresses to date and are 20-30% less than the major junk companies.
---
---