3 Best "Extra Firm" Mattress Toppers
Are you looking for a mattress topper that is extra firm? Maybe you need it to boost the support of your current mattress or to help with back pain? Whatever the reason, we have included our absolute favorite extra-firm mattress toppers below.
Each of the three toppers is constructed to be on the extra-firm level of the firmness scale, meaning they offer high end support and very little give. This type of topper is going to be great for anyone with back pain or anyone who prefers a very supportive and firm sleeping surface.
What is an extra firm mattress topper?
An extra firm mattress topper offers very little give to the body and is an 8-10 on the firmness scale. This type of topper has great levels of support and is perfect for people who sleep on their back or who have any sort of back pain. Side sleepers may find this type of topper too firm for their pressure points in their hips and shoulders.
Extra Firm Mattress vs Extra-Firm Mattress Topper
They also make extra-firm mattresses (check out our post on our favorite extra firm mattress options here). An extra firm mattress is going to provide that high level of firmness throughout your sleeping surface whereas an extra-firm topper is going to provide a firm feel on top but will not change the firmness of a mattress down below.
This means, if you have a low quality mattress that has a support system that is breaking down a firm topper will not fix its sagging or support throughout.
---
Top 3 – Extra Firm Mattress Toppers
---
Best Overall (Editor's Pick)
The 100% Natural Latex Topper
The natural latex topper by Plushbeds is very reasonably priced for an all latex mattress topper. Plushbeds allows you to choose from a 2″ or 3″ thickness as well as a variety of different firmnesses to meet your comfort needs. Plushbeds also gives you the option to add an organic cotton cover to the outside of your topper in order to protect it.
What we love:
2" or 3" thickness available

100% natural latex

Made in the USA

Optional organic cotton cover
Buy Here
What our testers are saying:
This latex mattress topper came out on top as having the firmest feel overall, and the Plushbeds manufacturer is actually one of the only one manufacturers that provides an "extra firm" option for their topper.
This topper is made from 100% natural latex and is naturally breathable and hypoallergenic. Latex is also very durable and will hold up for years to come.
If you are looking for the firmest option for your mattress then we highly recommend this topper. It is slightly more expensive than some of the other toppers on the market, but in order to have a supportive, extra-firm feel you need to use higher density, higher quality level foam.
The topper also comes with an optional add on of an organic cotton cover. You can either choose to use that cover OR many people will simply put the topper underneath their fitted sheet to hold it in place.
---
Best Firming Memory Foam Option
The Firm Topper by Puffy
The Puffy mattress topper comes in 2 different options (firm or soft). The firm option is made specifically for firming up a softer mattress and is great for customers looking to get a little more support out of a mattress that may be too soft for their liking. This topper also comes standard with a built in elastic cover to help hold it in place on your mattress.
Buy Now
What our testers are saying:
Customers of Puffy love their mattress topper. It's one of the most popular toppers on the market today for changing up the feel of your mattress.
This topper, which uses memory foam, is great quality for the price and a lot of bang for your buck.
You will also get a built in elastic cover to hold your mattress in place and a free trial period to test it out.
---
3. The Firm & Extra-Firm Topper by BedStory
Budget Friendly Option
3 Inch Memory Foam Mattress Topper, Extra Firm by BedStory
This topper is built for anyone with back pain or a soft mattress who needs an extra-firm sleeping surface. The topper is 2-sided with a firm and extra-firm option. It is also has a breathable cover and the gel foam helps it to sleep cool throughout the night.
Buy Now
What our testers are saying:
A wonderful option for those looking for a mattress topper that won't break the bank is this topper by BedStory. This topper is 2-sided with a firm or extra-firm option depending on which side you decide to flip it to.
The cover is a breathable mesh that helps maximize airflow while the gel memory foam keeps the surface cool throughout the night.
This topper comes highly reviewed by customers and is a great option if you enjoy the feel of memory foam and want to save some money.
---
What Material Is The Best For Exta Firm Mattress Toppers
While mattress toppers are made from a variety of materials, if you're looking for extra firmness the best option to go with is a latex one.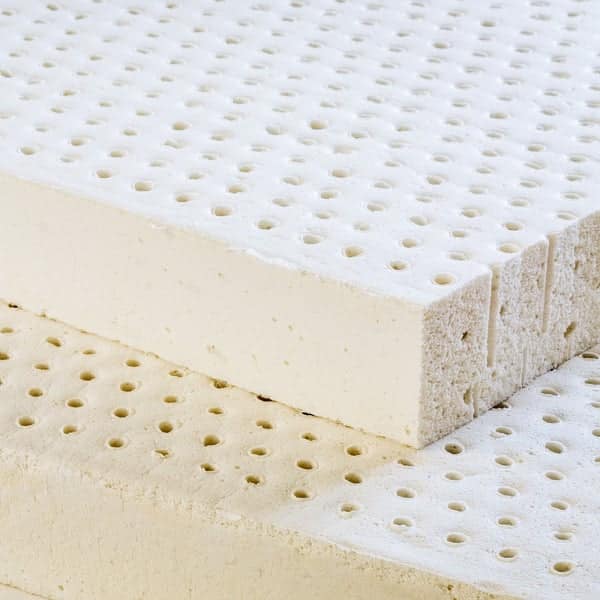 Latex as a material is very good at holding its shape and being supportive, so it will last you far longer and offer you much more support than other mattress toppers. 
If you're not a fan of latex or not a fan of the higher price point that it goes for, then the second best option is going with a memory foam topper. This material is still pretty good at keeping its shape, though it will offer you a little less bounce and be a bit less supportive than latex.
Why Should I Use An Extra Firm Mattress Topper?
Your bed can feel entirely different once you add a dense layer of semi-hard materials in the form of an extra-firm topper because it will sit between you and your mattress on the top layer.
If you're on the market for a new firm mattress topper, then you should try to get one made entirely, or at least in part, with latex materials.
This is commonly used in mattress toppers because the material is extremely tough, long-lasting, and breathable.
It will provide a harder surface for you to rest on while at the same time allowing for ventilation so you keep cool at night.
Should My Mattress Topper Be 2 Or 3 Inches Deep?
The answer to this sort of depends on the bed and mattress you have, but most people go for the two-inch option.
A two-inch topper is a perfect amount for most people. If you want to alter the feel of the mattress without making it excessively thick, this is a nice depth to go with.
Additionally, the price will be lower than the three-inch one, so it's a more budget option.
If, on the other hand, you want to make a significant adjustment to the height of your bed and bring about a dramatic shift in how your bed feels, then a rise of three inches can be the ideal option for you.
If your mattress is already quite plush, the best option for you will be a topper that is three inches thick to give you more support.
Summary
Many people find that they need support in bed, especially if their mattress is starting to sag and they're waking up with body aches from an uncomfortable night's sleep.
If this is happening to you, then a great option short of buying a new mattress is getting a mattress topper.
These come in many different firmness levels, so you should be able to find the perfect one for you.
If firmness is what you're looking for, then we recommend getting a mattress topper made of latex, as this material is very strong and durable can keep its shape, and should last you a very long time even with nightly use.